Nielsen's 2022 Annual Marketing Report revealed a digital dominance in how dollars are being spent and exposed marketers' lack of confidence in the data behind those decisions.
According to the study, marketers report data accuracy, measurement, and ROI as important. Among respondents in Asia-Pacific (APAC), 57% believe first-party data is important for their strategies and campaigns, below the global average of 69%, and 75% say they have access to quality data to maximise the impact of their media budgets.
Success and challenges
Top objectives: Brand awareness is marketers' top objective. To reach this goal, brands need to leverage an array of channels to reach the widest audience. Customer acquisition is their second objective, showing that marketers must focus efforts on the entire customer journey.
Media fragmentation amplifies the need for holistic measurement: Marketers' confidence in measuring the ROI of the full funnel is only 54%. Remove online and mobile video and confidence in measuring ROI across all other channels are under 50% globally. While there is intent by nearly half of marketers plan to increase their spending on podcasts, confidence in measuring the ROI here is only 44%.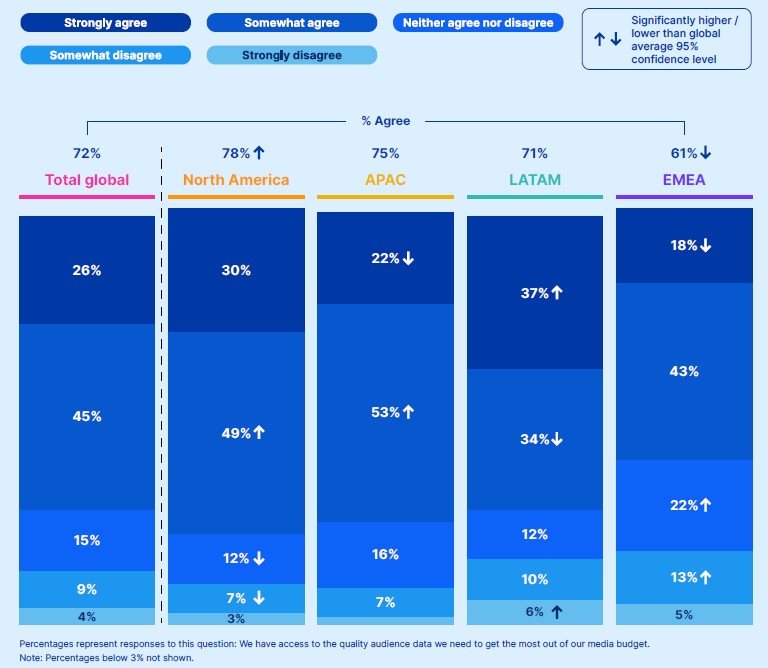 Use data to champion personalised marketing strategies: The increasing proliferation of channels produces an abundance of unique data sets. However, 36% of marketers still claim that data access, identity resolution, and deriving actionable insights from data is either extremely or very difficult.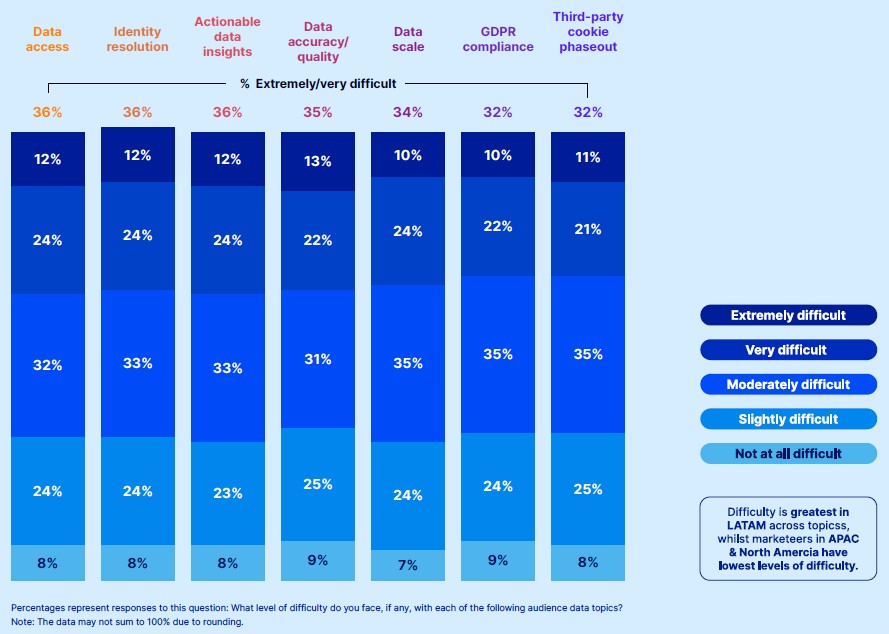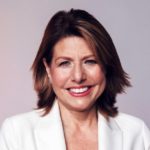 By placing a greater emphasis on purpose-driven initiatives, marketers can better connect with consumers. Globally, marketers say their brands are emphasising purpose, Nielsen data shows that 55% of consumers aren't convinced that brands are fostering true progress.
"Marketers want to put money into channels to deliver immediate ROI but also recognise they must be agile in the year ahead and work across the entire marketing funnel to reinforce brand awareness and acquire more customers," said Jamie Moldafsky, chief marketing and communications officer, Nielsen.
Advice for marketers
To build brands and win over new customers, marketers must leverage the channels that are most appropriate for their specific marketing goals.
New data sources, tactics and strategies need to be established to deliver on ever-changing consumer demands.
Access to high-quality deterministically sourced data will help improve the accuracy of APAC campaigns and engagements, as APAC marketers have the greatest level of difficulty with varying aspects of their data strategies.
Around 25% of APAC marketers still struggle with varying elements of their audience data including data access, identity resolution and actionable data insights, which present areas of opportunity if they can align.
Compared to the rest of the world, APAC marketers have the greatest level of difficulty with elements of audience data. To overcome these challenges, the collection, maintenance, and application of person-based identifiers require an investment in first-party data—the data companies collect directly from users or people in a consent-compliant way.