A global survey of 470 CEOs by GLG noted that 68% of chief executives are confident that their company's revenue will increase in the next 12 months, while 71% think the global economy will grow, compared to just 51% of respondents heading into 2021.
CEOs predicted that supply chain disruptions would have the greatest impact on the economy in 2022, and 92% expect the issue to impact their businesses. Only 21% of CEOs, meanwhile, reported that their companies have returned entirely to the office.
"While CEOs are optimistic about the year ahead for the economy and their businesses, the survey highlighted several key challenges that business leaders will have to address," said GLG CEO Paul Todd.
He noted that in addition to the ongoing pandemic and related supply change disruptions, areas of uncertainty include monetary policy, changing regulatory and legislative priorities, geopolitical uncertainty, and talent acquisition and retention.
The report highlighted several issues raised by surveyed respondents.
Outside factors impacting business
Unsurprisingly, the majority of respondents (85%) told us that "Public Health" was a top concern, followed by "Legislative Restrictions" (78%) and "Geopolitical Uncertainty" (69%).
Top business priorities
The CEOs we surveyed ranked "Digital and Tech Capabilities" (60%), "Customer Experience" (59%), and "Innovation" and "Human Capital" (tied at 58%) as top priorities for 2022.
Return-to-office policies
Companies that require their staff to come into the office remain in the minority. Most companies (68%) have opened their offices, but do not require employees to be at their desks every day.
Workforce challenges
Looking back to 2020, 75% of the CEOs we surveyed said that their top workforce concern was "Talent Acquisition". That dropped to 50% in the midst of the pandemic. But this year's survey shows that it has climbed to 67%.
Post-pandemic investments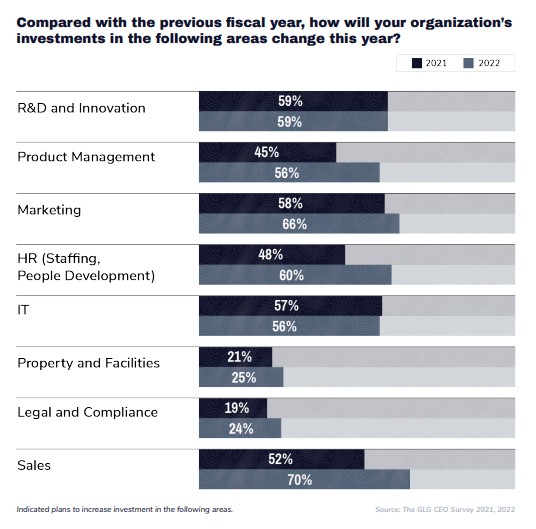 Looking toward 2022, most of the CEOs we surveyed ranked "Sales" (70%) and "Marketing" (66%) as areas where they will increase investment. Last year, "R&D and Innovation" ranked first (59%).

Eighty-eight per cent of CEOs surveyed acknowledged having made "cybersecurity plans or investments for 2022."