Before Covid-19, many companies had embarked on digital transformation journeys, but the pandemic highlighted that many were not as agile as they had previously thought. The pandemic laid bare deficiencies in businesses' cloud infrastructure, security and network architecture capabilities, hindering their ability to adapt and remain agile.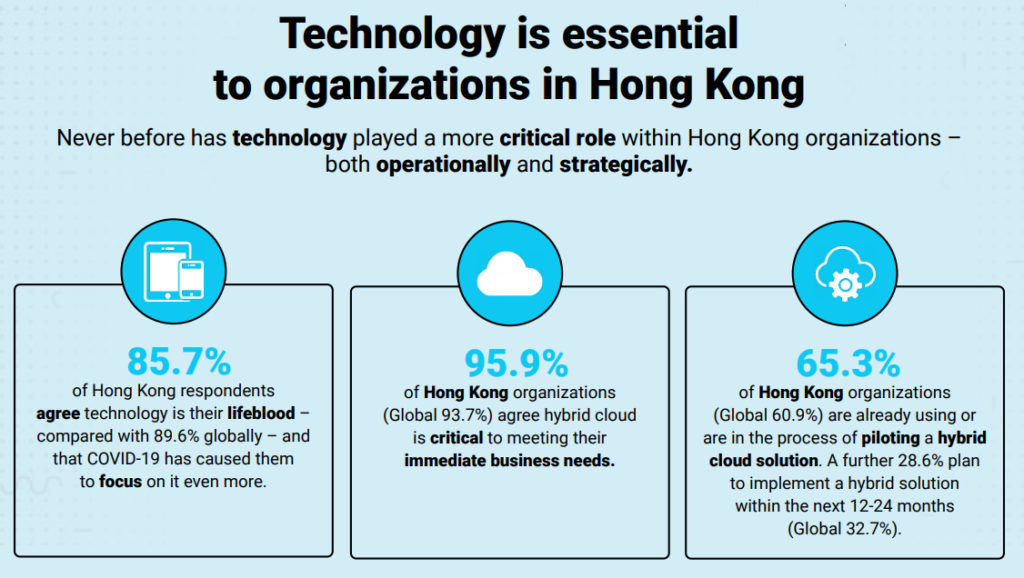 The NTT report, 2021 Hybrid Cloud Report, noted that the pandemic has forced a cultural mindset shift with global organizations adapting their agility plans from recovering infrastructure and applications to getting office-based workers set up and working from home.
Among the findings of the study:
85.7% of Hong Kong businesses agree that pandemic has forced its business to rely on technology more than ever before (global average 89.5%).
With 65.3% of Hong Kong organizations already using or piloting hybrid cloud, slightly higher than the global average (60.9%)
The report also found that 93.9% of Hong Kong respondents agree cloud has a key role in supporting the sustainable future (global average 91.8%).
One of the conclusions of the report is that the hybrid cloud is seen as critical to data-driven processes and real-time decisions both now and in the future.
Driving efficiency
The uncertainty surrounding the end of the pandemic leaves businesses with one clear strategy: tighten control over finances. The study claims that businesses look to hybrid cloud to increase cost efficiency and drive the organization's overall performance.
The report found that an improved speed of deployment of apps and services (46.9%) is the biggest driver of hybrid cloud adoption for businesses in Hong Kong, especially given the shift to a distributed workforce model where businesses now need to access data and applications in new, different and often complex ways.
In addition, businesses need to implement hybrid cloud in a way that will optimize environments to maximize efficiencies. With skills shortage a continuing issue in Asia, 46.9% of Hong Kong organizations that joined the study strongly agree on the need to engage with experts, such as managed cloud providers (Global average 52.7%).
Overcoming hurdles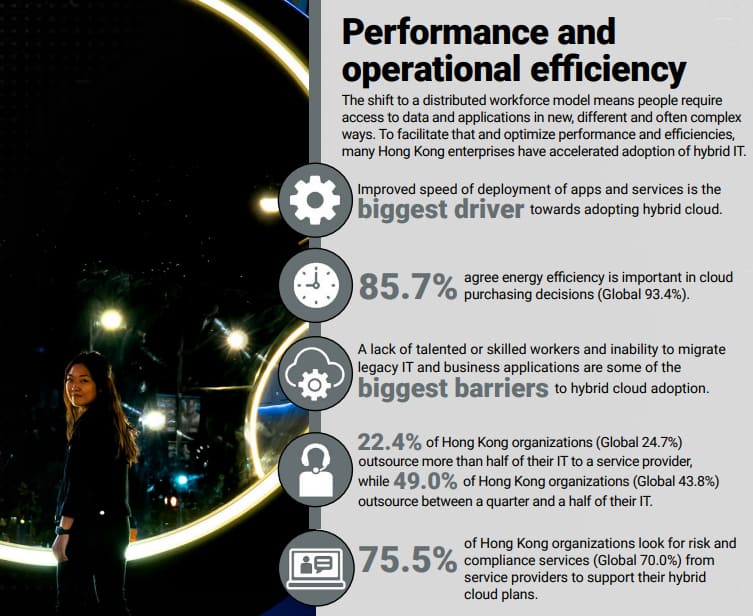 Additionally, businesses are also charged with changing attitudes to security and compliance and the complexities of implementing hybrid cloud.
The report found that 61.2% respondents in Hong Kong claim that the difficulties in managing data security is the greatest barrier to adopting hybrid cloud, significantly higher when compared with global average 46.3%.
To overcome these barriers when working in such complex environments, organizations must choose the right environment that will securely host their mission-critical applications across public and private clouds; and work with a partner who understands the industries they are working in to ensure compliance.
Network performance and a shortage of skills were also regarded as sizeable barriers to hybrid cloud adoption. Both, if not appropriately addressed, when implementing the cloud, could undo the benefits it offers.
Rob Lopez, executive vice president, Intelligent Infrastructure at NTT suggested that businesses look for hybrid cloud environments that are optimized for agility, security and supported by the right network architecture while also meeting compliance requirements."