Fenergo's global asset management research, Weathering the Crisis through Digital Transformation, noted that 37% of asset managers surveyed report having completed their digital transformation project.
Presently 44% are implementing artificial intelligence (AI) into their customer experience and over the next two years, 53% of asset managers expect to introduce robotics processing automation (RPA) and blockchain (47%).
Threats
The survey also revealed that 84% of asset managers have lost investors to digital-first disruptive competitors in the previous 12 months.
Firms globally reported that an average 26% of investor applications were abandoned during onboarding due to inefficiencies in the previous year.
In addition, asset managers (72%) see increased regulation due to the rise in financial crime as the biggest threat to their organization.
Drivers
A key driver of transformation for 67% of asset managers surveyed is the need to improve operational efficiencies. In APAC this is even more important (82%).
Sixty-three percent cite increased competition from digital-first firms as second most important driver.
Barriers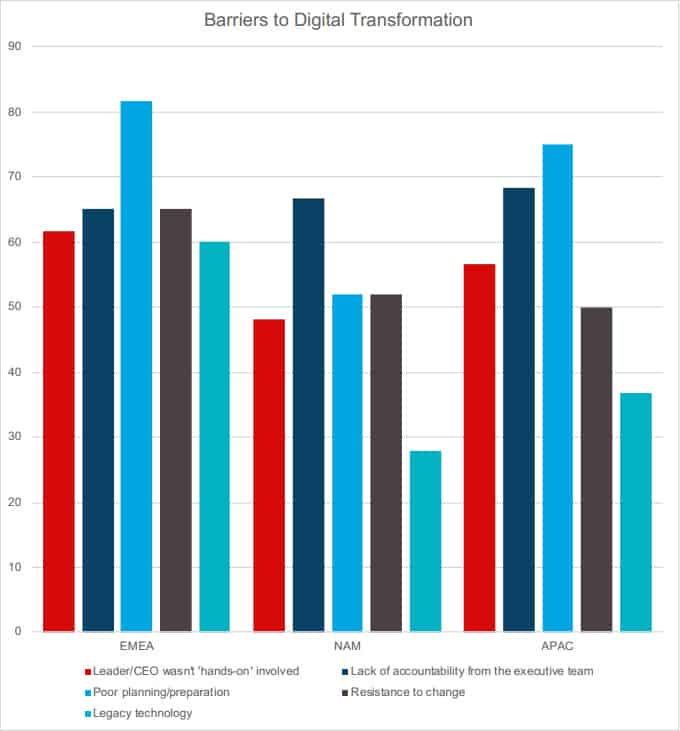 Among barriers towards digital transformation, 70% of asset managers cited "poor planning and preparation" as the biggest barrier to implementing digital transformation in their organizations.
"Lack of accountability from the executive team" was named by 67% and a "resistance to change" by 56% of respondents to the survey.
Work in progress
60% of firms globally have not completed their cloud readiness strategy and 58% of firms are prioritizing investment for cloud technology within the next year.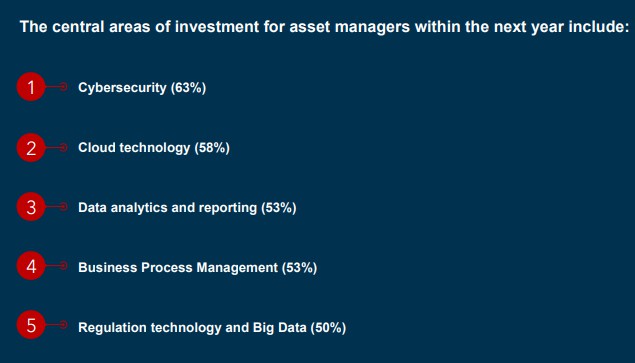 Kevin O'Neill, global head of Asset Management and Asset Servicing and EMEA head of Sales, at Fenergo noted that asset managers are committed to undertake digital strategies but face implementation challenges on multiple fronts. He also commented that firms recognize how important it is to provide the optimal customer experience in an extremely competitive marketplace compounded by the pandemic and geopolitical uncertainty.
It did not help that pre-pandemic, these asset managers were already beset with operational inefficiencies, increased regulatory scrutiny and the lure of digital-first competitors to younger investors.
"In today's trading environment where operations mostly take place remotely, the need to digitally transform and streamline investor and product onboarding is critical. In this past year, it has become clear that the adoption of innovative technology will increase efficiencies, streamline regulatory compliance while enhancing the investor experience. For the firms that fall behind the future looks ominous," he concluded.