Predictive maintenance tools will become more widespread across critical infrastructure in the oil and gas industry over the next decade. GlobalData says predictive maintenance tools offer oil and gas companies operational and financial fluidity using technology.
According to GlobalData's report, Predictive Maintenance in Oil and Gas Industry – Thematic Research, predictive maintenance includes condition monitoring technologies that collect, store, and analyse structural and operational data of key equipment in the oil and gas industry.
Through the analysis, actionable insights are derived concerning the health of the equipment to estimate its lifespan. This helps to schedule maintenance and equipment replacement exercises in a way that will have a minimum impact on oil and gas operations.
Maintenance strategies in the oil and gas industry have come a long way from their early days in the nineteenth century. They have evolved from a reactive to a preventive approach to ensure continuous operations along the supply chain. The economic urgencies and technological support available at that time have shaped these strategies and will continue to do so in the future.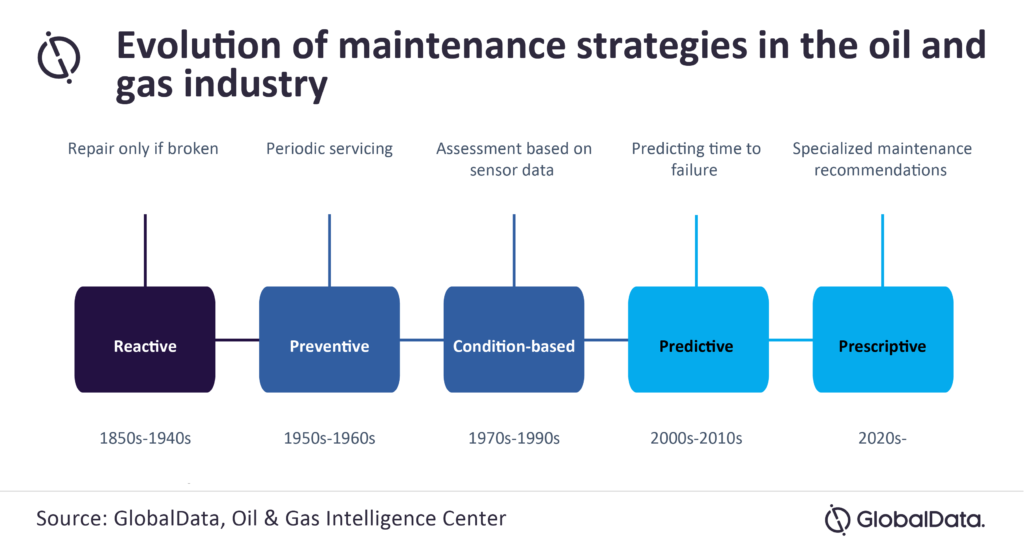 Ravindra Puranik, Oil and Gas Analyst at GlobalData, comments: "Heavy machinery deployed at oil and gas facilities are expected to operate reliably and efficiently for several years. To ensure longevity, it is necessary to conduct maintenance tasks for keeping the equipment in the best working condition. Timely maintenance also helps prevent expensive repair works and unplanned production outages."
Unplanned shutdowns due to equipment failure can incur immense cost penalties for oil and gas operators. The after-effects of equipment breaking down can be far-reaching, beyond just economic losses.
Puranik continues: "Effective predictive maintenance strategies for oil and gas equipment rely on regular data gathering. This data is used to determine the state of disrepair, which is then used to assess the appropriate corrective measures required.
Even though predictive maintenance as a proof of concept has been around for over two decades, technological advancements have presented a shot in the arm for its growing adoption in the oil and gas industry.
"The emergence and rapid growth of innovative technologies, such as the Internet of Things (IoT), artificial intelligence (AI), augmented and virtual reality (AR/VR), big data and cloud computing have shaped recent maintenance strategies in the oil and gas industry," Puranik concluded.