Approximately 80% of organisations plan to consolidate cybersecurity solutions under one vendor over the next three years, according to Microsoft Hong Kong citing a recent company survey.
Quoting from the same survey, the company said 88% of organisations that consolidated their security portfolio report to having reduced their breach risk.
"Given the breadth of challenges our customers are facing, and recent economic headwinds, many organisations are looking to consolidate their security portfolios to optimise costs and reduce complexity," said Fred Sheu, national technology officer, Microsoft Hong Kong, "We believe that organisations need a single pane of glass to locate and know their data, protect their data and prevent data loss across the data estate."
Sheu was one of the 200 participants at the yesterday's Microsoft Hong Kong Cybersecurity Summit 2022 where it was pointed out that CISOs have put cost reduction with improved threat protection as their top priority.
Indeed, a recent Microsoft survey showed 82% of CISOs were pressured to lower costs and threat protection cost cutting is on top of their agenda.
At the summit, Microsoft Hong Kong said that vendor consolidation is one way to cut cost while not compromising an organisation's cybersecurity posture – even enhanced it while spending less.
Big bang for your buck
At the summit, Microsoft Hong Kong urged companies to simplify their security approach through vendor consolidation for more protection with less cost, touting its Microsoft Security Solutions.
"With Microsoft multi-cloud and multi-platform security solutions to manage enterprise protection, CISO, security practitioners and end-users can protect more with less time, cost and complexity," said Sheu.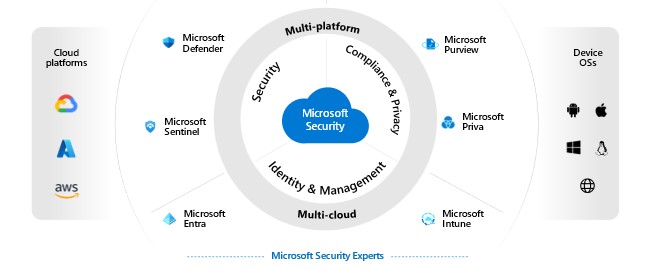 Microsoft Security Portfolio provides comprehensive security protection with six interconnected product families, ranging from security, identity & management and compliance & privacy, which protect organisations' entire digital estate, multi-cloud, multi-platform.
"Considering today's economic uncertainty and ongoing cybersecurity talent shortage, by adopting Microsoft Security multi-cloud and multi-platform solution, organisations can protect more with less time, cost and complexity with one comprehensive security vendor" said, Henry Li, director, specialist sales, Microsoft Hong Kong.
Less Time – Using AI and automation helps to cut through false alarms, quickly identify threats, streamline threat investigation, and help automate remediation. Deploying AI and security automation enable organisations to reduce 65% time to investigate threats with Microsoft Sentinel, Microsoft 365 Defender, and Microsoft Defender for Cloud; spend 96% less time spent monitoring potential suspicious activity with Microsoft Purview; and reducing 90% noise to elevate the most critical issues with Microsoft Sentinel.
Less money and human cost – With comprehensive security solutions provided by technology enablers like Microsoft, customers can integrate up to 50 product categories and realise up to 60% cost savings through vendor consolidation. Knowledge of security experts from a single comprehensive vendor can be virtual extensions for organizations' in-house security teams. For example, deploying Microsoft's cybersecurity solutions enable businesses to get 24/7 support from 8,500 Microsoft security experts across markets. With Microsoft's AI-powered capabilities, the in-house security team only needs to handle the top 10% of most critical threats as 90% of noise will be migrated by Microsoft.
Less complexity – Cybersecurity protection becomes complicated as businesses operate their systems across multiple devices, applications and cloud platforms. 60% of enterprises are using two or more cloud platforms. Deploying security solutions from one single vendor helps to improve efficiency of network-related IT work with Azure Network Security and reduces 75% password requests after introducing Single-Sign-On with Azure Active Directory; eliminating gaps and get simplified, comprehensive protection and expertise to innovate and grow in a changing world.
Cyberattacks on the rise
Meanwhile, Microsoft Hong Kong shared its latest cybersecurity figures which showed DDoS attacks per day mitigated by Microsoft increased by 40% compared to last year.
Other key findings include the following:
1,955 DDoS attacks per day mitigated by Microsoft, a 40% increase from last year. Most attacks were short-lived, approximately 28% lasted less than 10 minutes.
Average921 password attacks per second, a 74% increase YoY.
50% of Microsoft cybersecurity recovery engagements related to ransomware
710 million phishing emails blocked per week.
531,000 unique phishing URLs and 5,400 phishing kits were taken down at the direction of our Digital Crimes Unit (DCU).
For insider risks, 40% of respondents said the average cost was more than USD 500,000 or more per incident, with an average of 20 data security incidents per year – sensitive data is NOT appropriately shared or removed by employees, unintentionally or not.
Loss of customer data and damage to brand topped