The Hong Kong Government has earmarked HK$10 billion to launch a "Research, Academic and Industry Sectors One‑plus Scheme" next year as part of a four-pronged strategy for taking the city's innovation and technology (I&T) development to the next level.
In his maiden Policy Address delivered last week, Hong Kong Chief Executive John Lee laid out the government's plan for Hong Kong's technology sector, zeroing in on the expansion of local and non-local I&T talents;  developing Hong Kong into a smart city; and, proactively integrating into the overall development of the country.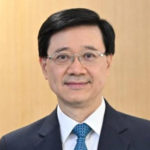 "I&T provides key impetus for Hong Kong's high-quality economic development," Lee said. "To chart Hong Kong in moving full steam towards our vision of an international I&T centre, the Government will promulgate the Hong Kong I&T Development Blueprint within this year to set out major policies under four broad development directions."

John Lee
The HK$10-billion "Research, Academic and Industry Sectors One‑plus Scheme" will be launched next year, with funding being provided on a matching basis for at least 100 research teams in universities which have good potential to become start-ups.
"Each team should complete its project in two stages: the first stage for the transformation and realisation of research and development (R&D) outcomes within three years and the second stage for the commercialisation of R&D outcomes within the subsequent two years," Lee said. "The aim is to incentivise collaboration amongst the industry, academic and research sectors to further promote the '1 to N' transformation of R&D outcomes and the industry development."
Furthermore, Lee said the government will collaborate with the new Office for Attracting Strategic Enterprises (OASES) as well as make use of the HK$5 billion Strategic Tech Fund to promote the development of the technology industry.
"We will attract high‑quality enterprises and talents to Hong Kong, primarily focusing on industries such as life and health technology, artificial intelligence and data science, as well as advanced manufacturing and new energy technology," Lee said.
He added: "It is our goal to attract not less than 100 high‑potential or representative I&T enterprises to set up or expand their businesses in Hong Kong in the coming five years, including at least 20 top-notch I&T enterprises, bringing more than $10 billion of investment to Hong Kong and creating thousands of local job opportunities."
 A new post of Commissioner for Industry will be created for coordinating and steering the strategy on re-industrialisation and assisting the manufacturing sector in Hong Kong in upgrading and transformation by making use of I&T.
"We will explore the construction of the second Advanced Manufacturing Centre at the Tai Po InnoPark. We will also subsidise the setting up of more smart production lines in Hong Kong under the Re-industrialisation Funding Scheme, with the target of increasing the cumulative number of smart production lines by four times from about 30 at present to over 130 in five years," said Lee.
The government also plans to move full steam ahead with the construction of the Hong Kong-Shenzhen Innovation and Technology Park (HSITP) and accelerate the development of San Tin Technopole in the Northern Metropolis.
"The expansion works of the Science Park and Cyberport will be completed in phases from 2025 onward, providing 100 000 square metres of additional floor area. We are also planning the Science Park/Pak Shek Kok Station of the East Rail Line for commissioning by 2033," said Lee.
Growing the I&T talent pool
The 2022 Hong Kong Policy Address also revealed the government's plans for boosting the I&T talent pool by attracting experts from overseas while investing in the development of local talents.
"By collaborating with the OASES, we will provide special facilitation measures in a targeted manner to attract top-notch I&T talents to bring with them their business or R&D outcomes to Hong Kong," said Lee.
Simultaneously, the existing Technology Talent Admission Scheme will be enhanced by lifting the local employment requirement, extending the quota validity period to two years and expanding the coverage to more emerging technology areas.
"We will increase the subsidies provided for research institutions and I&T enterprises for employing research talents under the Research Talent Hub Scheme by about 10%. Research talents with a doctoral degree will be further provided with a living allowance," said Lee.
The government will also expand the Science, Technology, Engineering and Mathematics (STEM) Internship Scheme so as to offer local I&T internship opportunities to university students studying STEM programmes overseas or in the Guangdong-Hong Kong-Macao Greater Bay Area (GBA) campuses established by designated local universities.
"We will offer local I&T internship opportunities to university students studying STEM (Science, Technology, Engineering and Mathematics) programmes overseas or at GBA campuses established by designated local universities," Lee added.
Smart city transformation
Meanwhile, the government aims to turn all government services online within two years, as well as provide one-stop digital services by fully adopting "iAM Smart" within three years "single portal for online government services".
"We will continue to actively open up data and encourage public and private organisations to follow suit for innovative applications by the industry," said Lee.
He also pointed out that the HSITP in the Lok Ma Chau Loop served as the bridgehead for I&T cooperation between Hong Kong and Shenzhen. On the basis of "one zone, two parks", Hong Kong would study the trial implementation of a cross-boundary policy on I&T cooperation in an innovative, exclusive and designated manner.
HSITP will start providing land and space for I&T uses in 2024.
"We will proactively attract Mainland and overseas I&T enterprises to the HSITP, providing key impetus for the development of an international I&T centre in the GBA," said Lee.
Other highlights of the 2022 Hong Kong Policy Address include:
Increase the commitment of private capital in R&D projects under various ITF schemes from HK$800 million in 2022 to HK$1.6 billion in 2027. (ITIB)
Increase under the Innovation and Technology Venture Fund the cumulative private investment attracted for local I&T start‑ups from HK$1.7 billion in 2022 to at least HK$4 billion in 2027.
Increase the cumulative number of very early-stage start‑ups to be subsidised under the Technology Start‑up Support Scheme for Universities from 330 in 2022 to 600 in 2027. (ITIB)
Increase under the Re‑industrialisation Funding Scheme the cumulative number of funded smart production lines in Hong Kong from about 30 in 2022 to over 130 in 2027; with corresponding cumulative skilled employment opportunities increasing from about 260 to over 1 050, and during the same period cumulative matching private investment rising from about HK$340 million to no less than HK$1.3 billion.
Double the supply of floor area for advanced manufacturing in the InnoParks from over 100 000 square metres (sq.m.) in 2022 to over 200 000 sq.m. in 2027. (ITIB)
Double the annual usage of iAM Smart (total transactions) from 5 million in 2021 to 10 million in 2023, and further to 17.5 million in 2025.
Drive all government departments to use iAM Smart to provide convenient and one‑stop electronic services to citizens by 2025. (ITIB)
Complete e‑government audit for all government departments and use advanced information technology to implement 100 new digital government initiatives by 2025. (ITIB)
Increase the annual usage of open data from 22 billion in 2021 to 50 billion in 2025. (ITIB)
Digitalise all licensing and government services involving application and approval by mid‑2024. For those with legislative requirements or international conventions/practices, applicants are to visit relevant government offices once only. (ITIB)