A new Juniper Research study has found that the number of mobile video calling services reached 1.8 billion globally in 2020; rising from 1.2 billion in 2019. This represents a growth of 50% over 12 months, as the COVID-19 pandemic fuelled the need for remote communication services.
The study, Mobile Voice & Video Calling: Operator Strategies, Vendor Opportunities & Market Forecasts 2021-2025, predicts that the number of mobile video calling service users will continue to grow; reaching 4.5 billion users by 2025, representing 50% of global mobile subscribers.
Mobile video calling growth markets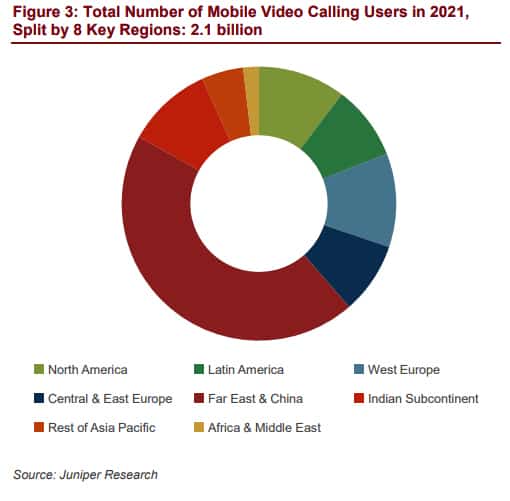 The report identified North America and Europe as two regions that will experience considerable uptake of mobile voice and video calling solutions over the next four years. However, China and Asia will account for the largest chunk of mobile video calling subscribers by 2025.
By 2025, over 70% of mobile subscribers are anticipated to use mobile video calling solutions in these regions, owing to high smartphone ownership and the ubiquitous availability of video calling services.
The research recommends the integration of mobile voice and video calling services into smart speakers to maximise service value.
Research co-author George Crabtree remarked, "Innovation in the mobile voice and video space will come from consumer devices beyond smartphones, enabled by the IP-based nature of video calling services. This provides the perfect platform for the development and rollout of new video calling services over the next four years."
VoLTE users to pass 5.5 billion by 2025
The research also predicts that the global number of Voice over LTE (VoLTE) connections will reach 5.5 billion by 2025; rising from 3.3 billion in 2021. This growth of 60% over the next four years will be accelerated by increasing adoption of 5G subscriptions by mobile subscribers, as VoLTE services are included in 5G standards.
The report recommends that increasing the level of virtualisation within core networks should be considered a priority for operators to handle increasing VoLTE traffic.
$8.9 revenue for video calling services
Juniper Research notes that the rising use of CPaaS will further contribute to mobile video calling in the future. As the transition from PSTN (Publicly Switched Telephony Networks) to IP is increasingly
robust, and capable handsets penetrate the global market, the researcher believes that operators should strive to incorporate mobile video into their service offering as soon as possible.
This is imperative so they can start to benefit from increased number of use cases where video is far more applicable than voice alone. Juniper Research forecasts that global effective operator revenue from voice and video services, derived from the cellular data needed for the service, will peak in 2023, topping $8.9 billion before starting to decline. This will owe to a declining average revenue per user.