Fujitsu yesterday started a groundbreaking field trial of a new AI module for retailers at several Aruk Mitajiri stores, a supermarket chain run by Marukyu Co. in Hofu City, Yamaguchi Prefecture, Japan.
The new AI model generates AI avatars and customise promotional content on digital signage based on customers' in-store behaviour data.
The two-month trial, supported by the Retail AI Institute, hopes to address issues like labour shortage through automation and tailoring service to customers' unique needs with innovative, yet practical AI solutions. The trial is set to run until October 15.
"In recent years, with customers growing increasingly sophisticated and selective, retailers face a need to shift away from conventional, 'one-size-fits-all' marketing, and embrace innovative approaches that provide shoppers with engaging, consumer-friendly experiences," said Fujitsu in a statement.

Fujitsu's new AI module for retailers uses both generative AI and the company's proprietary human sensing technology to achieve a more customer-centric shopping experience. It seeks to help retailers improve sales targeting with engaging and dynamic promotions that reacts to customer gestures that indicate interest, and generating customised avatars and product information, while processing the data in a format that preserves customer privacy.
"Technological progress in recent years has made it possible to analyse the in-store body language and shopping habits of customers using camera-based analysis technology."

Fujitsu statement
With the use of AI, Fujitsu hopes retailers will be able to quickly create promotional content that is typically hampered by cost and labour issuesꟷa persistent challenge when introducing new marketing measures. With the new AI module, Fujitsu aims to enable retailers to achieve goals such as "selection of multiple promotional measures, automation of effect measurement, and sales improvement".
After the field trials, Fujitsu plans to launch the new solution during fiscal 2023 as a module for its Fujitsu Kozuchi AI platform, which allows users to rapidly test and deploy advanced AI technologies for business.
What's behind the technology
Fujitsu's new AI module combines generative AI for content creation capabilities and its "Actlyzer" technology, which can analyse the gestures and movements of people based on camera data.
During the development of this module, Fujitsu relied on the marketing expertise of a research group led by Naoto Onzo, director of the Istitute of Marketing and Communication at Waseda University in Japan.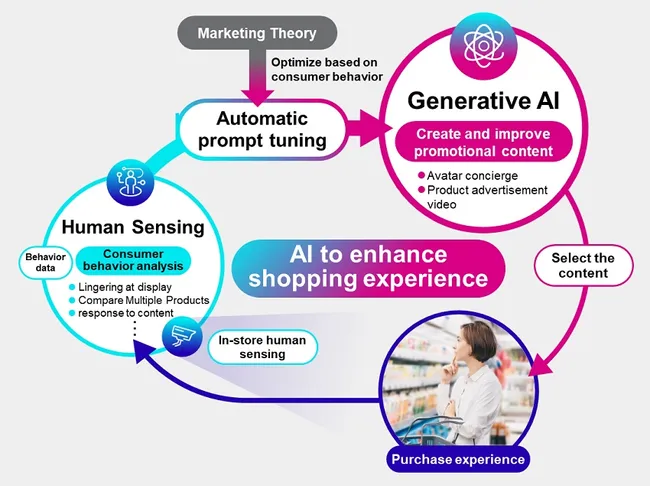 This input included an emphasis on principles in marketing theory that suggest that both warmth and competence, indicators of a customer service provider's personality and knowledge, as well as the design and functionality of the product, influence consumer buying decisions.
Drawing on these trends in consumer behaviour, the developers of the AI module trained a model to estimate the behaviour transition probability of presenting customer service and promotional content based on the behaviour and attribute data of individual customers analyzed by the human sensing technology.
The model then optimises the prompt information required for generative AI and automatically determines content suitable for each individual. This allows the AI module to deliver engaging information tailored to the interests of customers by observing behaviors, like bending down toward a shop display or picking up a product, and providing content that includes the best customer service and product appeal for that individual.