The Capgemini and Efma report, World FinTech Report 2021, highlights how FinTechs demonstrated resilience during COVID-19. With some verticals recording double-digit growth, and FinTechs beginning to mature, there is greater pressure on incumbent banks to embrace digitalisation far deeper and with more commitment than ever before.
During this period, FinTechs proved themselves to be not only competent competitors but also partners. Banks have the edge over FinTechs when it comes to reach and trust, however, to remain relevant they must overcome their weaknesses: in particular, addressing issues with legacy IT, and delivering a better customer experience.
Where do bank customers face high friction?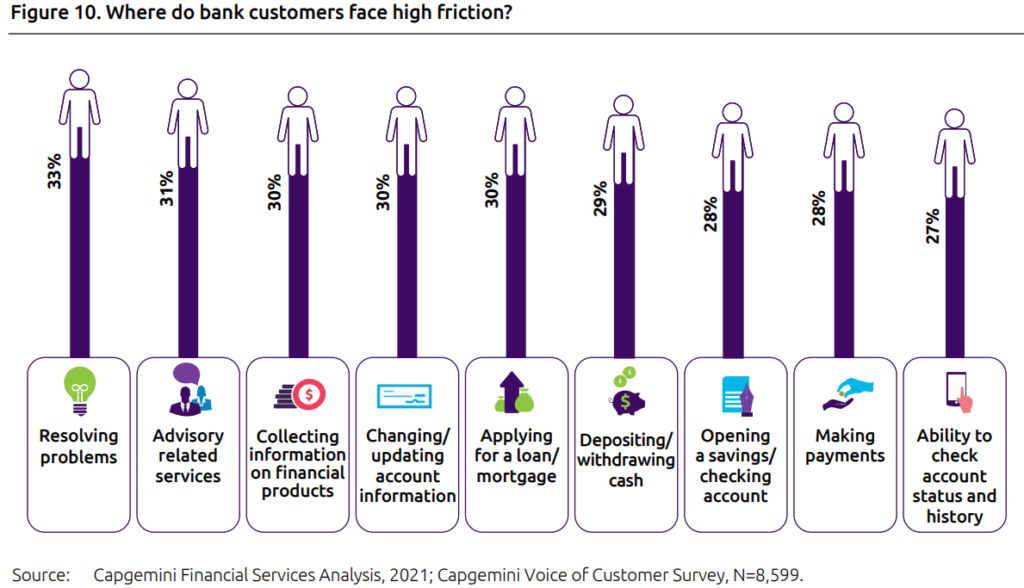 Financial services in Asia post-COVID-19
According to Tagit chief executive officer, Sandeep Bagaria, in the post-COVID-19 era banks have come out with strong balance sheets and have positive growth expectations as economies begin to recover.
He acknowledged that some Fintechs have established neo banks to address niche requirements in this space. Regulators have been issuing digital banking licenses to address the SME lending shortfall.
Incumbent-fintech partnerships have come out in some areas of this expansion.
"All of this has been driven by consumer behaviour, where consumers are demanding more and more convenience through digital services. They prefer digital payments versus cash at physical outlets. And, with the growth of e-commerce," he continued.
The continuing digitalization of banking
Bagaria observed that the FSI industry has been addressing the digital needs of consumers, with banks having digital as part of their innovation buckets.
However, in the most recent decade, digital has moved over to the 'mission-critical bucket' with banks focused on offering digital banking services. The resulting transformation permeates from a bank's internal operations outwards.
Faced with competition from non-banks, incumbents are becoming more responsive, according to Bagaria.
The road to incumbent-fintech partnership
Bagaria acknowledged a shift in mindset from both sides. Where earlier in the history of Fintechs, it was about how these startups are disrupting the industry and threatening incumbents' business, the mantra is now 'how Fintechs can collaborate with banks'.
"You are seeing more banks realise that they don't necessarily have to always compete with Fintechs. They can partner with a number of these Fintechs to offer new services to customers," he continued.
He also acknowledged that in some cases, banks also looking to build things internally.
Bagaria attributes the change in mindset partly through the efforts of regulators to create frameworks where partnerships can exist. Frameworks are now in place to encourage new banks to be set up to address specific requirements in the region.
Throughout these changes, banks are realising that one of the fastest ways to go to market is through a partnership with Fintechs.
The funding question
Bagaria observed that as banks recognise the relevance of furthering their digital capability and the value of Fintechs in this directive, incumbents are allocating meaningful budgets, in much the same way they would with physical branch expansion strategies.
He also observed the continuing affordability of cloud-based computing resources. The declining cost and ease of acquiring compute resources online are allowing banks to offer new services at a much lower cost.
The same benefit extends to Fintechs, which mostly operate a SaaS- model, rendering their solutions even more affordable to banking partners.
"This allows the banks and the Fintechs to be truly in a partnership where when the banks are successful, correspondingly, the Fintechs are also successful. And they can grow with them," said Bagaria.
Where the partnership model is happening
Legacy systems have long been both the competitive advantage and the block of brick stopping incumbents from wholesale transformation.
Bagaria pointed out that many of the current innovations occurring at banks are at the edge. Banks are still reluctant to open up many of their legacy infrastructures preferring to instead expose pieces of their systems – without disturbing the core systems.
The partnership with Fintechs is occurring at the edge, allowing for some innovation to occur without waiting for multi-year core or host transformation, an effort Bagaria believes will be difficult for banks to execute.
Partnership lessons
Bagaria acknowledged that for transformation to take place, there need to be internal mindset shifts, particularly at banks. He points to banks' past behaviour of build or buy when it comes to technology adoption.
"They want to build everything internally. They want strong ownership of the technology. This mindset has to shift if you want your partnership with Fintech to become a core strategy," he opined.
He observed that technology is becoming more affordable for both incumbents and Fintechs. He added that talent in emerging technologies like blockchain and AI is no longer exclusively found in banks.
He believed banks need to accept that (not all) Fintechs are out to disrupt the banks perse. By partnering with Fintechs, banks can serve the evolving needs of customers.
"Focus on the customer journey. You (bank) must first look at what your customer experience is going to be like, what is the problem that you're trying to solve," he nudged.
"Banking is all about trust. Partner with Fintechs that have proven capability to securely scale. Choose partners that can grow with you. Be cognizant that given there is a lot of innovation occurring, some will fail," he cautioned.
The CIO role in Fintech partnerships
Bagaria believes that the CIO has a role to play in a bank's strategy to partner with Fintechs. Such partnership, while not a technology solution perse, will involve some integration with a bank's core system.
"They (business leaders) need to keep into view the broader banking systems that they're running along with this FinTech partnership that they have. Both the business side and the IT side have to jointly collaborate and work with the FinTech partners," concluded Bagaria.
Click on the PodChat player and listen to Bagaria describe the evolving world of Fintech-Incumbent relationships and some of his learnings in building successful win-win partnerships.