Senior leadership is having a love affair with automation. Analysts like Mordor Intelligence are forecasting enterprises will gobble up RPA solutions at a CAGR rate of 29% from 2018-2026. Forrester says Asia Pacific account for 17% of the global spending on RPA. IDC says the financial services industry will spend US$271 million in 2024 on RPA alone.
They say that "necessity is the mother of invention" and humanity proves this right with each succession of innovation born from the heels of a problem begging to be solved. Automation, for example, started as far back as 270 BC with the construction of a float regulator used as part of a water clock.
In more recent times automation has taken on many forms with one common goal – to do things either faster, better, or safer. While the use of computers to automate process has been around for more than a decade, in recent years the technologies used to enable automation has grown in sophistication and importance.
Then came COVID-19 and the imperative to automate processes became even greater as virus containment forced organizations to look for means to continue business-as-usual under the new ways of working.
Process – in the pandemic
Analysis suggests that the pandemic is good for the automation movement. Digital transformation which was already underway years before the pandemic got a boost as leaders and technologists accelerated the timeline from years to months.
Zakir Ahmed, senior vice president & GM for Asia Pacific & Japan at Kofax, commented that organizations are no longer just automating tasks.
"We're using technologies like artificial intelligence, OCR, optical character recognition, process orchestration, and machine learning to provide this integrated solution – an integrated intelligence automation platform," he added.
Why the CIO cares about automation
Ahmed is quick to point out that the CIO role itself has fundamentally changed. "CIOs care more about their business users, and their end customers as being internal stakeholders," he added.
From a CIO's perspective, process automation including RPA has enabled the organisation to remain competitive by helping reduce cost, improve resource allocation, and streamline repetitive tasks.
"Tools like RPA, OCR and artificial intelligence can be used to create an intelligent automation framework or architecture ultimately leads to a digital workforce or a workforce that they can take into the future," he added.
A happy employee equals a happy customer
A joint Accenture-HFS study on employee experience services 2020 concluded that companies have been putting customer experience (CX) at the forefront to stay relevant, fend off disruption, drive consistent improvement to their balance sheets, and delight customers.
But all this starts by looking inward – at the employees, addressing their pain points and helping them improve their way of work.
Ahmed believed that a happy and efficient workforce will have a positive impact on customer experience. He opined that a progressive CIO has his eyes on both internal and external perspectives when it comes to process automation.
Where to start
"The first thing that we will tell organisations is, don't boil the ocean. And what we mean by that is, don't try and solve all your company's Process Automation or digital transformation goals. In trying to do it in one large, big project, you've got to be able to show small successes, and you've got to be able to show small wins and get your adoption and your buy-in from the key people in the organisation for this to be successful."

Zakir Ahmed
He observed that automation projections, especially RPA, are typically led by business. IT gets involved when the pilot project is ready to move to the next stage – scaling outside of its testbed.
The CIO's role becomes important here as he will need to drive the discussions with stakeholders and must make sure there is a close working relationship, maintain a collaborative atmosphere, with all constituents are orchestrated to solving the same problem(s).
Tim Hurman, director of transformation at Tricor Group, suggested that as a CIO, the first thing to do is make sure there's strong representation from the different areas of the business.
"The critical part is to gain coverage across the different areas that may have a potential for automation. There is a wide selection of solutions on the market, each with their own subtlety different philosophies."

Tim Hurman
"Some solutions are better suited to call centres, some to back-office processing, some to IT-driven automation, some to user-driven automation. It's important to understand that one solution may not cover all the needs of the organisation and that investing in a particular solution does have a long-term commitment, so making informed choices early on is critical," he cautioned.
He commented that with this achieved, moving forwards in the RPA journey is significantly easier. Getting suppliers to demonstrate the applicability of their solution to the business is certainly a good second step, during which representatives of key areas should offer an overview of their activities and nuances which can often have licensing implications.
Following on from here, a CIO should initiate an RFI covering both license and setup which will bring a central drive to the evaluation and give purchasing power to the organisation," he concluded.
Are mistakes allowed?
No one wants to be seen as making a mistake. In Asia, no one 'usually' dares to tell the boss that he or she has made a mistake. These thoughts have the potential to make things worse.
Part of the digital transformation thinking is to, in principle, allow for mistakes to happen, and by taking the agile approach, a mistake can be identified quickly and course corrections made thereafter.
Ahmed pointed out that change management is a very important component of any software implementation, especially in digital transformation and process automation.
"Your business needs to be adaptable. COVID has shown us that you must adapt very quickly. You need to have the right mechanisms and the right structure in place to allow for course changes when it is needed," he concluded.
Click on the podchat player and listen to Ahmed share his views on how process automation is evolving post-COVID-19.
The path to process automation started long before COVID-19 (2020).

What is different about the process automation landscape in 2020?
How is it evolving in 2021?
Is process automation the same for all industry sectors, including government?

Where are they the same?
Where are they different?

If we look at this from a functional perspective, have the priorities for process automation changed significantly in the last 2 years (mid-2019 – mid-2021)
Why should the CIO care about process automation? (internal to IT and external)
If an enterprise is beginning to embark on a process automation journey, where do they start?

Who should lead it?
How do they ensure it stays its course?
Can they make course changes along the way?

There may be cases where a wrong choice of solution was made. What's the usual approach to correct?
What is the one advice to the C-Suite leadership and Board around process automation?
BONUS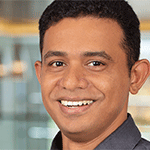 Leslie Joseph, principal analyst at Forrester and author of the Ten golden rules for RPA success warned that not every organization has succeeded at ramping up to stable, scaled automation. "RPA comes with its share of pitfalls and gotchas," he concluded. Below are the top 10 golden rules:
Align RPA efforts with broader digital transformation goals.
Build a pragmatic business case for RPA.
Treat RPA as an enterprise platform.
Secure your bots with zero trust principles.
Build a pipeline of processes.
Look for opportunities to improve, standardize and then automate.
Plan for AI but do not rush in.
Take an innovative view of intelligent automation.
Design for humans in the loop.
Develop the right automation mindset.