The global packaging services market to reach $50 billion in 2022 – that's according to the Smithers market report, The Future of Business Models in Packaging to 2022.
The packaging industry is a traditional (business) that circles around the same materials – glass, paper and fibreboard, plastics, wood, and metal. However, in recent years it too has been under pressure to adapt to changing business environments with some sectors more critically impacted than others.
The recently concluded COP26, and its focus on the circular economy, is not helping. To compound the challenge for industry players, the Ellen MacArthur Foundation posited that 45% of greenhouse gases emissions come from producing goods that we use every day.
With packaging accounting for 5% of the energy used in the production of food alone (for example), it becomes clear that the packaging industry has a role to play in addressing the crisis we call – climate change.
COVID-19 adds fuel to the challenge of coming with innovative designs and processes that will address the concerns around sustainable business practice, as well as support health and safety protocols arising from the pandemic.
The healthcare packaging industry, for instance, is projected to incur exponential growth and be valued at about US$114 billion in 2025. In tandem, industry key players are looking to further integrate sustainable approaches into their manufacturing processes, given the growing pressure to be more environmentally conscious.
Scott Jackson, general manager for Southeast Asia Healthcare at Amcor, acknowledged that the pandemic has disrupted production and impacted supply chains. "There has been a real need to be agile – one that supports this changing market dynamic," he added.
He goes on to add that the packaging industry, as a collective, across the value chain should work together to address these concerns.
"We cannot achieve a responsible packaging value chain by doing it on our own. Amcor is part of a cross-industry coalition that mobilizes infrastructure and technology to support and significantly help in keeping the packaging material out of the environment, along with growing this supply of recycled content that gets used in materials," he continued.
Jackson says the packaging industry will continue to align the standards to improve labelling and increase transparency and education around recycling. He believed this is key to the future of a more sustainable way of operating.
Doing better with fewer
Reflecting on the healthcare packaging services industry, Jackson believes there is an opportunity to innovate by reducing the amount of content – using fewer materials and more recycled content, eliminating problematic materials that cannot be moved through the recycling stream.
"If we think about it, one of the most demanding packaging applications is sustainable, flexible packaging, for the healthcare packaging market. Innovations need to focus on recyclability and reusability to reduce the carbon footprint," he commented.
"At the same time, we've got to balance that with meeting stringent sterility requirements, as well as highly specialized and regulated environments. These and these regulation processes take time. Therefore, it's important for us to communicate those innovations ahead of time and to educate our customers about them."
Role of technology
Jackson shared one innovation Amcor has developed to create awareness and appreciation for the impact of a product on the environment, including the supply chain.
"For example, if it's water usage, how many showers a year, does it take to produce your product, on average on a 10-minute shower. Our customers find it fascinating when you put that information in front of them," he explained.
He added that customers have a better appreciation of the sustainability challenge when they can see the impact of their decisions on the environment. This can range from the choice of materials to the suppliers they chose to partner with.
Planning for 2030
The Mintel Sustainability Barometer 2021 report highlighted the criteria important to consumers when choosing what products, they buy and from whom.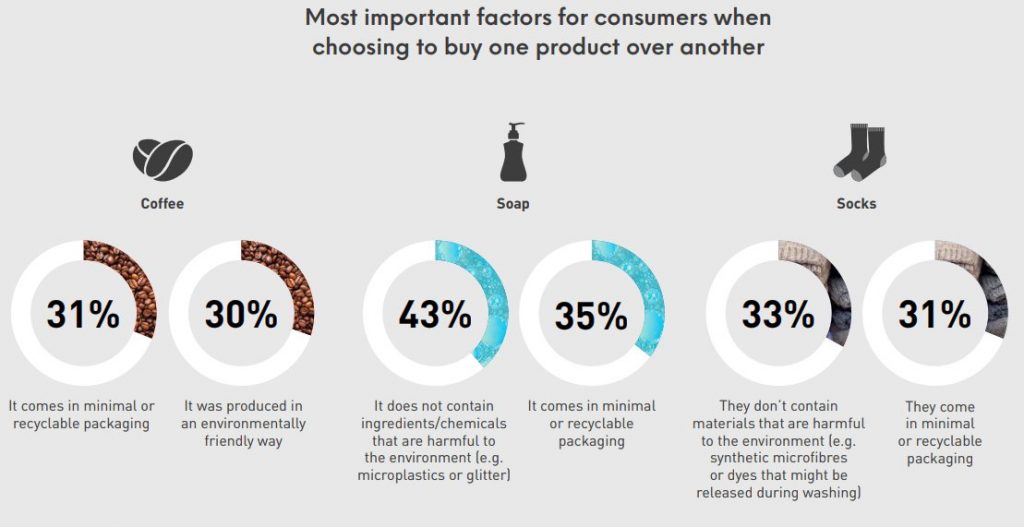 "These priorities often lean towards packaging considerations, as do consumers' concerns when resource impact might be greater, said the report.
Click on the PodChat player for more into Jackson's thoughts around sustainability in the packaging services sector.
How has COVID-19 impacted the global packaging services industry?
The rising concerns about healthcare waste products-syringes, PPE, etc, is a potential ESG nightmare. How should the packaging industry address these concerns?
Speaking of sustainability, what kind of innovations can we expect in this area?
What sort of innovations can we expect?
Specific to healthcare packaging, how do you see healthcare trends impacting the business and how are you responding to these dynamics?
What is the role of information technology in achieving a sustainability agenda?