Businesses today are collecting troves of data but having massive stores of data doesn't mean anything if an organisation is not able to use the data in the right way. That's the sad news. The slightly better news is that companies recognise their limitations and are throwing resources and technology to solve the data mystery.
Among the many technologies that have seen interest among businesses is artificial intelligence (AI), the opportunities it offers and the challenges it presents to companies looking to tap the potential.
Christopher Lee Marshall, associate vice president for IDC Asia-Pacific, says "AI is rapidly outgrowing its preliminary notion as the add-on service to business practices, and coming on strong as a game-changer in the way organisations can leverage on the technology.
"Its successful adoption requires a mammoth transformation of not only the organisation but its employees, balanced with capabilities to secure increasingly complex data paths," he added.
Of course, any interest in AI can be traced to an organisation's data-driven strategy.
McKinsey says rapidly accelerating technology advances, the recognised value of data, and increasing data literacy are changing what it means to be "data-driven."
Asked what organisations are doing right and wrong in pursuit of their data-driven strategy, David Hardoon, managing director for Aboitiz Data Innovation, lays the blame on how organisations are approaching the adoption of artificial intelligence (AI).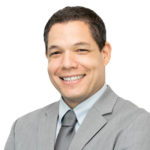 To Hardoon, data and AI are interchangeable because ultimately data is a material and AI is a tool to extract a potential outcome of value from that material. "Data and AI are simply an intermediate, they are simply a means to an end. Ironically, the goal is the business. It is the KPI," he continued.
"A lot of times we lose sight of the forest from the trees as the saying goes. When you have that overarching strategy, we spend too much time focusing on the AI and the data in itself as the goal, as the objective. And that shouldn't be the case."

David Hardoon
He posits that to succeed with AI, organisations need to stop thinking of an AI strategy.
The KPI of AI
Asked what the key metric for an AI investment Hardoon is quick to point to money as the final measure. He concedes that it's intuitive, but not immediate.
"It's not something that we think about. But once it is done, and once we're able to link concretely and quantifiably what the AI initiative has achieved, it comes down to money," he commented.
Hardoon may not be far off in his belief. The PwC global AI study forecasts that AI could contribute up to $15.7 trillion to the global economy in 2030. Of this, $6.6 trillion is likely to come from increased productivity and $9.1 trillion is likely to come from consumption-side effects.
Operationalizing AI
Among 405 global executives that participated in a Harvard Business Review Analytic Services study, only 26% have met most of their AI operationalisation goals in 2020. More disappointing however is that only 5% hit all of them.
Hardoon believes that organisations are failing to operationalise AI because of the order in which they approach AI adoption. He opined that in many instances, organisations focus on the HOW first, then the WHY and the WHAT.
He believes that it is important for the different functions within the organisation to be aligned when it comes to what they want AI to achieve.
"It is important that we are clear on what we are trying to achieve. Every part of the business will have a what. Whether data and AI can deliver value is secondary. But the WHAT is there. Start with that, identify the goal, and the aspiration. Forget the five years. Forget the two years. Just the now. That will lead you to the WHY," he explained.
He believes the "Why" helps illustrate understanding the next step. "It helps provide clarity as to, is it something that we truly need? And truly want to put our efforts behind or is it something that perhaps could be a secondary objective. And then finally, the HOW, which will help illustrate which tool within the box we want to use," he concluded.
Click on the PodChat player and listen to Hardoon share observations on how organisations are doing right and wrong around data-driven strategies.
What are organisations doing wrong when it comes to pursuing a data-driven strategy?
What are the key defining metrics for data initiatives?
AI is different things to different parts of the operations (finance, security, operations, retail, etc). can you name a best practice for aligning the what (goal now, not in the future) and why of AI with the how? Would you call this operationalising AI?
How can CIOs and IT leaders mitigate the negative aspects of the hype surrounding AI while preserving the enthusiasm rightfully associated with its power to create real value?
Coming into 2022, what remains key challenges for the following roles when it comes to AI adoption and monetization: (a) Business Leadership (CEO, heads of lines of business), (b) Operations, (c) Finance (CFO, controllers, finance team) and (d) IT (CIO, CTO, CISO, etc)
What is your advice to IT leaders as they push for acceleration and sustained adoption of AI within the organisation?