The Asian Banking School prospectus for "DIGITAL TRANSFORMATION : "BANKING IS NECESSARY, BANKS ARE NOT" pulls out one of the most quoted predictions of the 1990s – Bill Gate's quotes about financial services and financial institutions: "people need banking, not banks."
Certainly, the convergence of advancing technology and process innovation has made it possible to provide financial services such as payment transactions and loans outside of the traditional banking facilities.
More recently, the social restrictions imposed with the onslaught of the COVID-19 pandemic have proven that people can do banking without having to rely on banks.
To be fair, banking regulators and central banks have come around to the understanding that to achieve the much-desired financial inclusion, there is a need for intermediary solutions that are not the traditional channels for financial transactions.
To entice consumers to become part of the financial ecosystem, it is a matter of giving them choices that focus on the experience while delivering on the efficiency and transparency that traditional channels are infamously known to be lacking.
But how can one enable this service without overturning hundreds of years of established banking principles? Can there be a middle ground where established financial institutions can co-exist harmoniously with non-banks to cater for the needs of consumers?
Finastra's Banking as a Service (BaaS): Outlook 2022 study outlines the BaaS value chain as consisting of four players: consumers, distributors (or embedders), enablers and providers.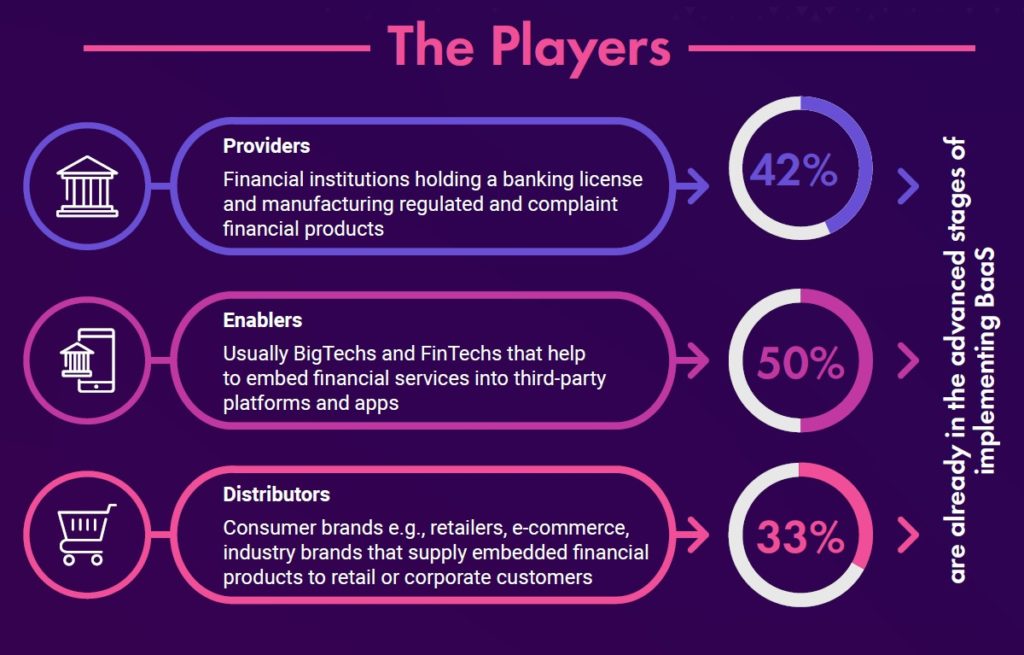 Distributors are organisations that embed banking services directly into their existing customer journeys.
Typically, technology firms or technology-lead organisations, enablers help to embed financial services into third-party platforms and apps.
Providers (manufacturers) are financial institutions that hold a banking license and offer regulated and compliant financial products.
But to play in what Finastra forecasts as a US$7 trillion industry by 2030, regulators need to ensure that customer data remains protected. Enter, open banking (also known as open bank data) – a practice that provides third-party financial service providers open access to consumer banking, transaction, and other financial data from banks and non-bank financial institutions through the use of application programming interfaces (APIs).
Open Banking and Banking as a Service: what's the difference?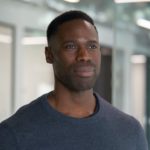 Referring to Open Banking as a framework, Jovi Overo, the global leader in Banking-as-a-Service (BaaS) at Unlimint, says it (framework) allows for secure access and processing of financial data by third-party financial services.
"BaaS falls under the Open Banking framework by allowing businesses to securely offer financial products to their consumers. Third-party providers (TPPs) use APIs to access existing banking infrastructure and then offer the product through API driven platforms directly to their customers," he added.
Funding Societies' group chief technology officer, Ishan Agrawal, says the bigger idea for BaaS is that banking should be everywhere and support all aspects of a customer's lifecycle, and not be limited to a banking app that the customer has to go to each time for their banking needs.
Gunnar Jaerv, COO of First Digital Trust adds that in this scenario banking becomes a public service, with enterprises enabling customers to conduct banking transactions through these APIs on their apps thereby making their customers' life easier.
"BaaS companies seem to be making headway to build something from the ground up for the modern world, while banks pushing for Open Banking are trying to make the old work for the new," he added.
Overo opines that as an initiative Open Banking is pushing consumer-driven financial services. It wants to allow consumers more control of their data, lets consumers share their data wherever they choose to, securely as well as introduces competition in the banking space.
He notes that BaaS pushes this as it allows for more businesses to embed financial services that compete with the incumbent banks without having to go through the painstaking process of having to gain a banking license of their own.
But Jaerv says adoption of Open Banking standards is an option for BaaS companies. They can pick and choose what to adopt. "If they adopt Open Banking standards, it will help develop the Open Banking ecosystem. That said, they are not necessarily always intertwined," he clarified.
Why the CIO should care about Open Banking or BaaS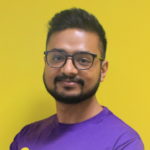 Agrawal says for any bank CIO, open banking or BaaS should be a top priority if it is not already. Banks embracing BaaS will have an edge in user acquisition and retention.
"As users get used to the convenience of embedded banking services, they will expect their bank to offer this, or switch to another bank. The sooner CIOs of banks embrace Open Banking or BaaS the better prepared they will be for the next 10 years of banking evolution," he commented.
One of the early realisations of Fintechs is that banks still hold most customers. Overo contends, however, that with the rise of open banking, people are beginning to switch to digital banks so that they can be savvier with their finances.
"To prevent this, CIOs should begin to collaborate with third-party providers to offer the current customers control of their data. If they can provide a more personalised service which there is a demand for, they can compete with the newer digital banks with the main advantage being they already have a customer base," he added.
Jaerv claims that the retail (banking) business is no longer a moneymaker for banks. Many banks are exiting retail and commercial banking and focusing on wealth management and investment banking.
"Open Banking or Baas model allows banks to continue to service this segment but push the responsibility of building products to Fintechs that are more adaptable and flexible in building such products (think Grab, Transferwise, TNG, AliPay). Banks are often rigid and have too much baggage to successfully launch products like that to the market," he claimed.
Preparing IT for Open Banking and BaaS
Agrawal acknowledges that as bank CIOs (and IT) embrace technologies like public cloud, APIs and composable architectures, it would take time for banks to migrate off their legacy systems.
He insists, however, that the imperative (to adopt Open Banking or BaaS) as a priority is right now. "Especially with many truly digital banks coming up who do not have to deal with any legacy software and can move fast and provide a great customer experience," he reflected.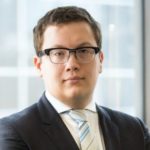 Jaerv believes, however, that the IT infrastructure is (already) there. He notes that the uncertainty around regulation and complexities arising from traditional core banking infrastructure is slowing things down.
"Banks need to invest more to develop Open Banking tech and contribute to developing simplified and unified standards and APIs. BaaS companies are an excellent example of businesses that have seized the opportunity already by re-inventing a lot of the core banking infrastructure, and the reason why BaaS companies are ahead in the race," he concluded.