Singapore HQ set up to create jobs and spur innovation
The demand for virtual healthcare and growing investments in the digitalization of healthcare institutions are accelerating the adoption of advanced digital health platforms. One such company, Healthcare Triangle Inc is investing USD 25 million towards expansion, with Singapore as the regional hub. 
The company is a provider of healthcare and life sciences cloud transformation, managed services, and data analytics platforms. It will focus on tech adoption of digital healthcare solutions in the city-state and across the Asia Pacific.
With the rise of artificial intelligence, IoT, and Big Data in healthcare, the digital health market in Asia Pacific is valued at USD 40.3 billion in 2021. Advanced healthcare services is expected to expand to US$ 326.7 billion by 2030 at a CAGR of 26.5%.
Demand for advanced digital health services in Asia
Healthcare Triangle's entry into the region could not be more timely as the set up will open up at least 500 new jobs over the next five years, in the city-state alone.
According to a report by Statista, a large population of the Asia Pacific region is still living in remote areas and seeking digital healthcare services. Awareness about telehealth services and the growing demand for low-cost remote patient monitoring services are expected to drive the market in the next ten years.
The growing need for clinical information systems and electronic medical records will propel digital healthcare platform adoption. In fact, according to the Future of Healthcare Report by McKinsey, digital health in Asia could collectively create up to $100 billion in value by 2025, up from $37 billion in 2020.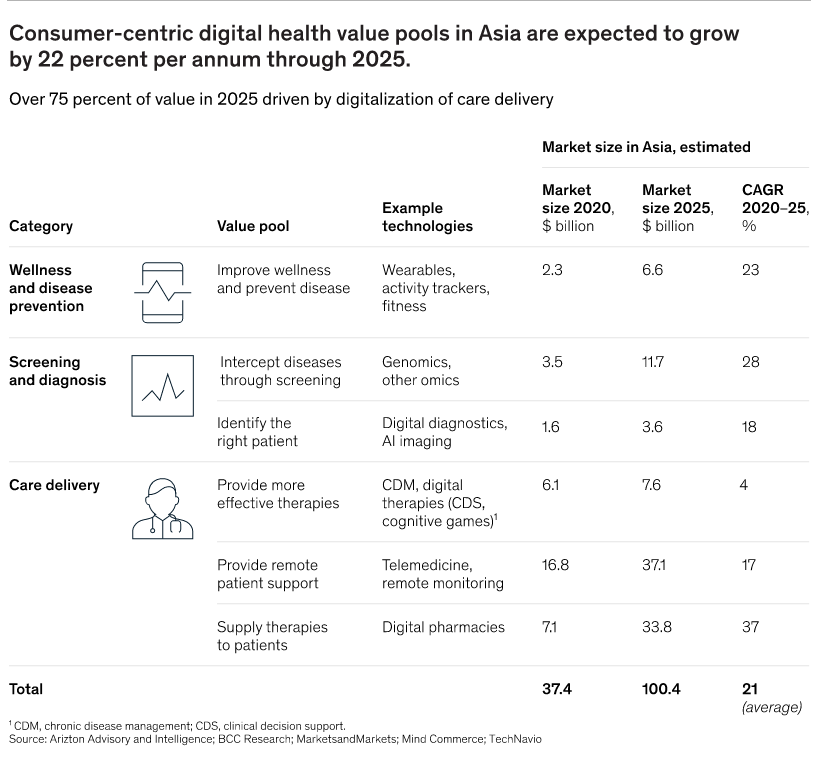 Source: Future of Healthcare Report by McKinsey
The company's joint venture expansion into the region will further innovation and bolster Singapore role as a medical hub. With their experience working in the developing healthcare technology industry in the US, the company aims to help healthcare companies scale their digital solutions and innovation in the region.
"The APAC regional headquarters will be based out of Singapore, an encouraging and supportive place for global businesses. At Healthcare Triangle, innovation and attention to technology are foremost, and this ethos aligns with Singapore's smart nation drive," said Suresh Venkatachari, chairman and CEO of Healthcare Triangle.