Two leading conglomerates in the Philippines last week have separately entered a joint venture with foreign data centre services providers, in a move that  would contribute significantly to the development of hyperscale data centres across the country as the backbone infrastructure tries to catch up to rapid digitisation.
"The Philippines has consistently flown under the radar until just the last few years," said Jabez Tan, head of research, Structure Research. "The conditions are ripe for colocation providers to jump in and win business. In the last 12-18 months, data centre operators, real estate developers, and investors have circled the market in anticipation of the expected demand. And the underdeveloped competitive landscape leaves the door open for tremendous opportunities and long-term growth potential."
AyalaLand tips its toes into the data centre market
First up, AyalaLand Logistics Holdings Corp. (ALLHC) have partnered with FLOW Digital Infrastructure (FLOW) have entered to develop and operate carrier-neutral data centres across the Philippines.
ALLHC is a subsidiary of Ayala Land, Inc. (ALI), that engages in leasing industrial parks, warehouses, cold storage facilities, and commercial spaces. On the other hand, FLOW operates in the key physical assets of the digital infrastructure ecosystem, including cloud, hyperscale, enterprise data centers, and network and fibre assets across the Asia-Pacific region.
The joint venture includes the delivery of a data centre facility in a hyperscale campus, which is designed to provide total IT capacity of 36MW and expand via modular deployment. The initial roll-out of 6MW is targeted to be ready-for-service by end of 2024.
"We see long-term strategic value in expanding ALLHC's product offering and capabilities to meet the rapidly expanding needs of the digital economy," said Patrick Avila, chief operating officer, ALLHC.
He added: "We view this joint venture as a cornerstone of ALLHC's growth, and we believe this partnership with FLOW will provide the distinct advantage for ALLHC to become the data centre provider of choice of global hyperscalers and enterprises in the Philippines."
ALLHC said the company's expansion in the data centre space is in line with its long-term strategy to broaden its portfolio into complementary new economy segments; while for FLOW, the partnership is the latest step its ongoing Asia-Pacific expansion as a platform providing customised solutions to meet the region's growing demand for digital infrastructure.
"The Philippines is at a tipping point to embrace the growth of the digital economy, where digital infrastructure plays a critical role as the foundation of the information and communications technology industry," said Amandine Wang, CEO, FLOW Digital Infrastructure.
Aboitiz Group takes the plunge
Likewise, Aboitiz Group, through its infrastructure arm Aboitiz InfraCapital (AIC), has forged an exclusive partnership with EdgeConneX to build a network of hyperscale data centres across the country.
The joint venture will leverage Aboitiz' century-long local market expertise and its groupwide land and power assets with EdgeConneX' global data centre platform, build, and operational capabilities.
The first two data centers focus on the Manila metro area, with a connectivity-focused facility adjacent to the local internet exchange (IX) and a secondary hyperscale campus facility also located in the greater Manila area.
The partnership will look to tap AIC's land bank of 1,400 hectares of prime industrial real estate and AboitizPower's diversified renewable energy capacity, which the company aims to triple by 2030.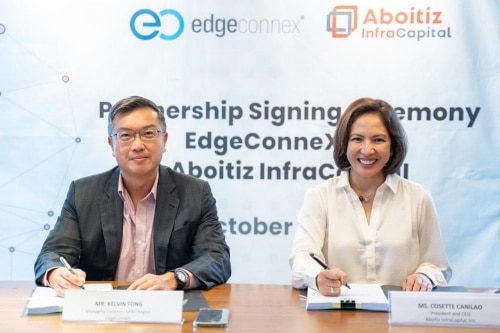 "The Philippines is underserved and seeing high domestic data demand growth relative to Southeast Asia. Our market size, favourable demographics, and proliferation of subsea cables make the Philippines an ideal destination for data centre investments. We also have access to prime real estate in both city centers, such as Manila, as well as emerging economic hubs like Batangas. We're thrilled to have a premier global data centre partner in EdgeConneX," said Cosette Canilao, president and CEO, AIC.
AIC and EdgeConneX have complementary capabilities required to successfully capture market opportunity, according to Randy Brouckman, CEO, EdgeConnex.
"In AIC, we have the ideal partner in the Philippines," he said. "They possess the local assets and expertise required to build out critical digital infrastructure that can best support our customers across the entire country. We look forward to investing in the digital economy of the Philippines and meeting our customers' needs throughout the region."
EdgeConneX provides a full range of sustainable data centre solutions worldwide, offering enterprises choices in location, scale and type of facility, from hyperlocal to hyperscale.
Backed by EQT Infrastructure, part of the global investment organisation EQT, EdgeConneX delivers data centre services for a diverse portfolio of industries, including content, cloud, Networks, gaming, automotive, SaaS, IoT, HPC, and security, among others.
"Asia is a major focus area of investment and growth for EQT and EdgeConneX," said Jan Vesely, partner at EQT Partners. "The data usage in Asia is expected to grow exponentially over the coming years, meaning that the underlying digital infrastructure must scale-up to meet increasing demand, thus creating compelling opportunities for investments."
"Whether through M&A or joint ventures such as this one with Aboitiz, we look to continue steadily building out the EdgeConneX global platform in Asia in collaboration with leading local partners," he added.