With the gradual re-opening of workplaces and factories and resumption of some domestic and international travel, it is clear that Asia/Pacific is raring to jumpstart its COVID-19 recovery journey.
Even if parts of the region are exhibiting different stages of progress with regard to how they're battling the pandemic, the overarching sentiment is of tentative optimism, as evidenced by a recent iteration of IDC's COVID-19 Tech Index that showed a gradual increase in technology spending sentiment in the region, compared to other parts of the world.
There are many factors at play that will determine how fast a company can recover from the business impact of the pandemic, but business resiliency and an organization-wide focus on achieving this resiliency through technology top the list.
Compared to past financial crises, IDC research reveals that more organizations are exhibiting resilience despite challenging business conditions, on the back of pre-pandemic digital transformation projects that have given organizations the agility, flexibility, quickness, and customer focus to quickly pivot.
If there's anything to be learned from past DX successes of organizations, it's that innovation is no longer the exclusive domain of the IT department, and LoBs are playing an active hand in determining what and how they want their respective organizational functions to innovate. Now more than ever, digital transformation must be treated as a team sport.
As businesses plan towards recovery, every department in an organization has a role to play in leveraging technology to "flatten the curve." Technology investments bring competitive advantage, minimizing the impact of the current crisis to emerge on the other side more resilient, more digitally fit, and ready to capture their share of the new opportunities as part of the Next Normal.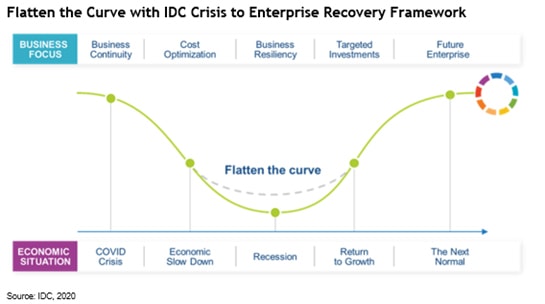 How is the Next Normal shaping up? Until a vaccine is made widely available (which may not be until 12-24 months from now), here are some of "working/living in the COVID-19 world" scenarios in Asia/Pacific:
Every "best employer" will have a holistic WFH/WAH program in place. At least 40% of all employees will be working from home half of the time.
Almost all work processes will embrace tele-/digital capabilities. Automation and contactless use cases will be essential parts of all business processes regardless of industries.
Online engagements, eCommerce, transactions/payments, helpdesk/support and partner-customer collaboration will represent at least 50% of all transactions/interactions. With customer-facing platforms pivoting to digital-first, physical storefronts and retail outlets will be downsized or at least reconfigured.
At least 70% of all communications, collaboration, learning and co-creation will be done via video collaboration tools.
Security and privacy will be redefined. There will be wider acceptance of data sharing. Increased digitalization will increase more security awareness and yet up the threshold to share data. Trust will be the key driver.
The use of analytics/AI/ML will accelerate to manage risk and uncertainty as well as to predict customer behavioral changes and market demands. Intelligence will become the core pillar at the end of business resiliency stage.
Leveraging technology to flatten the curve means organizations must invest their way out of a slowdown, not sit it out.
Technology vendors play an important role in helping their end-user clients understand this and match cost optimization and resiliency efforts with the right investments. But this approach is compounded by how an organization will find itself in different stages of recovery all at the same time.
Different personas from different departments in an organization will find themselves in different stages, depending on their key functional priorities.
A CIO/CTO may be in cost optimization stage and is more inclined to adopt technologies such as cloud/on-demand services to help drive cost down, move expenses from CAPEX to OPEX, accelerate automation as well as prioritize the most urgent requirements like remote learning/training, data security and secure remote access, virtual workspaces, video conferencing, etc. to cater for the majority of the workforce to be able to continue to work.
A COO may be looking to build operational resiliency to better prepare the organization to return to growth in its recovery journey. The executive may therefore be looking for data-led engineering and digital twin solutions towards market-driven operations.
A Chief Commercial Officer or a Sales Leader may be looking for new channels to market, leveraging online/eCommerce/digital/mobile. He/she may also be looking at ecosystem-led business models to drive new competitive positioning in post COVID-19 outbreak, lockdown or crisis environment.
A CEO or CFO or a senior business executive may be thinking of the next normal scenarios that apply to its organization and looking for ideas, initiatives and use cases on new/disruptive business models and/or ecosystem-led options, harnessing game-changing technologies.
For more information, visit this link: https://www.idc.com/misc/covid19