Hong Kong-based data centre operator SUNeVision recently opened its new hyperscale data centre MEGA Gateway in Tsuen Wan, the seventh data centre on its portfolio.
The latest addition to the company's interconnected MEGA Campus, MEGA Gateway is built to support mission-critical IT workloads with its future-proof infrastructure. It has achieved 65% pre-commitments from several major customers, with some customers having gained early access to the data centre facilities.
MEGA Gateway is positioned as the next connectivity hub extended from MEGA-i through a dedicated dark fibre network. This enables MEGA Gateway customers to interconnect with major cloud gateways and hundreds of global and local IT service providers in MEGA-i through SUNeVision's inter-data centre MEGA Connect.
With diversified telecom lead-ins, MEGA Gateway features carrier and cloud-neutral interconnections with high-speed access, providing customers with extra resiliency and redundancy in today's highly dynamic business environment.
"We are witnessing a strong momentum as we expand our data centre footprint in Hong Kong. We have unique competitiveness with our more than 20 years of proven track record," said Raymond Tong, CEO and executive director, SUNeVision. "We are well positioned to ride on the upcoming wave of data explosion."
"MEGA Gateway is the natural extension of our MEGA-i and is a strategic springboard connecting our customers to anywhere they need to be, whether internationally or to mainland China. The new development is not only a significant milestone on our business roadmap, but also a demonstration of our firm belief in Hong Kong as a regional technology hub."

Raymond Tong, SUNeVISION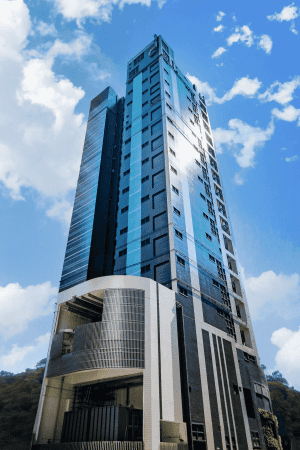 Collaboration with Sun Hung Kai Properties
Riding on Sun Hung Kai Properties' strong technical know-how and expertise, SUNeVision has completed the construction of MEGA Gateway amid pandemic headwinds. The joint team from Sun Hung Kai Properties and SUNeVision has managed the entire lifecycle from design, construction to operation.
MEGA Gateway is one of the first movers in new hyperscale projects in the Tsuen Wan and Kwai Chung districts with world-class facility to meet the ever-increasing connectivity demands in the region.
'At SUNeVision, we carry the spirit of our parent company Sun Hung Kai Properties. We are committed to building superior infrastructure and providing exceptional services with a long-term view," said Allen Fung, vice chairman and executive director of SUNeVision. He is also executive director and CEO of Non-Property Portfolio Businesses at Sun Hung Kai Properties.
Fung added: "We have developed MEGA Gateway to supplement MEGA-i and provide customers opportunities for expansion and upgrades. SUNeVision aspires to support Hong Kong to further enhance its position as a regional data hub, and this is important for Hong Kong in becoming an international innovation and technology centre in line with the National 14th Five-Year Plan."
Future-proof design
MEGA Gateway is an en-bloc data centre purpose-built for customisation and flexibility, providing unrivalled power density, connectivity and strategic importance for hyperscalers.
Certified for LEED Gold Building Design and Construction, MEGA Gateway features 200,000 square feet GFA and 20MW power capacity with on-premise and dedicated-use 132kV substation, ensuring adequate and timely power supply. The modular design with optimal floor height and high floor loading are all perfectly designed to meet today and future needs of cloud services, telco carriers, ISP and high power-density customers.
Strategically located in Tsuen Wan, the central hub in Kowloon and New Territories of Hong Kong, MEGA Gateway is in mid-way along different cross-border fibre paths from mainland China to data centres at MEGA Campus. MEGA Gateway is well positioned as a strategic springboard connecting customers to mainland China from the rest of the world, vice versa.
'This single purpose-built en-bloc data centre provides the best power density, connectivity, and strategic importance for hyperscalers," said Robert Chan, executive director of Sun Hung Kai Properties and Non-Executive Director of SUNeVision.
He added that the construction of MEGA Gateway has been challenging because of the pandemic but problems were resolved promptly.
"SUNeVision's continuous expansion demonstrates our commitment to cementing Hong Kong as the technology hub in the region.'