The EY CEO Outlook Pulse – October 2022 suggests that Asia-Pacific CEOs are set to invest to get ahead of the interrelated threats of ongoing COVID-19 pandemic-related disruptions, increasing geopolitical tensions and climate change.
Among APAC CEOs, 48% identify a continuation or return of COVID-19-related disruption, including new lockdowns and supply chain pressures, as the greatest risk to their business, higher than for CEOs in the Americas (43%) or Europe (41%).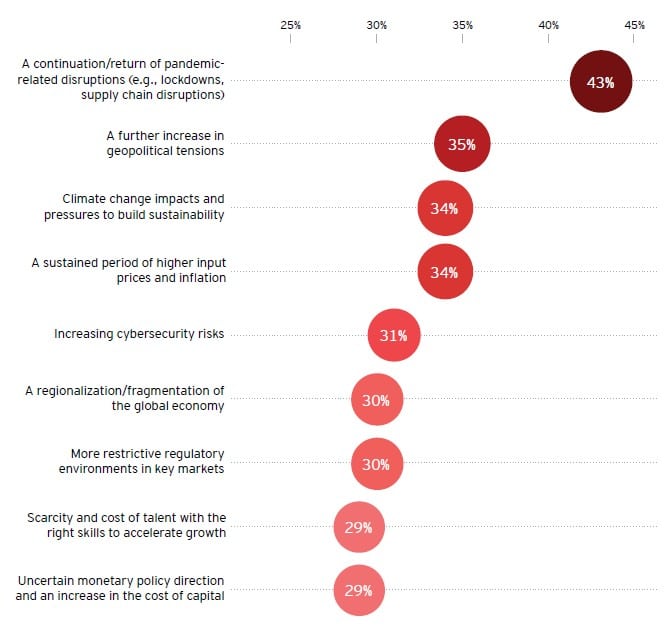 About 68% of APAC CEOs worry about inflation forecasting it will negatively impact their earnings and growth. With price rises across major inputs, including, labour, energy and raw materials, one-fifth (20%) consider inflation as the single-biggest threat to their companies' revenue and margins.
Contributing to the challenges ahead, 38% of respondents pointed to geopolitical tensions and 35% to climate change and as critical risks to growth. As a result of geopolitical challenges, almost all respondents (95%) are reshaping their investment plans and operations (compared to 69% in February 2022).
According to the EY survey, geopolitical concerns mean Asia-Pacific CEOs are actively reconfiguring their supply chains (48%), delaying a planned investment (43%) or relocating an operational asset (39%); while a quarter has stopped a planned investment (26%) or are exiting businesses in certain markets altogether (25%).
Yew-Poh Mak, EY Asia-Pacific strategy and transactions leader, says: "CEOs across Asia-Pacific are navigating a persistently complex business environment. The combination of ongoing pandemic-related disruptions, rising inflation, geopolitical tensions and climate change have created a perfect storm of high-impact risks."
He added that Asia-Pacific CEOs need to pull what levers they can to mitigate these risks, while also creating optimal conditions for long-term value creation.
Staying future-focused
Despite the geopolitical and economic headwinds, Asia-Pacific CEOs are not holding back on their investment plans, with 66% intending to increase capital investment versus just 13% who plan to reduce.
Half of Asia-Pacific CEOs plan to pursue an acquisition in the next year (in line with the average of 48% between 2013–22), while 42% of respondents plan to be active on all fronts, looking to acquire, divest and enter new joint ventures or strategic alliances.
When it comes to their next transaction, more than a quarter (26%) of respondents said that this will be driven by the need to invest in an early-stage business to enhance their existing portfolio and access new talent, and 17% said that they will look to acquire a business in an adjacent sector to open new growth avenues.
Embedding sustainability products and services (42%), focusing on pricing to improve profitability (36%), and adapting supply chains for resiliency (35%) are the top three strategic actions Asia-Pacific CEOs respondents are planning to pursue to weather a challenging six months ahead.
According to Mak, Asia-Pacific is still the fastest growing region in the world and CEOs recognise they need to bolster their investments to keep pace with rapidly changing market dynamics.
"Asia-Pacific CEOs see M&A, joint ventures, and alliances as critical tools to quickly access the operational capabilities, talent and scale needed to transform their businesses and position themselves for future growth."

Yew-Poh Mak
"However, Asia-Pacific CEOs are being much more selective in the deals they pursue, having strengthened their due diligence processes to make sure they're doing the right deal at the right price," he continued.
He added that now is a critical time for Asia-Pacific CEOs to review their assumptions and re-examine their strategies through a new lens.
"Leading companies recognise the importance of a more local approach and will diversify their risk exposure by re-orienting their investments, focusing on value for stakeholders and moving supply chains closer to their customers," he concluded.