Has the continued spate of protests in Hong Kong fuelled the growth of food delivery business?
While no one is drawing any linkages, Statista estimate that revenue in the Online Food Delivery segment will reach US$615 million in 2019 in the city. It also forecast annual growth rate (CAGR 2019-2023) at 6.8%, resulting in a market volume of US$801 million by 2023. The market's largest segment is Platform-to-Consumer Delivery with a market volume of US$464 million.
According to McKinsey, just 26% of traditional-delivery orders are made online today. It, however, expects this share to increase rapidly.
Hong Kong
A new research by food delivery service Deliveroo noted that ordering online food delivery to the office is a booming trend that's not just happening on Hong Kong Island but in the Kowloon East district as well, where it reported a 120% year-on-year growth.
The district is now home to an influx of new office buildings and retail centres, including significant growth for finance, insurance and real estate. The so-called FIRE sector now comprises 19% of the Kowloon East industry, up from just 6% in 2011, according to a Planning Department report.
Business during peak hours of between 1pm and 2pm have doubled year-on-year, according to Deliveroo. The aggregator also noted significant growth in orders between 7pm and 8pm.
Teatime orders, placed between 2pm and 6pm, are also popular in Kowloon East with Deliveroo data accounting for 22% of total order volume. This compared favourably against just 15.5% in the key districts of Hong Kong Island.
Brian Lo, General Manager, Deliveroo Hong Kong, said: "Services like Deliveroo for Business are particularly important to support thriving business districts such as Kowloon East, where hungry office workers depend on great food delivered fast. We look forward to continuing to uncover new data and insights all the time, to deliver the best to customers and set the trends on where our industry in Hong Kong is headed next."
Asia opportunity
McKinsey forecasts that the global addressable market for new delivery to reach more than Euro20 billion by 2025. It also predicts that while there is opportunity for new players to come in, consolidation will be a major characteristic of the industry in the years to come.
Statista estimates that Asia leads the world in the online food delivery business with a market value of US$53 billion – more than half of the global demand.
But beyond food delivery, other segments have started to grow as a result of the growing preference of consumers to order in. A Nikkei Asian Review article estimates that ghost restaurants or shared kitchens are growing rapidly in places like Japan and China. Food delivery in China is estimated at US$37 billion with virtual restaurants trying to catch up with the trend.
Self-described "WeWork for Kitchen" Beijing-based Panda Selected said it has opened 103 shared kitchens across four major cities in China within three years. It claimed to that more than 500 businesses have embraced its service.
Not everyone is happy with the trend however. Commercial property consultants Cushman-Wakefield predicts that traditional restauranteurs in Asia will feel the pinch. It predicts that restaurant dining will decline 7.5% over the decade to 2026, from what has been a steady growth business of up to 10% annually between 2006 and 2016.
Creating a unique touch
Competitive differentiation will not be limited to the selection of food and beverages. Competitors need to ensure that they provide a holistic experience that covers not only what is on the menu but delivery time and quality, payment process, and security as well.
This means operators may need to rely more on technology to recreate the gastronomic experience consumers are accustomed to when dining out, at the comfort of their table (or office desk).
McKinsey says customers drawn to the new online food-delivery platforms have a different set of needs and expectations from the traditional pizza customer. It lists important traits as follows:
Platforms are sticky. New-delivery platforms, which personalize the ordering experience by storing relevant customer data, are sticky (Figure 1). Once customers sign up, 80% never or rarely leave for another platform, creating a strong winner-take-all dynamic, in which the reward goes to the player who can sign up the most customers in the shortest amount of time.
Time is critical. Speed of delivery is the biggest variable in customer satisfaction, with an average 60 percent of consumers across markets citing it as a key factor. The optimal wait time is no more than 60 minutes.
Meals are for home. Most orders—82%—were placed from home, while only 16% were placed from the workplace.
Orders spike on weekends. The highest-volume days for the online platforms were Friday, Saturday, and Sunday, when 74% of orders were placed.
Figure 1: Delivery platforms are a hit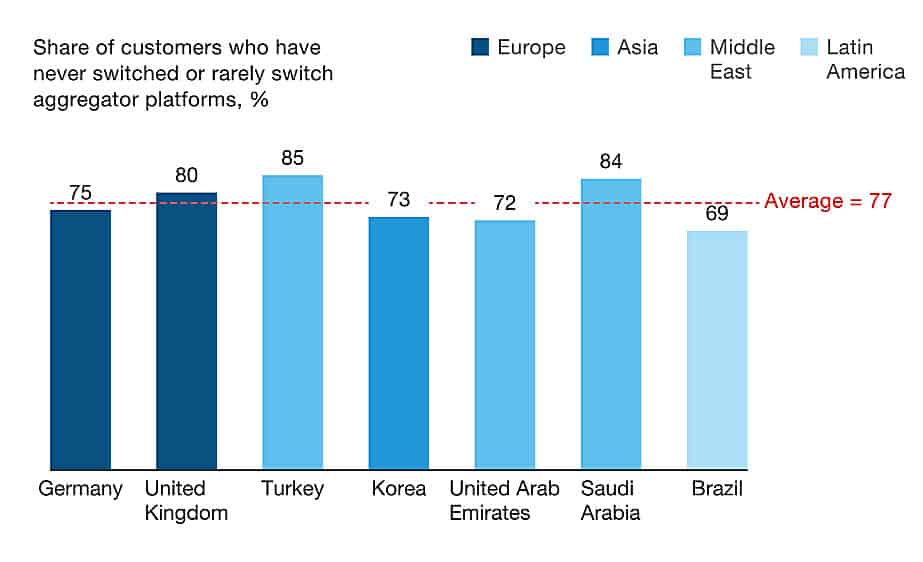 Source: McKinsey consumer research (n=10,000), September 2015