With consumers, governments and investors all pushing for decarbonization, companies are racing to act or accelerating their journey towards net-zero.
Achieving net-zero requires companies to identify opportunities to create value through cost reduction or growth, in addition to risk protection. This means prioritizing areas for deployment based on return on investment and external requirements and linking the sustainability agenda to business metrics.
"Many companies begin their carbon efforts as a way of defending themselves by preparing for reporting requirements or pre-empting shareholder expectations. Leading companies leverage decarbonization to accelerate a full-potential transformation whilst simultaneously playing defence and offense," said Torsten Lichtenau, Bain & Company senior partner.
A survey of 80 business leaders in oil and gas, utilities, new energy, chemicals, agribusiness, mining and financial markets revealed that 60% said that an energy or resource transition was central to the future of their sector, and 35% are starting to change their priorities and create opportunities.
The Bain research, When Less Carbon Means More Growth, noted that leaders acknowledged that the climate imperative requires a full potential transformation that touches every part of the organization.
Four questions
Bain & Company identifies the four fundamental questions that companies need to answer when on their carbon transition journey:
1. How bold and fast should my ambition be? Companies must be clear about their decision when it comes to the basic trade-off between speed and boldness
2. What are the available levers? In pursuing a carbon transition, companies have three sets of levers to deploy: strategic, operational and offsets
3. How should I adjust my organization? Decarbonization must be integrated into procurement choices and incentives as well as communicated to customers
4. How do I engage shareholders? Companies must learn how to create dialogues with external businesses and governments to create value through collaboration
Net zero is a multiyear journey—many companies are just starting, some are now scaling, and a select few are staying the course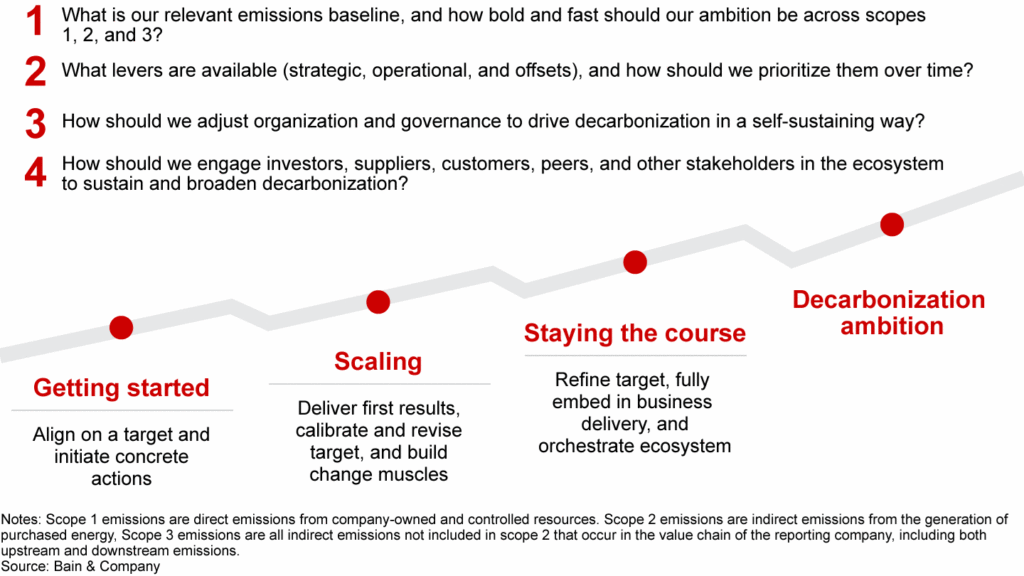 Nitesh Prakash, a partner in Bain & Company's Energy & Natural Resources practice, said "Net-zero is a multi-year journey. The best companies help boost their odds of success by building change muscles in the organization for the journey that lies ahead."