China – and other countries in APAC – are way ahead of the U.S. when it comes to Blockchain adoption.  In fact North America lags behind every region except Africa when it comes to blockchain project progress and production. This conclusion, discussed in our June 12 webinar on Blockchain trends Blockchain Unraveled: What Succeeds and What Doesn't should come as no surprise, especially when it comes China.
According to a March 2019 Washington Post article, China has invested billions of dollars in blockchain partnerships with Chinese firms and is the country leader in blockchain-related patent filings through 2017. Moreover, blockchain development is a key part of China's "13th Five-year Plan".  See  China is Racing Ahead of the U.S. on Blockchain
According to various reports and market observers, China will most likely implement a closed controlled national blockchain which runs completely contrary to non-sovereign and decentralized blockchain principals. But in any event, the U.S. has no national strategy for blockchain – open or closed.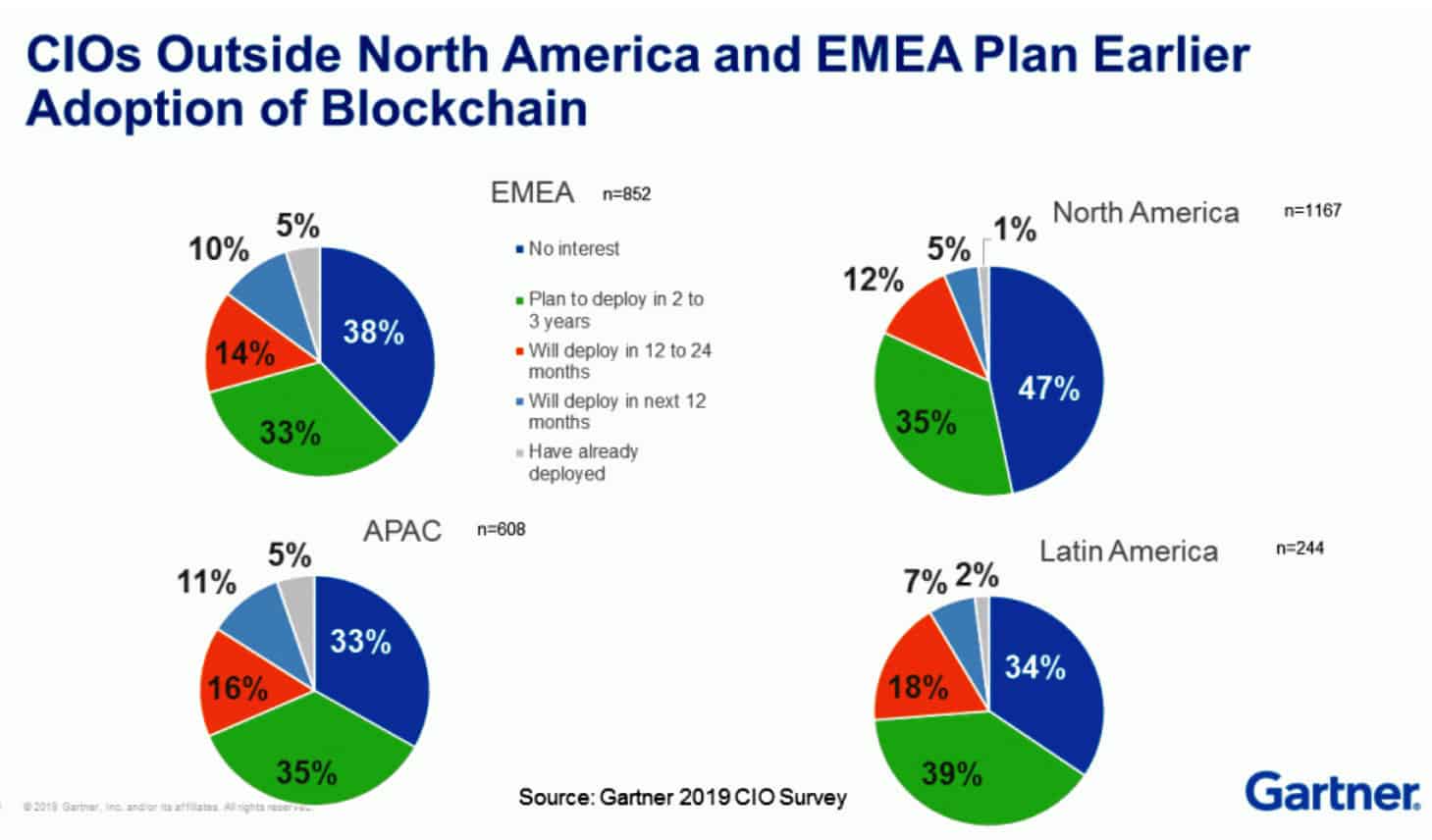 Similarly, our research found blockchain in the banking and securities sector constitutes a shrinking portion of adoption across all sectors between 2017 and 2019. Similarly projects in banking and securities sector seem to move more slowly into production than do projects in utilities, manufacturing and wholesale trade, though the latter sectors have far fewer projects. Asset tracking and provenance stand out along with payments and settlement as the most common use cases in enterprise blockchain today.
Research Conclusions
These and other research conclusions were discussed in our June 12 webinar Blockchain Unraveled: What Succeeds and What Doesn't that highlighted information in our recently published special report Blockchain Unraveled: Determining its Suitability for your Organization.
My colleagues and co-authors, David Groombridge, Chrissy Healey, and Benoit Lheureux discussed the research highlights. Much of the analysis was based on new primary research David and Chrissy did covering over 800 blockchain consulting engagements.
Blockchain Adoption and Interest among Webinar Attendees
6% of the polled attendees' reported that their organizations are already engaged in production blockchain projects as shown below, and another 18% are already piloting blockchain. These results are almost identical to poll results we gathered at a webinar 7.5 months ago in early November 2018, which tells me they have a high likelihood of accurately representing companies who are either Gartner clients or interested in Gartner research. And these polls point to a positive future for blockchain technology, especially as it begins to underpin a decentralized Web (Web 3.0).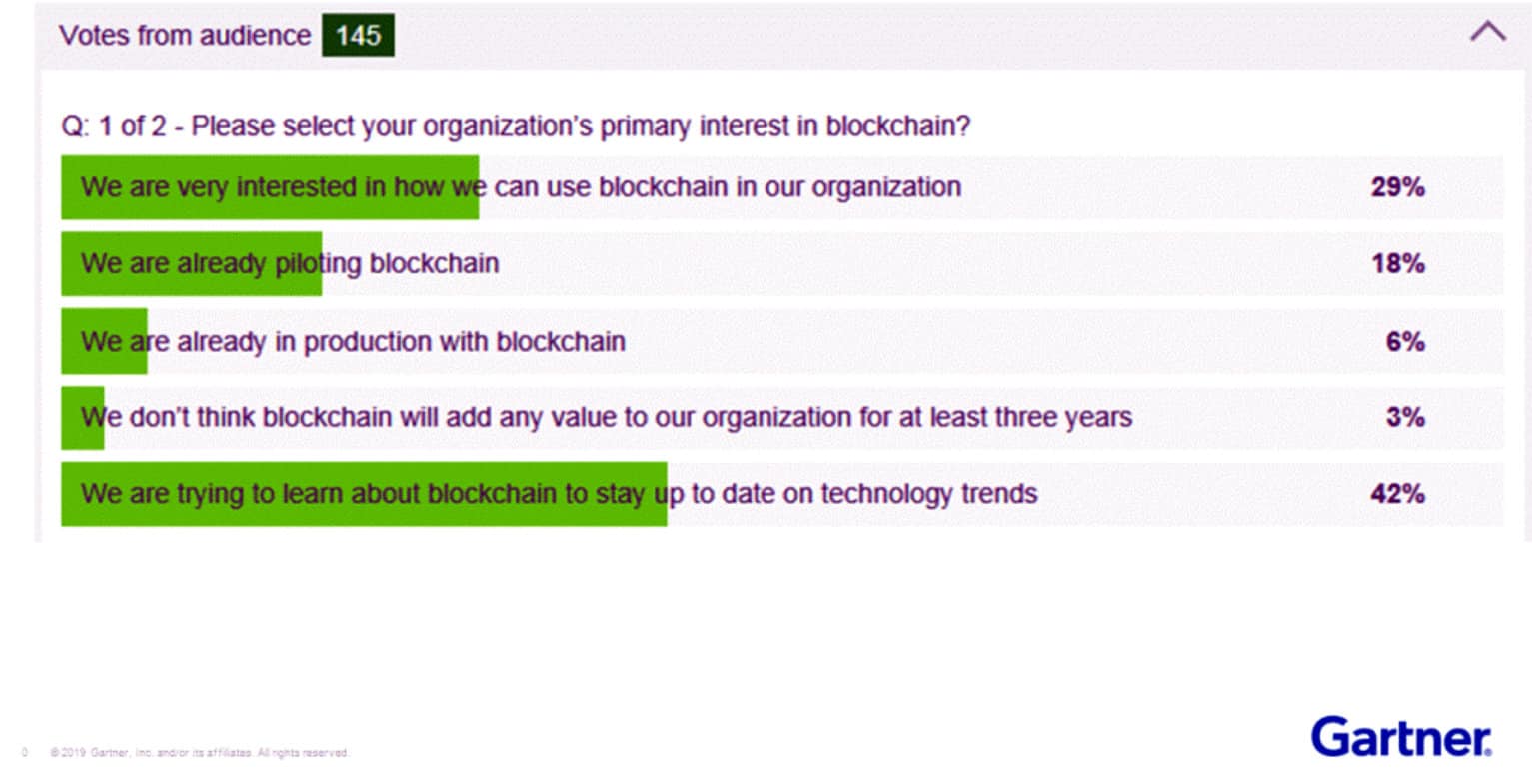 Will Blockchain Promote Decentralization or More Control?
All told we are keeping a close eye on blockchain and how it will be used for both corporate and nation-state competitiveness. One thing is definite – some of us need blockchain to support a decentralized web that values data privacy, peer to peer networks, and consumer ownership of their own data and algorithms. That same decentralized web devalues web gatekeepers and data aggregators that monetize consumer data that isn't theirs to monetize.
Some societies want to invest in blockchain for the exact opposite purpose – to control, centralize and monitor all online activities. It will be interesting to see which world view dominates. It's a little like monitoring if AI turns out to be evil or humane.
First published on Gartner Blog Network