The 10th annual Temenos survey of challenges, priorities and trends in the financial services sector predicts that customers will increasingly turn to chatbots as a primary means to engage their banks – from 5% in 2017 to 64% by 2027.
Figure 1: Primary form of communication between banks and customers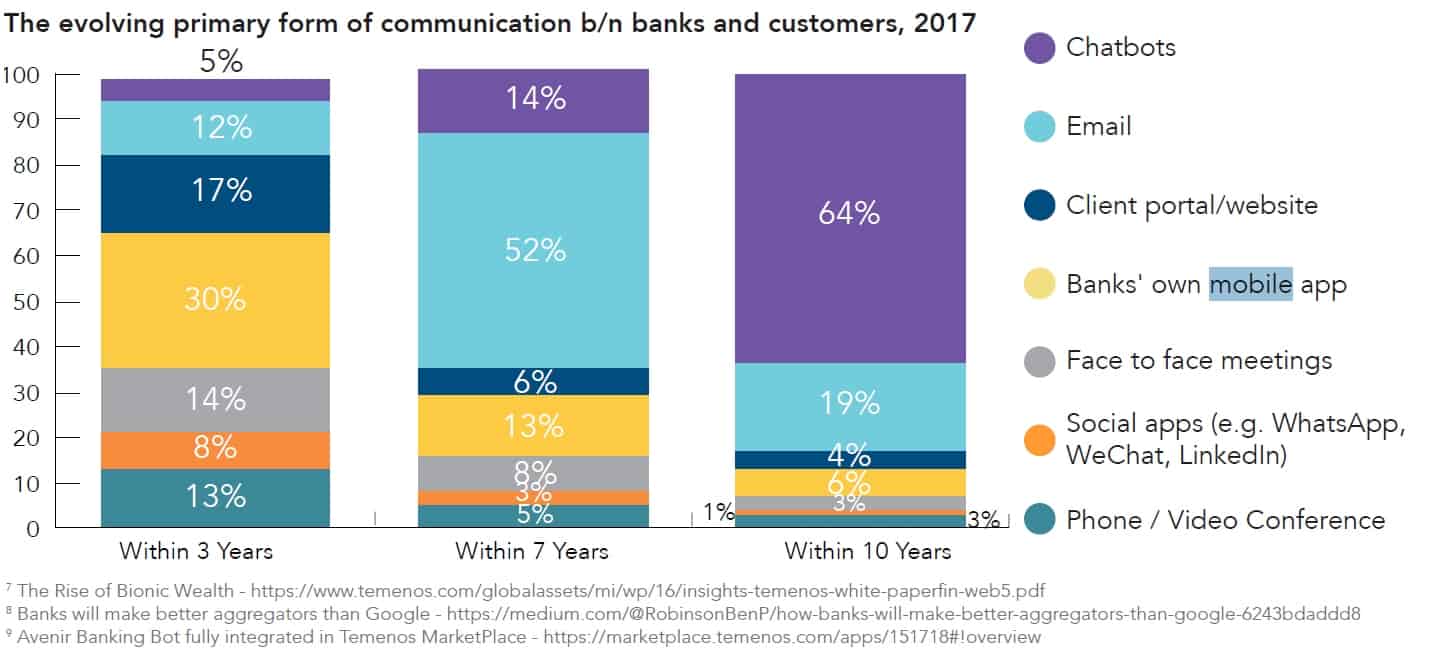 Source: Temenos, Accenture 2018
"Over 10 billion messages are exchanged between people and businesses each month on Messenger alone." Facebook
Multiple forces are at work to change the way banks interact with customers. The convergence of advancing artificial intelligence together with the propensity to use smartphones is creating new avenues for engagement.
Accenture says messaging apps are now the preferred form of mobile interaction as these are usually installed on consumer devices, are perfectly suited for mobile use, come with intuitive text or voice-based interfaces that consumers love, are asynchronous allowing users to dip in and out of conversations, and are AI-ready, offering easy integration with chatbots and cognitive agents.
Arguably one of the early B2C applications of messaging is the use of chatbots. Juniper Research defines chatbots as a computer program utilizing technology designed to simulate conversational interactions with human users, which may also include automated processes triggered by these interactions. The researcher says banks are most suited and primed for immediate rollout of chatbots compared to most other industries.
Sandeep Bagaria, chief executive officer at Tagit, a Singapore-based developer of Mobeix, says a digital engagement platform that banks and enterprises can use to build omnichannel digital engagement platforms.
Bagaria noted that artificial language capability has advanced to the point where conversations using chatbots are becoming more natural. He believes this trend will become important for banks moving forward.
Figure 2: Use of voice to search and issue commands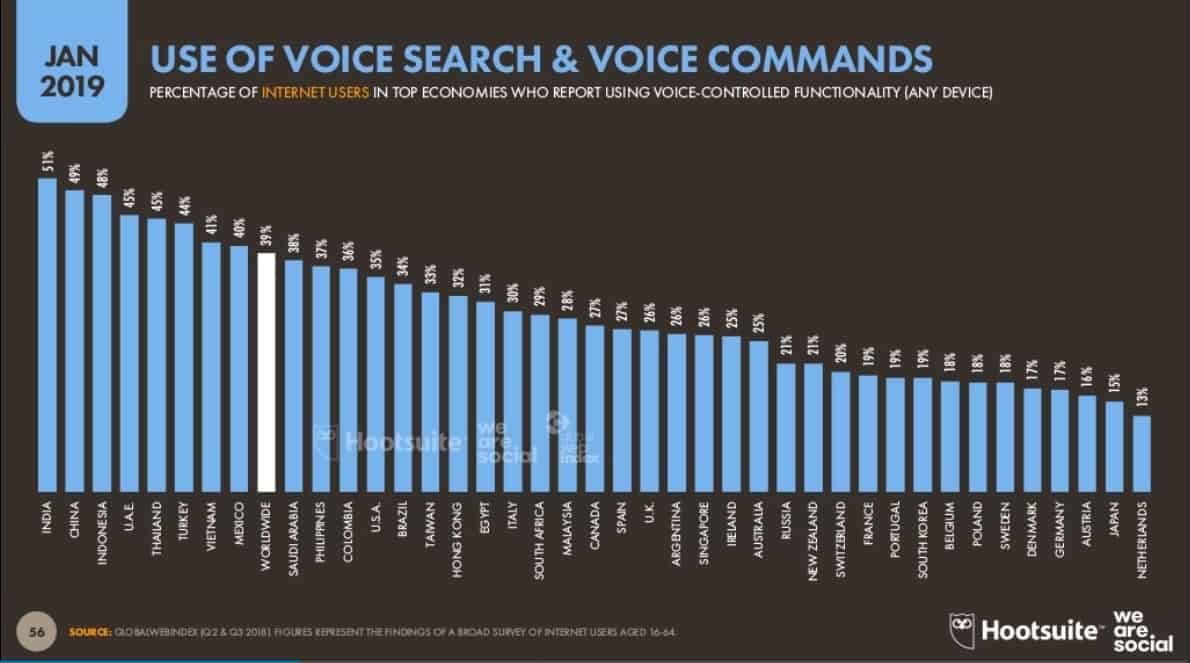 Source: We are Social, Hootsuite, 2019
The Ready to Talk paper by Accenture suggests that conversational user interfaces (CUI) are increasing in popularity among digital natives and digital skeptics alike. Based on messaging platforms and voice, or text-based interfaces CUI are altering the customer interaction paradigm creating new challenges for banks as the conversation becomes the third pillar of multi-channel bank distribution networks, alongside mobile, and a limited number of qualified/reformatted branches.
"A lot of people today are accustomed to conversing with others using messaging. We are coming to a point in time where banking consumers will start to question the need to converse with their bank via the website or mobile app. Why can't I just have a conversation with my bank? This is more natural with how they engage," observed Bagaria.
He also noted that mobile users in Asia are starting to type less and talk more to their device to make queries or issue simple tasks. "They are getting used to asking questions and getting answers as opposed to very structured search. I think banks will also have to move in line with that to support customer trends," suggested Bagaria.
Many institutions are evolving beyond the use of chatbot to answer a customer query. Bagaria suggests that banks think beyond these early applications to where you can extend the conversation.
Citi use case
Dhanasekhar Damodaram, chief technology officer for APAC and EMEA, Global Consumer Technology at Citi described customer interactions at Citi as occurring mostly through digital channels like Mobile Banking and Internet Banking in addition to the traditional channels like Contact Center, Branch, ATM and Relationship Manager.
"With increased usage of messaging and social networks by customers, Citi aims to engage the customers in those channels through a well-designed conversational banking system. This system will allow customer interactions to be transferred from one platform to another while preserving the context," Damodaram elaborated.
He describes the example of a customer interested in a new Citi product like credit card. Said customer may engage Citi through its conversational banking from a messaging platform and complete the required forms on bank's own secured site or mobile app.
"In this customer journey, Citi strives to ensure a fine balance between the need of human interaction and automated conversational banking and will be using complexity of the conversation and customer profile to strike that balance," explained Damodaram.
Conversational banking by Sandeep Bagaria
Watch the full video and listen to Bagaria share insights on how conversational banking is evolving among financial institutions in Asia-Pacific.
What is conversational banking: 0:05-0:54
How much of existing processes will switch to conversational banking: 0:54-1:55
Where are we in the evolution of conversational banking: 1:55-3:38
Common mistakes bank make around conversational banking: 3:38-4:32
What's next for conversational banking in 2019: 4:32-5:17
Any regulatory issues related to conversational tech as a channel: 5:17-6:14
Will privacy concerns derail use of conversational banking: 6:14-7:13
In the whitepaper, CHATBOTS – critical to businesses: here's why", Juniper lists several elements for successful use of chatbots [and possibly other channels that emulate conversational engagement]:
Reputable banking institutions will have no issues with initial consumer trust. However, they may find that consumers are initially more comfortable maintaining their current online banking habits. Juniper believes an improvement in AI will put consumers' minds at ease.
As with the release of mobile banking apps, it may be necessary to limit functionality to only the most basic tasks such as account checking, internal transfers and general banking information.
The opportunity to upsell credit cards, loans and mortgages will be a secondary function once the infrastructure has been established. Juniper maintains that the ability to upsell through chatbots will increase chances of a sale through immediate information and query response.