IDC says the global shipment of hardcopy peripherals declined 10.2% year-over-year to nearly 20 million units in the second quarter of 2020 (2Q20). The IDC Worldwide Quarterly Hardcopy Peripherals Tracker says the COVID-19 pandemic continues to bring a host of challenges to most vendors, especially those whose manufacturing sites are in China, the Philippines and Indonesia.
Not all bad news - well mostly
China delivered strong year-over-year growth of 19.1% driven by overall demand from the consumer segment. Driving this is demand from home schooling and work from home needs.
Among the top five vendors – HP Inc (-14%), Canon (1.6%), Epson (-19.3%), Brother (-2.5) and Lenovo, only Lenovo (40.8%) experienced positive strong growth. Canon did report a small insignificant growth where everyone had shipment growth dropping like flies.
Caveat, however, Lenovo has the smallest base – about 6% of HP Inc's shipment for the 2Q20 quarter.
Maggie Tan, vice president for Imaging, Printing and Document Solution (IPDS) at IDC Asia/Pacific, says majority of the growth in China was driven by home segment, which saw a 140% growth year-on-year (from 2019 H1 to 2020 H1).
Based on a recent survey, the demand has extended to lower tiers cities (in China) as home users see the need to buy a multifunction printer (MFP) particularly for working adult that needs to work at home.
APeJC reported significant across all sectors blaming it squarely on the lockdown. Governments have tightened the import, where shipments were delayed from the port to channels (though China manufacturing plant resumed end Feb/ early March) while certain manufacturing plants in Philippines and Vietnam were affected due to lockdown.
"This caused major disruptions in several countries in APeJC where channels were short of stock to fulfil demand that home users have," added Tan.
Demand for home-based printers MFP saw an increase in certain segments.
Impact to managed print services
The lockdown has also impact hard copy printers, Basic and Managed Print Services (BPS & MPS) is expected to be negatively impacted due to office closures and WFH mandates across APeJC.
Vendors and service providers IDC spoke with at the start of the pandemic have indicated that organization (both large and small) are seeking to delay payments as technology assets are unused during lockdowns.
Kenneth Ken Ru Tham, senior market analyst for IPDS at IDC Asia/Pacific, added that as businesses resumed, many have asked vendors for discounted rental rates due to cashflow pressures and economic slowdowns.
"In the longer term, organizations are reassessing their need for print devices and services as the pandemic has hastened a shift towards digital workflow adoption through the use of collaborative software or digital signature solutions; relegating printers and MFPs lower down the technology priority list," he added.
Business leaders are realizing the current contract and device allocation models must be updated for a post-COVID-19 world which allows for greater contractual flexibility and balanced deployment of print hardware.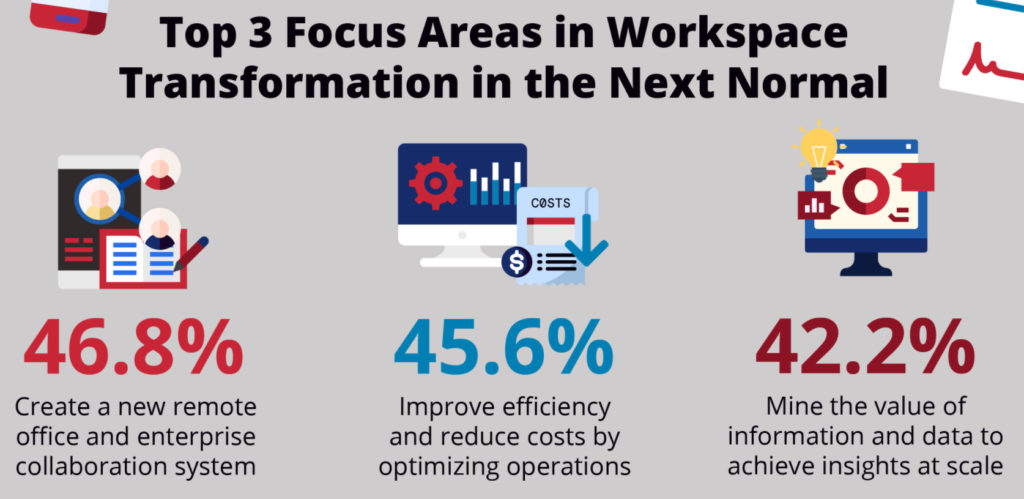 "This aligns with a recent infographic released by IDC indicated that 45.6% respondents in APeJ would focus on improving efficiency and reducing costs by optimizing operations," said Tan.