After a two-year hiatus, cars will once again be whizzing past Marina Bay Circuit against a skyline dotted with towering skyscrapers, hotels, and the Singapore Flyer. For racing fans, the return of the Singapore Grand Prix – which will see the world's best racers pitted against each other – is the icing on the cake as Singapore eases restrictions on physical events.
As an IT leader, I see parallels between racing and companies' business transformation journeys. Business transformation, after all, requires speed, agility, and innovation: the same ingredients critical to victory in an F1 race. At the heart of both is data.
In the throes of a global pandemic, business ecosystems have heavily become data-reliant.
IDC predicts that data created, captured, and replicated globally will more than double from 2022 to 2026. Earlier this year, the Singapore government enhanced the scope for the Advanced Digital Solutions (ADS) scheme, which provides up to 80% of funding for businesses' adoption of technologies such as cloud and artificial intelligence and supports Singapore's data-driven development.
Amidst the data deluge, the onus is on Singapore business leaders to ensure sustainable data transformation, with an eye on data security, data integration, and data agility. This is what I call the Formula One approach to data, and it can benefit Singapore companies as they move forward in their business transformation journeys.
Seconds matter: guts, glory, and agility
A second can spell the difference between victory and defeat in Formula One racing. On the track, racers face insurmountable pressure to reach the chequered flag. With decisions constantly needed to be made on the fly, racers must get their heads in the game to conquer the racetrack.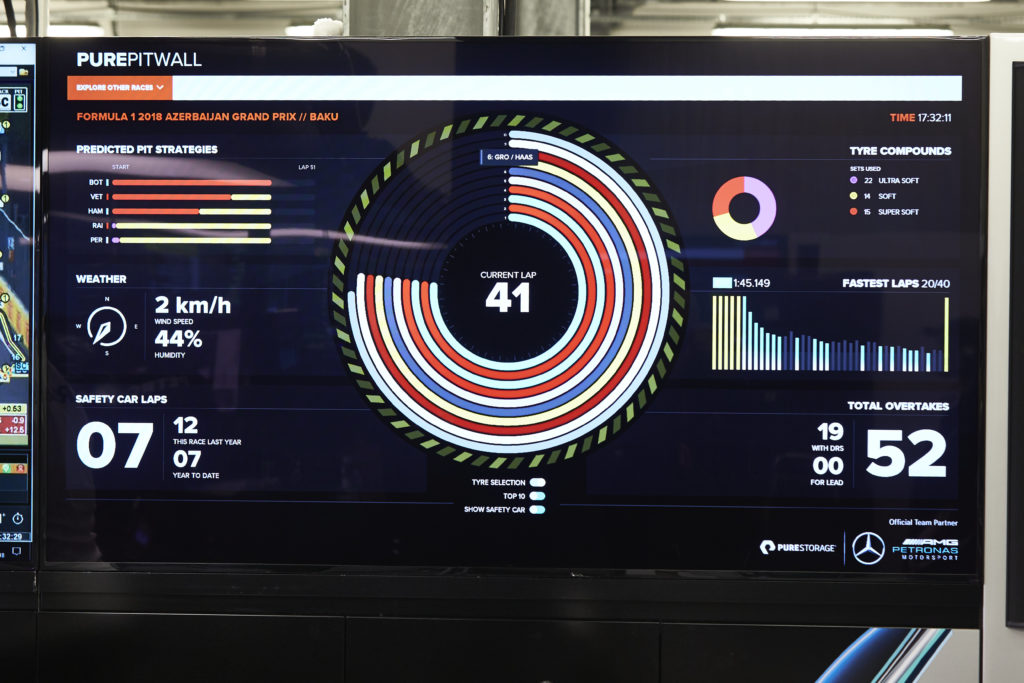 Agility is critical in racing, as in business. Amidst seismic changes, business leaders need to move fast and be smart with data, as they grapple with decisions day to day. The ability to turn instinct into action and the deftness to move with confidence sets business leaders apart in today's data-driven economy. Sprawling data must be analysed and transformed into clear business opportunities for these to have value.
To achieve this, they need to veer away from legacy infrastructure built on spinning disks, slow networks, and outdated application architectures, which are costly and bog down business processes. Investing in agile data solutions for storing and delivering analytics data can free business leaders from data bottlenecks – empowering them to speed up operations with minimal drag.
Dealing with danger
Physical stress, open-cockpit vehicles, and challenging racetracks make Formula One racing a dangerous sport. Formula One history is replete with accidents and car crashes, several of which have proved to be fatal.
Prevention and response times are critical, both in racing and in business. The Cyber Security Agency of Singapore (CSA) reported 137 ransomware incidents in 2021, up by 50% from the number in 2020 – which reflects cyber criminals' relentlessness in exploiting security vulnerabilities. As data becomes the currency governing today's business world, organisations need to rethink digital defence and refine their approach to data protection and recovery. This involves protecting data backups and ensuring speedy data recovery at scale.
It takes a team
On the track, Formula One racers seemingly face a solitary battle for pride and glory. This is far from the truth. Off the track, race team managers and engineers run the show, monitoring, and giving insights around race positioning, weather conditions, and even helping racers strategize moves.
Optimising Formula One teams and racers hinges on connected intelligence – a necessity for future-proofing businesses. Eradicating pesky data silos should be a key business focus if organisations want to accelerate transformation, improve productivity, and prevent management and efficiency nightmares.
Data silos can limit interdepartmental transparency and visibility, posing barriers to building a great team culture. Moreover, data silos can lead to data integrity issues: multiple versions of the same dataset within an organisation can cause confusion and slow decision-making.
Simplifying business transformation
All aspects – from the logistics to the mechanics and engineering – need to be aligned for things to move smoothly during a race. Complicated processes, operations, and technology can overburden Formula One teams under immense pressure, both on and off the track. An over-engineered process can add complexity, which lengthens time-to-action.
Similarly, for companies that are navigating the shifting business environment, having an IT infrastructure that is cumbersome and complex will limit their ability to respond quickly to changes. One of the biggest obstacles to business agility is ageing and legacy IT infrastructure that is expensive to maintain and upgrade.
"What companies need is a modern and flexible IT infrastructure that is highly performant and resilient and yet, simple to manage. New emerging technologies and a multi-cloud environment require this agility and uncomplicated IT and data processes so that companies can focus on dealing with the fast-changing business landscape."

Andrew Sotiropoulos