It is July 2022. Currently, most businesses understand the importance of data. A few have been truly transformed by it – embracing it as a competitive advantage. For those that are struggling to become data-driven-native enterprises, the answer boils down to two words: data maturity.
As regional enterprises push to accelerate digital transformation (DX) and integrate across silo initiatives, investments in this area will inevitably prioritise internal initiatives such as data operations, streaming analytics, collaborative intelligence and decisioning.
IDC says COVID-19, and the supply chain challenges that resulted from it, have also prompted a move to look beyond the analytics needs of the enterprise, and instead invest in shared data and analytics across the broader ecosystem of partners, customers, suppliers, essential to the success of any company.
Dr Christopher Lee Marshall, associate vice president at IDC Asia/Pacific for analytics, big data, and artificial intelligence, acknowledges a big impetus toward more data-driven organisations, aligned with the move to DX.
This suggests, according to Marshall, that the enterprises are generating data, using data for digital operations and processes, and creating a data culture consisting of technology, infrastructure, controls, workflow, and analytics.
"It is also about strategy and leadership. Building a data culture is fundamentally about building an organisation that can learn and enact change because of that learning," he continued.
Driving and owning the data transformation
But while technology plays an important role in any transformation initiative, the real driver of transformation, even optimisation, is data. The other leg on which transformation success hinges is a champion who not just owns the initiative but takes responsibility for channelling all the resources to see the initiative through.
Marshall says many data initiatives come on the back of digital transformation so most likely the same people will lead the organisation.
"They have the most experience with data and their business model. The shift to hybrid and collaborative working because of Covid has brought some changes for leadership in building a data-driven organisation," he explained.
How Asia is transforming
Marshall is quick to point out that multiple factors influence how transformation is evolving and that it would not be reasonable a comparison by country in terms of data maturity, and by corollary, digital transformation.
He reasoned that maturity in a market will be influenced by the dominant industry. For instance, if a company in an industry has many international competitors, for example, banking, all banks across the region tend to adopt similar best practices so they are quite alike in terms of the use of technology and analytics. So, companies in Singapore generally compare well with those in Hong Kong, South Korea and Japan.
"Telcos and banks are also important in Thailand, the Philippines and Indonesia but they tend to operate on their own and the rest of the local industry does not have that commitment to building the analytics and capabilities that you need to have in place to compete regionally," he added.
All leading enterprises dominate the skills market in many of these locations which means that those skills and capabilities do not get passed to other areas within the country.
What's missing?
The September 2021 KornFerry survey predicts that by 2030 as many as 85 million jobs will go unfulfilled resulting in a US$8.5 trillion loss in unrealised value.
But there is no need to wait until 2030, the crunch exists today. During the FutureCFO vSummit events, held in the Philippines, Malaysia and Indonesia, CFOs participating in panel discussions voice the same challenge – finding and retaining skilled talent. A similar conclusion was reached by CIOs participating in the FutureCIO vSummit ASEAN 2022.
Marshall conceded that skills are a common complaint across the board as once you get skills, keeping them in place is not always very easy.
"Another is leadership. Leaders always tend to have a positive view so may have biased opinions on their current standing and this can easily, and very often do, derail any data culture and data-driven enterprise," he commented.
The starting point of your data-driven roadmap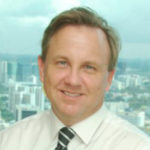 Marshall says there are opportunities for improved AI tools, analytics performance management tools and the data infrastructure to support the enterprises.
"The biggest change over the last five years is the move to the cloud. More data management, data analytics and even AI tools are moving to the cloud, allowing organisations that perhaps did not invest before to jumpstart their journey."

Christopher Lee Marshall
Are we data mature yet?
It is hard to argue with the reality that multiple factors are conspiring for businesses to become truly transformed, starting with data.
This is reflected in the global study by Mazars, The race to data maturity: is your business as far ahead as you think?, which reveals that while more than 80% of respondents (to the study) believe they are more data mature than their competitors, only 43% concede they meet best practices when it comes to data quality.
The condition is even worst in Asia-Pacific where only 21% of businesses have fully centralised data or meet best practices on making data consistently available to users, providing clearer oversight of compliance and insights into how their data is being used.
The silver lining, of course, is that the opportunity remains ripe for the picking and the race is still very much on.
Click on the PodChat player to learn more about Marshall's take on what organisations in Asia need to do to become truly data-driven and finally achieve the outcomes that are fuelling their transformation ambitions.
Let's have a baseline: what is IDC's definition of a data-driven organisation, and what are the qualities needed to become one?
In your opinion, what is leadership's understanding of data-driven and who owns it among enterprises in Asia?
When it comes to striving to become data-driven, how would you compare the level of maturity among the different markets in Asia?
What are three critical hurdles slowing the adoption of data-driven strategies?
Is there a roadmap that organisations can take in their quest to develop a data capability?
For organisations with a data-driven agenda, what do they need to have (policies, frameworks, skills, technology) to realise this aspiration?