Helen Yuchengco-Dee once told me: "Even when the sea seems calm, wear a lifejacket." This maxim has been at the core of RCBC's dynamic business continuity plan. When news of the first Philippine COVID-19 case broke out, we immediately rolled the drawing board out. While hoping for the best, we prepared for the worst.
As always, to us, the people are the priority. The people who serve, and the people we serve.
ECQ-ting mindset
Banking is about service. And the heart of service is human relation. A heart that pulsates with empathy and action.
Our digital strategy is a mindset that adopts a time-significant acronym, that is ECQ. That would be Empathetic, Customer-driven and Quick. Customers in the current state of normal calls not only for quick response. But that which has a true, and deeper understanding of their needs - empathy. Match this with speedy execution that exceeds their patience or waiting-capacity. For no product is worth a long wait.
Digital scale-up
The pandemic forced all stakeholders to go digital. Even the government is promoting it. Partnerships with the government are paramount to make things happen. One of which is Collaboration with the Department of Trade and Industry in enabling MSMEs.  Also introduced digital social disbursements.   
RCBC's handheld ATM mobile point-of-sale device called ATM Go, met the challenge head-on. More than 1,800 ATM Go devices deployed nationwide to payout partners. It covered 72 out of 81 provinces.  The first private universal bank to do so, in this size. The government tapped the digital platform for quicker disbursements of emergency cash to beneficiaries.  So far, disbursements reached over Php 12 billion. This covers about 3.17 million households. Or approximately 15.83 million individuals nationwide.
In the mobile app front, covering the entire market spectrum has been the emphasis. Providing best-in-class digital financial services from the mass affluent, to the mass market. A testament to RCBC's thrust of not only being the bank for all generations, but for all segments of society as well.
It enhanced the user interface and optimized digital customer experience. It resulted in unprecedented milestones. Recorded jump of 681% in InstaPay fund transfers. Daily transaction count and amount of cardless ATM withdrawal up by 2,763% and 4,535%. Digital banking enrolment grew by 186%. Send cash remittances registered a 186% spike.
Several pioneering mobile features have been introduced.
Grassroots banking reimagined
Standing out in the very crowded mobile app space is daunting even to the savviest. Yet, there lies a gaping hole in the entire set-up. Detectable only to those that keep their ears close to the grassroots' ground. Addressing the language barrier is key to this.
In July 2020, RCBC launched DiskarTech, the first Taglish financial inclusion "super app" in the Philippines – the only Filipino app to hit over a million app downloads in its first 30 days. With close to four million downloads in less than five months, it is one of the fast-growing financial apps in the country with over 50% monthly active user rate.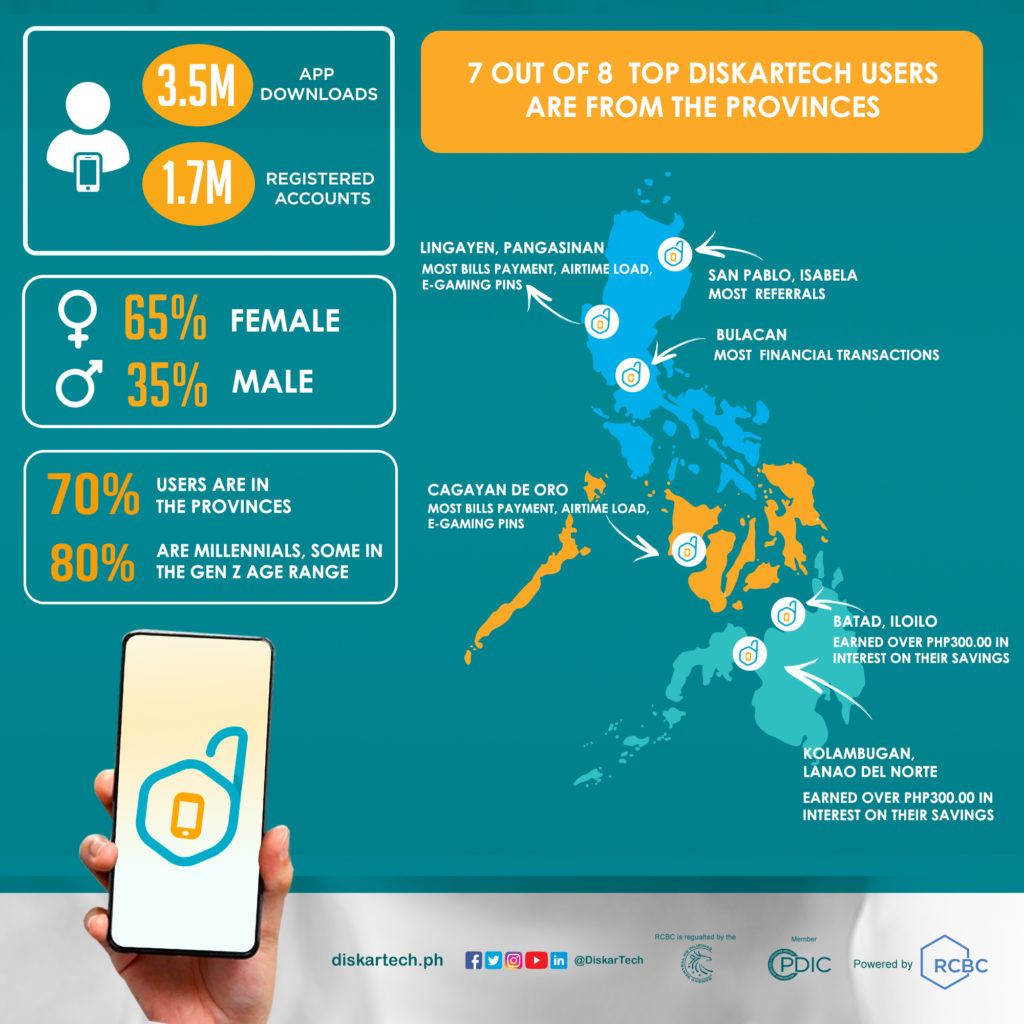 Aimed at making banking services accessible to the masses, over 58 million adult Filipinos now find it simple to quickly open a bank account with just a single government ID through their smartphones. Every Filipino now benefits from a 3.25% per year interest-bearing basic deposit account. This is 13 times higher than industry savings interest rates while also insured with the Philippine Deposit Insurance Corporation.
DiskarTech's demographics tell the whole story. Over 70% of registered users reside outside Metro Manila. While more than 80% are millennials with some already in Gen Z age range and dominated by females at 65%.
Seven out of eight top users of key DiskarTech app features are from the provinces. Two account holders have earned over Php300.00 in interest on their savings, thus far. They live in low-income rural areas. In a 4th class municipality of Kolambugan in Lanao del Norte, and in a 5th class municipality of Batad in Iloilo. This validates a 2011 Urban Institute study that indeed the poor and low-income people can save. It says that "despite very low incomes, 44% of households accumulated enough to escape asset poverty after 12 years."
DigiFin ed defined
We launched the pioneering Pisonomics podcast and the 20-minute regular Livestream. It aimed to break down complex banking concepts. Topics like interest rate, inflation, insurance, and savings through fun and relatable conversation. The #DisIsIt Buhay Diskarte YouTube online show was able to do just that. Consistently registering social media engagement rate as high as 34%.
Success will depend on consumer adoption, traction, and trust.  One success indicator is making informal or ambulant vendors switch to digital payments.  And we have already seen some jumped on this wagon.
Winning pinoy hearts
We're gaining headway. The RCBC mobile app landed on top both in Playstore and Appstore at 4.1 combined average rating. While the DiskarTech app registered 98 percent social media positive sentiment rating.  Plus, high engagement rate among netizens at a high 36 percent.  Even a tribute music video registered over two million views on Facebook and YouTube.
Recognitions Unboxed
Six regional awards in five months during the pandemic. And named as the Philippines' best digital bank by Asiamoney topped it all. It got the inspirational brand honor from the Asia Pacific enterprise award. And the International Innovation award handed the best digital inclusion initiative recognition.
Purposive Ubergrowth
Heightened collaboration, alternative social interactions, and access to pervasive information. These will be the 2021 focus. Open finance or interoperability will drive the industry forward and further empower customers. Inclusion in the API Exchange of the ASEAN Financial Innovation Network (AFIN) is one of them.
Behind the hard data, the cold numbers, are the people who breathe life into them. They are the essence of technology. The heart of banking.