Respondents to the Veeam Data Protection Trends 2022 reveals a rising trend towards the use of the cloud as part of their disaster recovery strategy, reflecting another trend – that of shifting a larger percentage of data and applications to a hybrid model comprised of servers and virtual machines hosted in own physical data centres, as well as infrastructure provided by hyperscalers.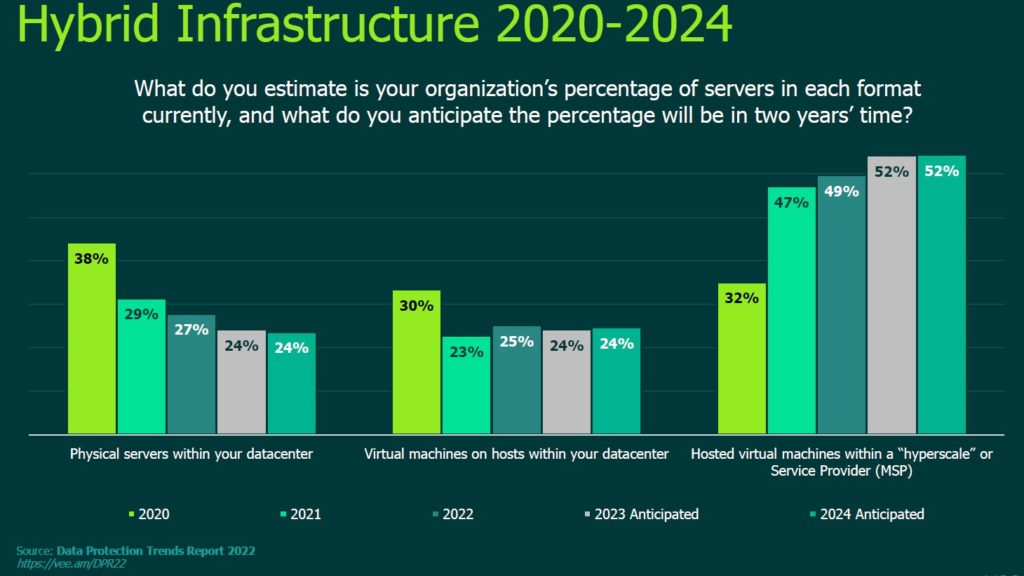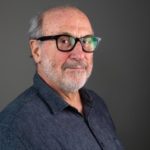 Chris Morris, IDC's VP cloud, datacentre and partner ecosystem research for Asia-Pacific, says the focus isn't really on disaster recovery (DR) perse but business continuity (BC). "It is better to think of Business Continuity (BC), or BC/DR, for maintaining the continuity of business services to internal and external users," he opined.
DR in a cloud-first post-pandemic Asia
Pratyush Khare, vice president, Systems Engineering for Asia-Pacific and Japan, at Pure Storage, added that organisations today must not only show resilience to disasters but also have a plan for how quickly they can recover from a disaster.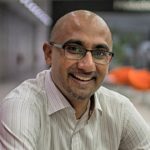 Chris Chelliah, senior vice president, Customer Strategy, Insight & Business Development for Oracle Japan & Asia Pacific, shared a comment given by one of the company's customers – Hong Kong Maxim's Group.
Louis Mah, director of Information Technology for Hong Kong Maxim's Group, said, "We now operate in a digital world especially when it comes to the systems that run our day-to-day business, take customer orders, and connect to third parties. With digital comes high expectations. We can't afford for our business to stop - we don't just operate 7 am to 11 pm anymore, it is truly 24/7."
Chelliah said the sentiment captures the pressure on companies to truly be always on in 2022's cloud-first, post-pandemic Asia, and the increased focus on business resilience and disaster recovery.
Benefits of Cloud DR
Robert Yang, VP for Asia-Pacific sales at Seagate Technology conceded that the cloud is well suited as a disaster recovery failover option because it puts a twist on traditional DR practices allowing the organization to achieve greater cost savings, better security, and reliability in the wake of disaster.
When it comes to where secondary data is stored, respondents to the Veeam study noted a clear trend towards availing of disaster recovery as a service (DRaaS).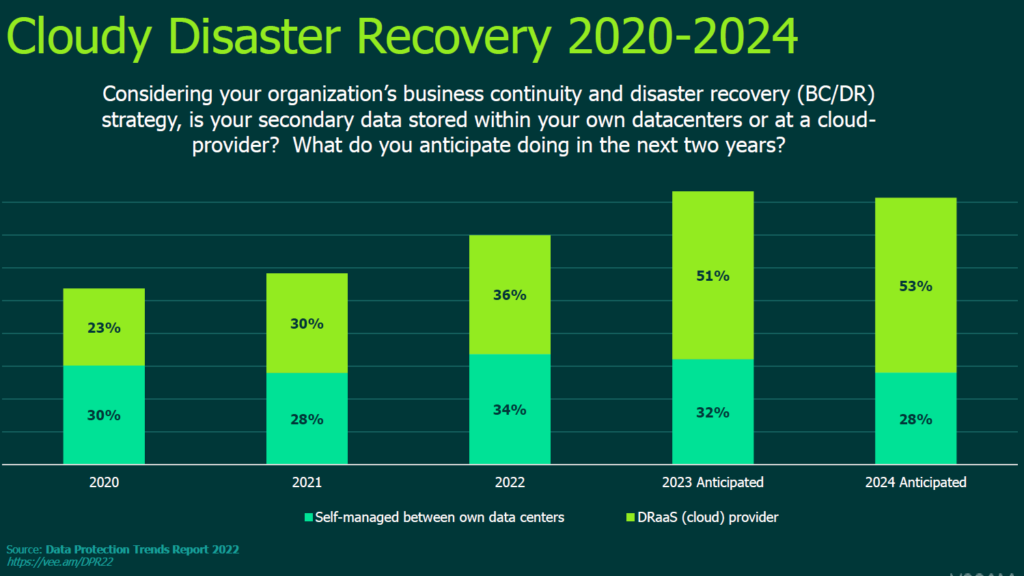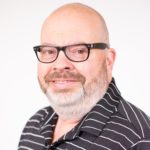 Bob Petrocelli, CTO, Datto, commented that the rising case of malware remains a top concern in 2022. He opined that local data is essentially the weak link during cyberattacks.
"A purpose-built cloud-based BCDR is immutable, with its data immune to any change including ransomware. Besides speed and verification authentication, cloud-based BCDR allows for isolated recovery – not allowing for further damage by infected networks. Even in a non-threatening situation, having data in a different location can prove beneficial," he posited.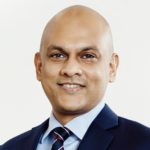 Security aside, Khare commented that Cloud-based DR is flexible, resilient, scalable, and efficient. "It offers organisations the ability to make multiple copies of data and replace DR sites quickly, with on-demand cloud consumption that organisations can scale up and down as per their needs, and with lower TCO thanks to deduplication, thin provisioning and data compression," he added.
In addition to exploiting new technologies that allow them to securely migrate data back and forth between their on-premises systems and the cloud, Oracle's Chelliah added that companies are also leveraging new capabilities to free up computing capacity for developing and testing internal applications to help make their businesses more efficient and to offer new options to their customers.
Considerations when evaluating cloud-based DR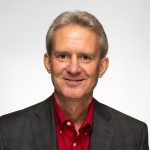 "Backup to the cloud deployments will become increasingly more common in the near future. That includes backup to the cloud, such as disk-to-cloud (D2C), Backup as a Service (BaaS), and Disaster Recovery as a Service (DRaaS)," said Dave Russell, vice president of enterprise strategy at Veeam.
He posited that the key for CIOs is to look beyond just the capabilities of the service provider but look closely at the partnership and knowledge that they offer.
"It is relatively easy to copy your data into the cloud; the hard part is aligning the recovery capabilities to the needs of the business and curating the solution for the long term," he continued.
With most organisations in Asia opting for the duality of on-premises and multi-cloud, having both a local and cloud-based BCDR strategy is still the best.
Datto's Petrocelli cautions that while local options can offer you speed, cloud-based BCDR will offer you additional protection - functioning as a complementary pairing.
"CIOs and business owners must consider the unpredictable cost of BCDR in public clouds. Costs include not only backing up but recovery as well, on top of management costs. Look for providers who have predictable costs," he suggested.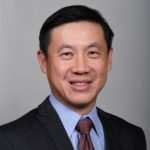 For Seagate's Yang, scalability is important. Data is being thrown away simply because keeping it is too expensive. He agreed with Petrocelli adding that a predictable pricing structure allows the organisation to store more data and harness its power, delivering optimal TCO for mass data storage without compromising data mobility and security.
"CIOs can store all the data they require to analyse to truly harness the power of big data to deliver the best possible service to customers and the public," he explained.
Khare believed that by mapping out a recovery plan and the duration required to fully restore data, systems should be clearly defined to see if there's room for improvement. He also suggested determining a maximum tolerable downtime based on how much a business can tolerate operating at less than maximum.
For Chelliah, the final strategy will be driven by the nature of a business, its customer requirements, and the available budget for DR are key factors in formulating DR requirements. A comprehensive DR solution must be architected.
"You cannot just throw money, hardware, and software at a potential disaster and hope to survive and resume your business operations," he opined.
"It's also critical to realise that no amount of planning can anticipate and respond to all possible DR scenarios. For example, what begins as a trivial problem on one system can spread over time to affect other systems in different ways, all adding up to a disaster for which there is no recovery scenario."

Chris Chelliah