In the banking industry, implementing a contextual banking strategy creates an empathetic organization. IDC predicts that by the end of 2020 in Asia/Pacific, investors will use specific measures based on platform participation, data value, and data use in customer engagements that will account to over 50% of valuations, and 65% of banks would have already succeeded in working with functional single-customer views.
"As the competition becomes increasingly fierce in the banking consumer market in Asia/Pacific*, banks must boost customer-centric initiatives. Contextual banking – the next level of customer relationship – is realized through developing a deeper relationship with each customer based on trust from the past, present, and future," says Handojo Triyanto, lead for Customer Centricity at IDC Financial Insights Asia/Pacific.
The IDC PlanScape: Contextual Banking in Asia/Pacific details the practical framework that banking or financial institutions need to implement contextual products, services, and experience for customers across marketing, sales, customer service, and operations.
The framework consists of key principles extracting from the future of customers & consumers, then mapping to practical and relevant business and supporting processes of banking and financial service institutions.
Figure 1: Practice-Based Contextual Banking Framework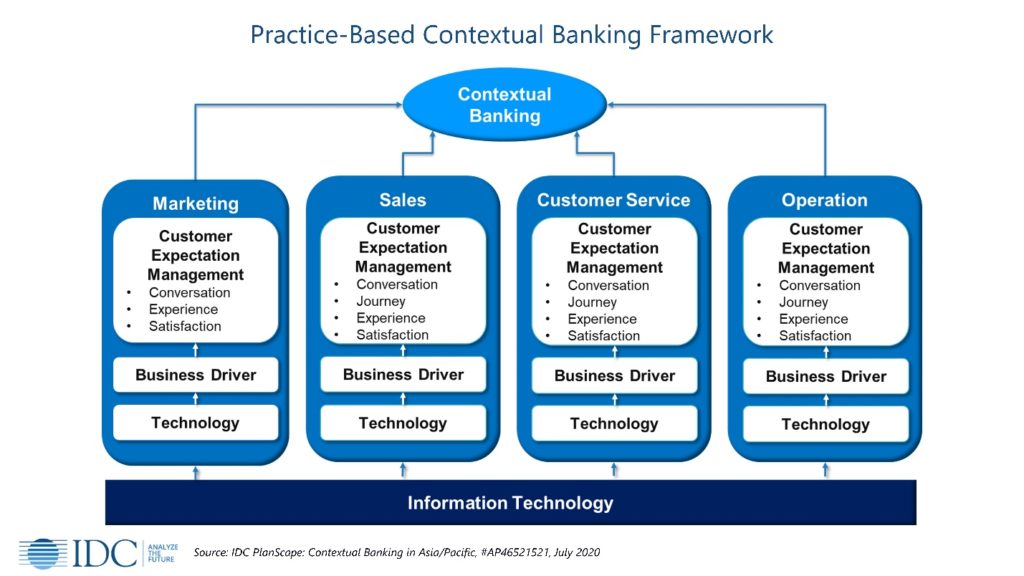 Other highlights from the report include:
The continuum of customer engagement and experience goes from the lowest level of indifferent, then impersonal, then targeted, then personalized, and finally, empathetic.
Banks must identify the circumstances that form their customers' setting in terms of how the customer can be fully understood and assessed.
Banks must have three capabilities in a data-driven banking model: sense and response of the customer's context; analytics to identify context and result in insights; and action to pass the insights to front-end systems or knowledgeable frontline actors.