IDC sees changing consumer demand as the most important factor among the many that are driving the evolution of New Retail. First coined by Jack Ma, Alibaba co-founder, New Retail refers to the disappearing boundary between offline and online commerce as retailers focus on the personalised needs of each customer.
In this New Retail, IDC says new technology, new value, and a new ecosystem will represent the future of a digitally transformed retail sector.
New technology
The analyst noted that technology is a key driver of continuous innovation in the retail industry. The "New Retail" is evolving in lockstep with the advancement and adoption of new technologies. Among the emerging ICT technologies, 5G, Internet of Things (IoT), augmented reality (AR), virtual reality (VR), AI, robotics and blockchain are the key technologies driving the development of New Retail. The typical use cases of these technologies are listed in the table below.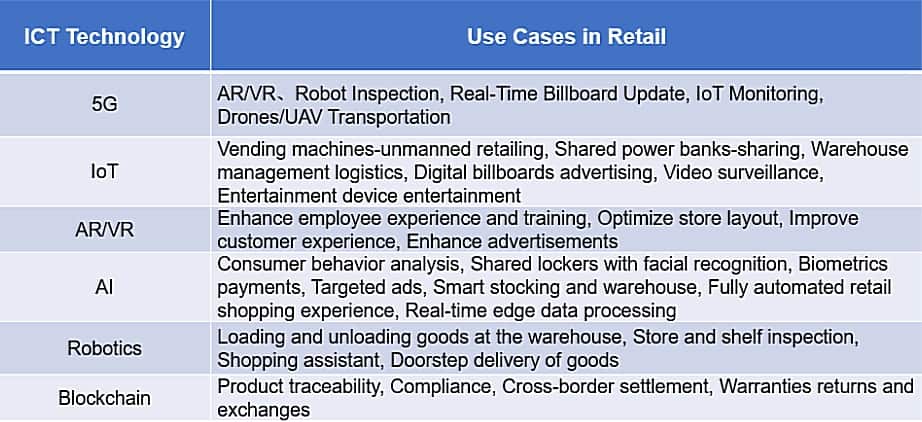 Source: IDC China 2019
"Already, retailers are tapping into new technologies like location-based mobile services, VR, AR and the use of entertainment to engage with consumers across all touchpoints. We will see more seamless phygital integration, including the use of new innovations like 'smart mirrors', allowing consumers to get personalised recommendations and shop online while in-store," said Judith Loh, head of Relationship Management, APAC, Sales at Wirecard.
New Value
The digital transformation of the retail industry is a long and continuous process. The new wave of technology evolution will generate emerging New Retail hot spots throughout the value chain.
Over the past decade, the impact of digital transformation has been mainly concentrated on the front end of the retail value chain, namely marketing and sales; while the impact on the back end, such as product development, procurement, production, transportation has been comparatively low.
In the future, we predict that digital transformation will have a greater impact on the back end of the retail value chain. Intelligent connectivity will enable retailers to achieve end-to-end digitization and bring new value to every link of the chain.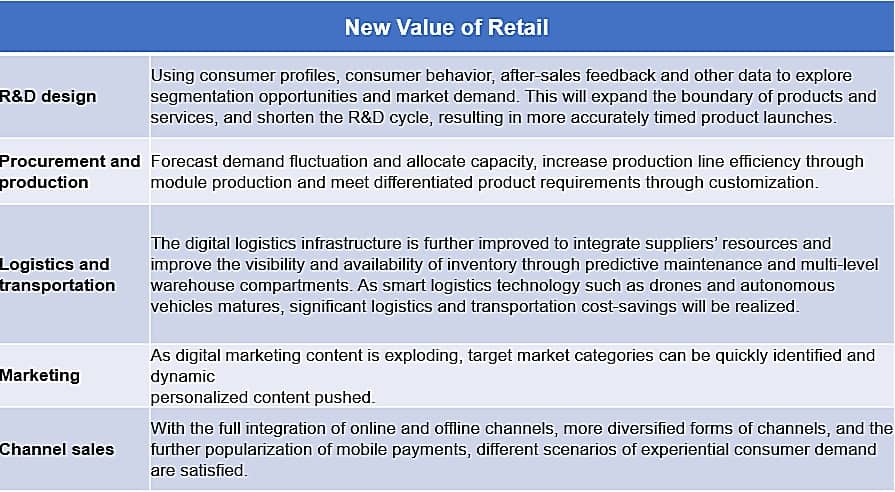 Source: IDC China 2019
New ecosystem
Emerging technologies such as cloud computing, 5G and AI are disrupting the traditional retail industry, giving rise to a new ecosystem.
The boundaries between new and old business models as well as the real and virtual worlds are blurring as operational processes become connected and offline and online shopping are merged.
Intelligent connectivity can effectively help retailers build a New Retail business platform, giving digital access to retailers, users and partners regardless of the time or location.
The platform can help enable organic interconnections between retailers, consumers and products. This can lead to more efficient information flows (data exchange) for logistics (supply chain integration), capital (transaction settlement) and consumers (customer profiling), delivering new shopping experiences to consumers while allowing retailers to realize their business value.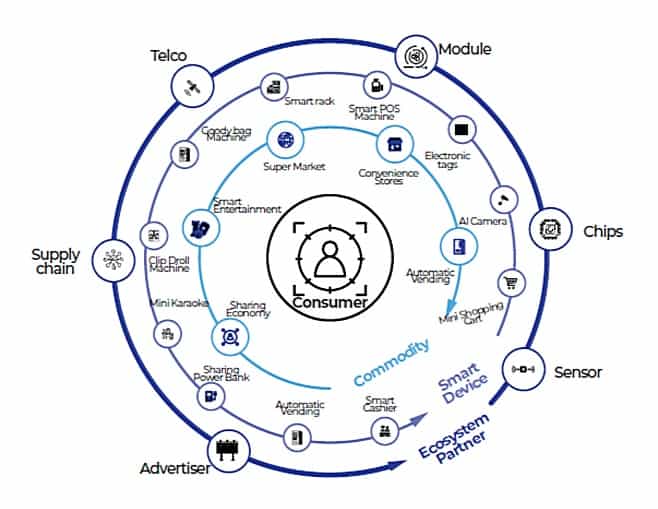 Source: IDC China 2019