Lendlease Digital, in partnership with Accenture and Google Cloud, has launched in Asia Podium Property Insights, a software platform that helps optimise space utilisation and cost savings within buildings, as well as enables workplace managers and real estate owners to help their corporate tenants to improve employee experience.
Developed for large scale enterprises, government agencies, and portfolios, the platform allows users to view, analyse and predict future requirements, as well as gain value from specific data at a portfolio, building and team level.
Lendlease Digital and its partners have begun pilots in select locations, including Accenture's Singapore office and the C-suites flexible workspace at Paya Lebar Quarter.
"Accenture is working with Lendlease to develop Podium Property Insights and define the platform's use cases. We are also trialling it in some of our offices. Companies need strategies for new hybrid work models to ensure all employees have a safe, productive and efficient environment wherever they work at any given time. Lendlease's platform will give companies the insights to inform their new workplace strategies," said Amit Bansal, managing director for applied intelligence execution and data-led transformation for growth markets, Accenture
Using data for forward-looking forecasts
The Podium Property Insights software tool creates personalised insights and recommended actions to inform future workspace decisions, and drive improvements to employee satisfaction.
The platform supports 20 unique metrics – Employee Satisfaction, Space Utilisation, Health & Safety, and Sustainability – in any building to create real-time models for optimal building usage.
Unlike purely sensor led solutions, Podium Property Insights offers concise insights, analysis at the individual team level, and provides forward looking forecasts. The platform brings together place, people, and business data collected through sensors and surveys to create a staircase to value – from business intelligence to artificial intelligence, and ultimately operational intelligence. This means users have the insights needed to improve cost efficiency, employee engagement, and workplace productivity.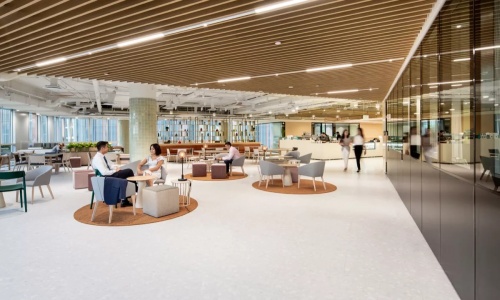 "Innovation thrives under pressure and the roll-out of Podium Property Insights today is more important than ever as workplaces are undertaking seismic change. The previous workplace model is no longer sustainable, and we are all moving forward with dynamic, personalised experiences in order to attract and retain top talent. Podium Property Insights is the digital platform that will transform workplaces to meet today's business needs," said William Ruh, chief executive officer, Lendlease Digital.
Accessible via the Google Cloud Marketplace, Podium Property Insights promotes safer and healthier buildings through tracking real-time data analytics and predictive and immediate action recommendations, which aims to decrease employee complaints by up to 30% and increase workplace productivity by up to 12%.
Through the pilot phase of the rollout of Podium Property Insights, teams have discovered that sometimes it is the simple things that need changing – for instance replacing high-chairs with standard chairs. Other teams have been able to relook at the space requirements based on how unique teams prefer to work and collaborate.
By combining AI with practical tools to enable workplace teams to respond to ever-changing employee needs, along with insights built on complete data sets, Podium focused on helping the workplace thrive by correlating building data with employee data.
Optimising space and reducing carbon footprint
For workplace managers seeking to reduce overhead costs, Podium Property Insights tracks underutilised floors and meeting rooms and places in the office that have the least engagement enabling an optimal model for space usage to produce a thriving office environment.
"Companies will be able to monetise non-utilised spaces at non-peak times by reconfiguring floorplate designs and adjusting for a hybrid work model. By creating this model, companies will find maximum workplace performance, grow employee engagement and retention," Lendlease Digital said in a statement.
Podium Property Insights will continuously evolve to include additional data sources and metrics based on feedback received.
Meanwhile, for building owners seeking to reduce their building's carbon footprint, the platform can monitor air quality, temperature, and acoustics across the office.
It can also identify electricity intensity and use per occupant, enabling building owners to redeploy resources more efficiently.
Users of Podium Property Insights can expect safer and healthier buildings through tracking real-time data analytics, and advise on immediate action recommendations, which is imperative in an ever-changing environment in light of the pandemic.
"After piloting Podium Property Insights, buildings will have a much stronger visibility of utility spend against occupancy, enabling action to reduce energy consumption footprint by 10% to 20%, depending on building infrastructure design. Podium Property Insights supports the entire real estate value chain, while encouraging industry collaboration and co-innovation," said Lendlease Digital.