ABI Research forecasts that total industrial cloud platform revenue in manufacturing will surpass US$300 billion by 2033 with a CAGR of 22.57%, driven by solution providers enhancing platform operability while expanding partner ecosystems for application development.
ABI attributes the growth in cloud use to new architectural frameworks that enhance data extraction and operability for manufacturers looking to maximize utility from their data.
"Historically, manufacturers have built out their infrastructure to include expensive data housing in the form of on-premises servers," says James Iversen, industrial & manufacturing technologies industry analyst at ABI Research.
He adds that the initial upfront cost of purchasing, setting up, and maintaining these servers is a selling point for cloud manufacturing providers.
"With low data storage prices, manufacturers who switch to a cloud-based system can see up to a 60% reduction in overhead costs relating to data storage," he continues.
For manufacturers who have outsourced their data storage to an external data warehouse provider, other problems arise. According to Iversen, external Data Warehouses are prone to data fragmentation and duplication, creating data siloes where critical datasets sit independently, not collaborating to produce new KPIs.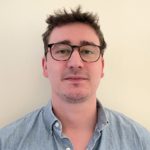 "Cloud manufacturing providers are eliminating these concerns by interconnecting applications bi-directionally, leading to sharing and communication between applications and their data."

James Iversen
In this report, ABI Research examined revenue, market share, application offerings, and recent updates of the hyperscalers AWS, Microsoft, and Google, along with other key industry players, Alibaba, IBM, SAP, Tencent, and Oracle, to complete a full analysis of the cloud manufacturing market.