The enterprise tablet market holds significant potential for disruption as pent-up market demand for better processing power has opened the door to new and more innovative devices, according to VDC Research.
Enterprise workers supporting business and mission-critical workflows are calling for better solution outside of Windows.
Rugged 2-in-1 detachable tablets represent the fastest-growing category, while fully rugged slate tablets account for the largest segment of the rugged tablet market.
But demand is not limited to ruggedized devices. VDC says non-rugged 2-in-1 devices are popular among those upgrading legacy rugged clamshell notebooks.
Use cases for tablets among mobile workforce range from trucking and logistics to public safety, healthcare, retail, and more. VDC noted that the government sector represents the single largest market for rugged tablet adoption, with demand among first responders and public safety organizations for incident management and patient-facing EMT applications.
"Reliability is a top priority for military and public safety users as they depend on their devices to endure extremely challenging environments in the field while maintaining Wi-Fi or cellular connectivity," explained Gisser.
Figure 1: Current and forecast global total rugged slate tablet shipments by Operating System (units)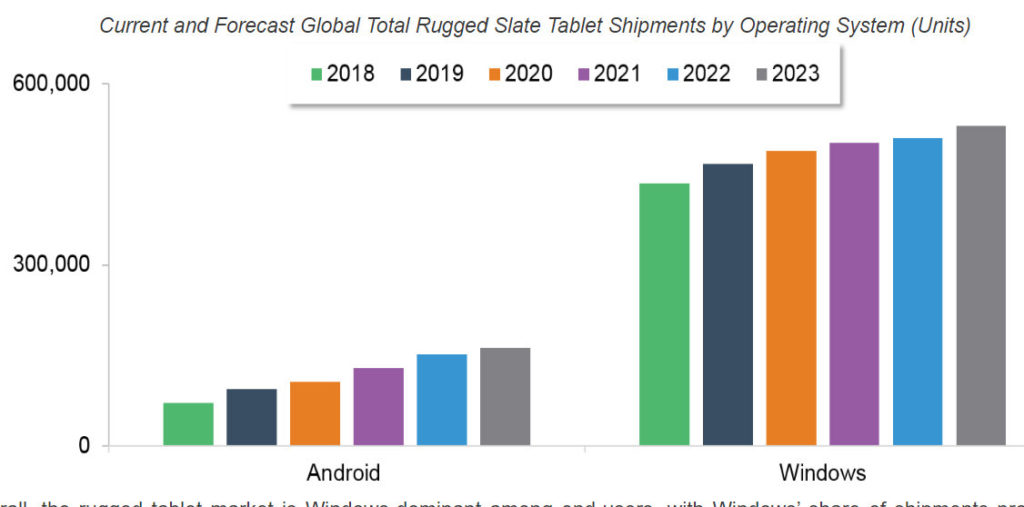 Source: VDC Research 2019
Windows dominates the rugged tablet market with 75% share through to 2023 according to VDC. Android's share is growing, in part due to the commercial success Samsung's Tab Active2.
"Enterprises are increasingly regarding Android as 'enterprise-ready' due to improvements in security features, ease of deployment, and the vast number of applications that can be built out," said Gisser. However, the cost of development, support, and lack of application compatibility for legacy Windows applications remains a significant barrier to Android adoption.
"As enterprises across verticals continue to invest in mobility initiatives to support line of business applications, they will prioritize solutions that will reduce costs, increase efficiency, and increase customer satisfaction," said Gisser.
VDC noted significant opportunity for new entrants to create unique points of differentiation in order to secure niches and capture market share.