Back in February 2012, Mark Zuckerberg, co-founder of Facebook (now Meta), stated "there is a huge need and a huge opportunity to get everyone in the world connected, to give everyone a voice and to help transform society for the future. The scale of the technology and infrastructure that must be built is unprecedented, and we believe this is the most important problem we can focus on."
Of course, Zuckerberg had a vested interest because central to connecting people – the core business of Meta (formerly Facebook) – are data centres. The company has invested over US$20 billion in its 85 data centres globally, including one in Tanjong Kling, Singapore. But its data centre accounts for just under one per cent of the estimated 8,271 operating globally, according to Cloudscene.
Data centres are the information backbone of the digital economy, connecting communities of people, businesses, and organisations.
As environmental, social and governance (ESG) become the talk of the town, from Boardrooms to consumers, data centre operators are left with little choice but to be seen as taking a serious look at how to be more energy efficient. After all, data centres as energy-intensive enterprises accounting for one per cent of global electricity use.
In the Climate Neutral Data Centre Pack, data centre operators and trade associations in Europe have agreed to make data centres climate neutral by 2030. As parts of Asia experience the effects of climate change, can data centres in the region band together to commit to some similar to that occurring in Europe?
Samuel Lee, CEO of Digital Edge, concedes that becoming carbon-neutral is in the interest of everyone, including data centre operators (DCO). He noted that even without decarbonisation as a business goal, DCOs benefit financially from achieving better power usage effectiveness (PUE).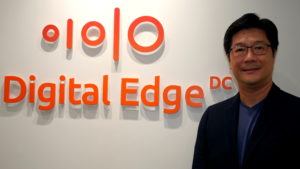 "This is part of our core structure. If we can be more effective and efficient, we can improve our margin as a business," he went on.
"As a company, we want to be responsible corporate citizens for planet earth, and we need to grow sustainably. That's why for everything we do as a data centre provider today, ESG always comes first."

Samuel Lee
He clarified that achieving target PUEs by incorporating new technologies and design only accounts for 20-30% of the equation. How a data centre operates is the other piece of the puzzle. This includes improving water utilisation for cooling to achieve better WUE.
The economics of scaling and its limits
According to Mordor Intelligence, the Asia-Pacific Data Centre Market is expected to register a CAGR of 12.1% during the period 2022 to 2027. The firm cited deeper internet penetration, increased digital data flow, public cloud services, and higher predicted IoT growth as driving the demand.
Asked how DCOs and their investors can balance the demands for more compute resources while meeting regulation and customer calls for more sustainable operation, Lee explained that small data centres find it hard to achieve good PUE (for Digital Edge, the company standard is 1.3 while the Uptime Institute says in 2021, the average annualised PUE stood at 1.57). The efficiency comes as the business scales upwards – up to a certain point.
Lee conceded that there is potential for trade-offs. He explained that in regions that enjoy four seasons, DCOs can have more efficient energy use. However, for countries like Indonesia, Malaysia and Singapore which have high temperatures and humidity, DCOs may need to rely on new technologies and techniques.
"It may cost a little bit more, but there is a balance between short-term investment and return benefit. As a service provider, we are always looking for long-term benefits as the business cases are around 10 years. We aim for long-term benefits for ourselves and our customers and achieve the ESG requirements," he continued.
When CIOs select their data centre needs
As CIOs and heads of infrastructure and operations (I&O) plan for their IT needs, most likely an outsourced model of some kind, Lee believes they need to look beyond the immediate requirements.
He cautioned there are a lot of things to consider, including power efficiency and carbon footprint. ESG is an evolving concept.
Because different countries have different formulas for measuring the carbon output, he suggests CIOs and I&O leaders 'get a cushion in place.' He revealed that among Digital Edge's customers, there is a willingness to pay for 1.3 to 1.5 PUE.
"We are only going to build for 1.3 because (eventually) customers do not want to rely on an inefficient data centre.
"When choosing a DCO, it is about how to structure your IT and network infrastructure and how to deploy technologies. We can work with them and to make sure that when they deploy critical digital infrastructure, it is also a future-proof infrastructure," he said.
Click on the PodChat player as Lee deep-dives into the challenges and opportunities data centre operators and customers face in achieving sustainable data centres.
Datacentres represent a sizeable carbon footprint for businesses (1% of global electricity consumption is from data centres). As businesses pursue a carbon neutral or net zero carbon initiative, what does this mean for the data centre?
The paradox of the present is that businesses are consuming more data. More data is good for business for data centres (DC). But businesses expect data centre operators to be more ESG responsive. What are DC operators doing to solve this paradox?
How do you see data centres in cities like Hong Kong and Singapore evolving to meet customer expectations (and plans) around ESG?
When evaluating their DC requirements, what should CIOs and heads of infrastructure and operations include in their planning (and selection of DC operators) to support company ESG goals?