Check Point Research (CPR) reports that there are 40% more attacks weekly on organisations in 2021 compared to 2020. That's a global figure, Asia Pacific has an average of 1,299 weekly attacks per organisation, up 20% from 2020.
In Southeast Asia, Indonesia is seeing the highest number of attacks in terms of volume, with an average of 2,981 weekly attacks per organisation in 2021, a 15% increase from 2020.
The country figures are just as interesting with weekly attacks on Thai enterprises averaging 1,686 (28% increase), Vietnam at 1,486 (8% decrease), the Philippines at 1,391 (35% increase), Malaysia at 960 (4% decrease), and Singapore at an average of 953 weekly attacks per organisation.
Singapore's attack by volume may be the lowest among its ASEAN neighbours but this is up 106% from 2020's average. Either Singapore businesses are becoming more relaxed, or there is simply more money in the City State to target.
Figure 1: Average weekly number of cyberattacks per organisation (January 2020 – September 2021)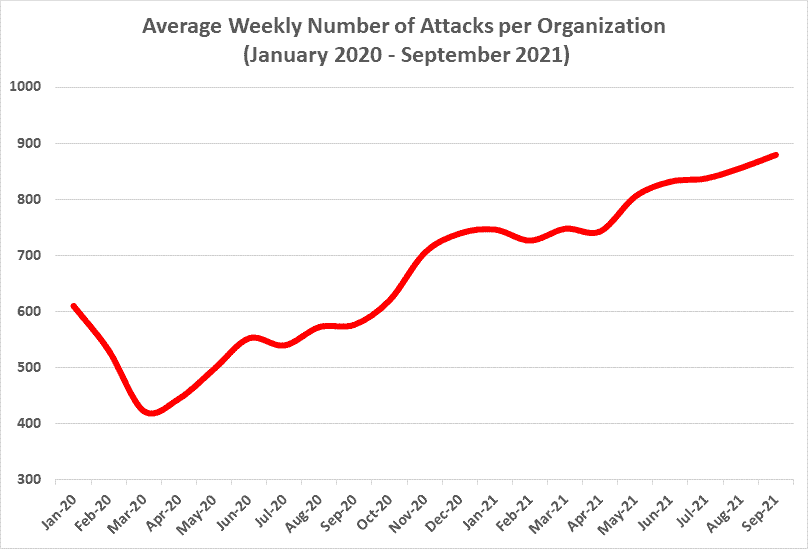 Industry sectors under attack
Figure 2: Weekly average number of attacks per organisation by industry (2021)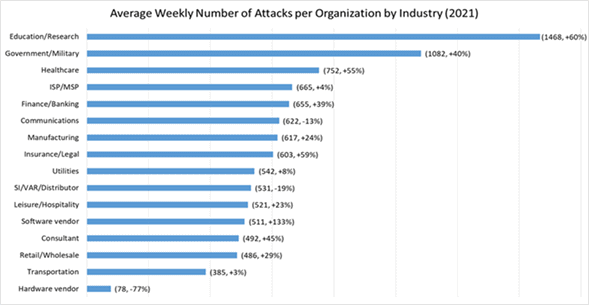 The sectors which are experiencing the highest volumes of cyberattacks are Education/Research with an average of 1,468 attacks per organisation each week (an increase of 60% from 2020), followed by Government/Military with 1,082 (40% increase) and Healthcare with 752 (55% increase).
Ransomware on a global rampage
In addition, CPR observed that globally in 2021, on average, 1 out of every 61 organisations is impacted by ransomware each week – a 9% increase compared to 2020. The ISP/MSP sector is the industry most attacked by ransomware this year.
The average weekly number of impacted organisations in this sector in 2021 is 1 out of 36 (32% increase from 2020). Healthcare is in second place with 1 out of 44 organisations having been impacted (39% increase) followed by software vendors in third place with 1 out of 52 organisations (21% increase).
APAC is seeing the highest volume of attack attempts by ransomware with 1 out of 34 organisations being impacted every week in 2021. This is a 10% decrease compared to 2020.
Omer Dembinsky, data research group manager, Check Point Software Technologies says since the outbreak of the pandemic globally, cybercriminals have sprung into action to take advantage of the opportunities presented to them.
"With the continued rise in cyberattacks, Check Point Software recommends that organisations adopt a preventive approach to cybersecurity, rather than work on remediation after the fact when damage has been inflicted," he continued.