A worldwide survey by ThoughtWorks suggests that the success of tomorrow's enterprises – and their leaders – will be determined by their proficiency with technology, data and software. The survey suggests that a third of the knowledge that will be required to run a successful company in 10 years' time will relate to new technology and data.
This is four times greater than any other area of knowledge that might be required.
Technology proficiency is more than just having knowledge of the latest technology innovations: it describes a technology-enabled business culture that informs business strategy and everyday business planning conversations — using data and analytics, improving customer experience, product innovation, effectively using cloud technology, or investing in digital transformation programs. In a world where digital disruptors are gaining a foothold in almost every sector, established enterprises can only compete by ensuring technology becomes a core organizational competency.
Survey highlights
Singapore's business leaders (34% of respondents) value new technology and data as the most important factors in driving successful organisations, the highest amongst the countries surveyed
Singapore respondents believe that the most successful enterprises will optimise technology for increased agility and innovation, with technology at its core to drive business thinking
Global business leaders predict tech proficiency will dominate the knowledge required to run a successful company in 10 years' time
Tomorrow's leading brands will be those that best exploit new technology to adapt and transform say half of business leaders
Perceived contributing factors to success
New technology and data (34%) ranked the most valued area of knowledge in Singapore, the highest proportion amongst the 12 countries surveyed and tied for first place with Finland.
Figure 1: Where the most technology-proficient companies in the world are operating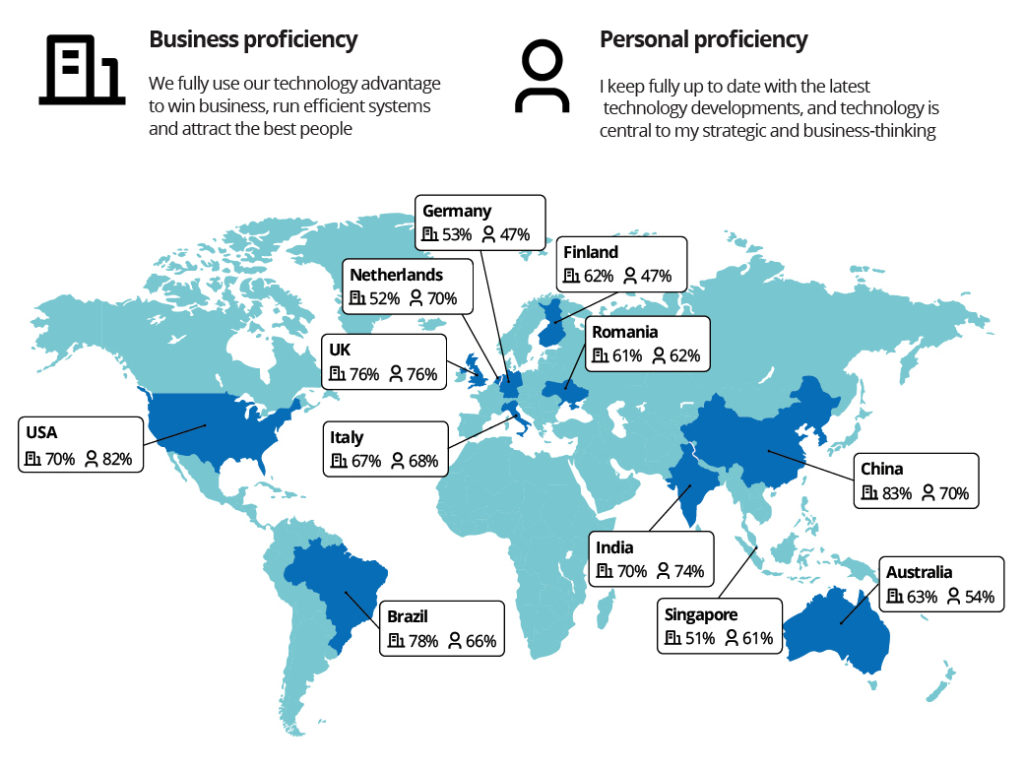 Globally, finance (8%), marketing (7%), and product development (6%) trailed behind as the next most valued areas of knowledge.
Globally, by sector, financial services leaders were most likely to value tech knowledge (36%), followed by those in the transport and automotive sector (34%).
Among newer businesses (less than five years old) the weighting was 34%, higher than businesses that had been trading for more than 10 years (29%).
The global results showed that the leaders that gave the lowest weighting to technology were, by their own admission, behind the competition when it came to tech proficiency and were struggling to keep up with new developments (23%).
Figure 2: Technology areas that need attention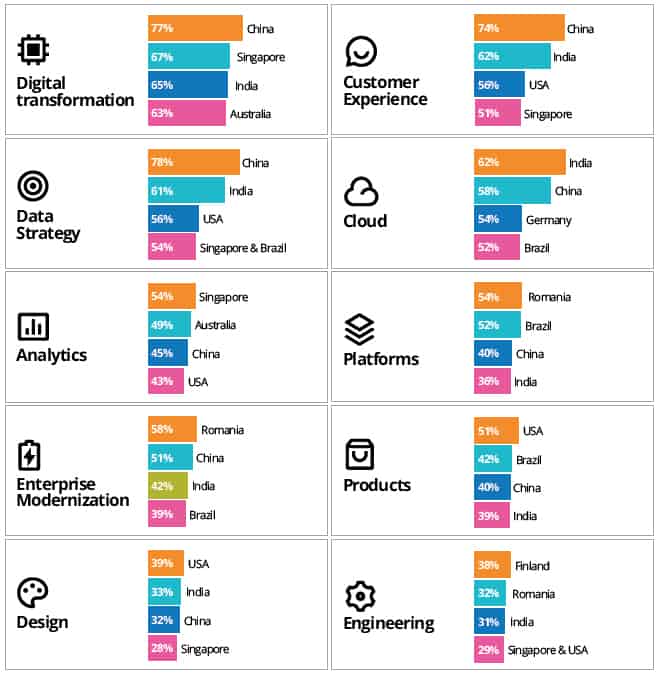 The survey also found that global respondents believe technology, more than branding and profits, will determine competitive advantage. When asked about the essential attributes of leader brands in the next 10 years, the top two attributes were technology-related.
Around half of global respondents (46%) believed leader brands would be the ones capable of exploiting new technology's potential to transform their business. Similarly, 44% worldwide believed they would be the enterprises that put technology at the heart of their business thinking.
The latter attribute was deemed the most important for leader brands by business leaders in Singapore, with half (50%) perceived that leading organisations will prioritise technology as the core of the business strategy.
This was followed by agility (49%) and making full potential of the latest technologies to transform business (46%), as the next two most critical factors for leader brands in the next 10 years - mirroring global trends.
Relative to the other countries, Singapore companies also believed that they were amongst the least (51%) technology-proficient, compared to the global average (68%), despite the market's heightened focus on having digital technology as a core investment for leader brands.
"As Singapore shifts its focus and investments on transformation and innovation, it is crucial for businesses here to fully maximise this support to build capabilities needed to take them through the next phase of digital transformation," said Hormese Tharakan, commercial director, ThoughtWorks Southeast Asia.
He opined that the changing competitive landscape, fuelled by the speed of technological advances, compels business leaders to move and respond swiftly to tap into various opportunities. "Those that embrace this way of thinking will be better positioned to achieve growth and thrive in the post-pandemic era," he concluded.