The report, Decoding the Digital Talent Challenge, jointly conducted by Boston Consulting Group (BCG) and The Network reveals what may be a worrying trend for HR managers.
As many as 40% of employees working in digital fields are actively job hunting, nearly 75% are expecting to leave their current role soon, and virtual mobility is an acceptable option. Asia-Pacific is emerging as the go-to destination for digital workers interested in international assignments.
Why switch jobs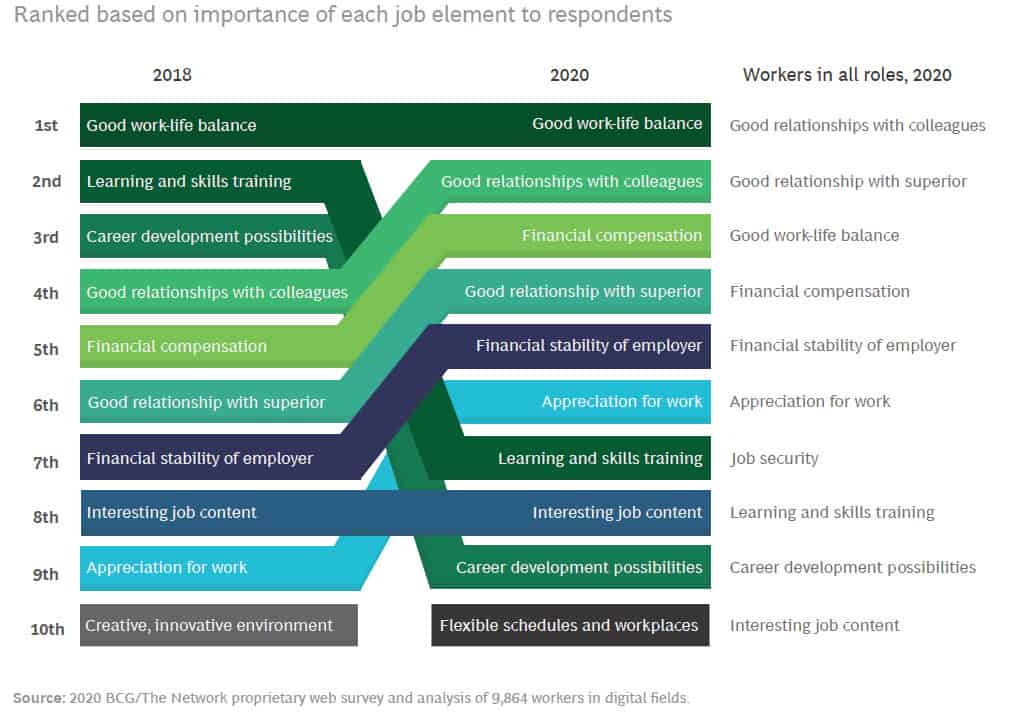 Advancing career prospects is the main driver for 63% of technology employees, followed by looking for new challenges (49%). For digital employees, having a good work-life balance continues to be the most valued aspect of their job.
But financial compensation, in the form of both salaries and long-term incentives such as stock options and shares, has gained ground, rising from fifth to third place since the survey was previously conducted in 2018.
Diversity and inclusion and environmental issues have also increased in importance over the last year for 61% of employees in digital fields. Fifty per cent would not work for companies that do not share their diversity and inclusion beliefs; 48% take the same stance regarding environmental policies.
"Workers in digital roles emerged from the COVID crisis relatively unscathed and are now entering an overheated talent market with many options," said Orsolya Kovács-Ondrejkovic, an associate director at BCG and a co-author of the report.
She explained that as companies across all industries digitize, salaries for tech talent have skyrocketed to a level where few employers can compete. She noted that money isn't everything, however, suggesting that employers can still be attractive to digital talent with the right workplace culture and values.
The number of employees in digital fields who are willing to move to another country for work has declined to 55% from 67% in 2018. However, 68% would be happy to work remotely for an employer without a physical presence in their country, significantly higher than the 57% cross-job average.
Although the COVID crisis did not impact technology employees' working patterns to the same extent as the general workforce, fully remote working increased significantly for employees in these roles, reaching as high as 76% by the end of 2020, compared with 41% in 2018.
Ninety-five per cent of respondents would like to retain some of that flexibility by working at least one day a week from home, although only 25% would like to work fully remotely. Other types of flexibility are also highly valued, with 75% preferring to work fully or partially flexible hours.
Hiring strategies
Pierre Antebi, a co-managing director of The Network and a co-author of the report, said developing a comprehensive strategy for digital talent is a must for all employers.
"Enhancing recruitment and retention is an important part of this, ranging from adapting corporate models to offer good balance and flexibility to expanding options for remote international work and reflecting social and environmental values in their employee proposition. Creating an ecosystem of contractors, gig workers, and agencies is an additional valuable tool for sourcing talent in this highly competitive market," he explained.