Our digital footprints have become like marathon tracks, with users understanding much more about their online profiles and demanding more control over how their data is stored and used. As with their physical privacy, users are rightfully expecting the same level of control over their online privacy.
While the subject of online privacy, and how to manage it, has been around for some time, the future of one-to-one digital advertising is now a critical issue that needs to be addressed and resolved.
Amid the seismic shifts in the advertising industry, and the pandemic changing the way consumers behave online, brands need to take a proactive stance on privacy to reap the rewards of targeted marketing.
With a steady stream of data breaches and cyberattacks, even in Asia, including the recent ST Logistics incident and Toyota's series of breaches, where millions of customers had their personal data compromised, we see web users increasingly losing trust in the ecosystem and confidence that their data will be stored and used respectfully.
Against this backdrop, one thing has become clear - cookies and mobile ad IDs are no longer adequate tools to address users with personalised messages. Whilst third party cookies worked as pseudonymised identifiers, they were not designed to protect a user's online identity.
So, how can the industry create a fair and honest value exchange that truly rebalances the scales for web users and protects their online identities? We believe that this lies in upholding the following guiding principles which would benefit the full ecosystem and support a healthy future for the internet.
People-centric
In the offline world, consumer rights and privacy are paramount. It is fundamental that this is reflected online, and that people feel safe in the knowledge that their rights are respected and protected.
In Criteo's recent Global Apps Survey, which surveyed 18,113 people across 18 countries in Asia, we see that most APAC consumers remain willing to share their contact (57%) and location information (52%) to receive email notifications and alerts, information, that would benefit them. It is only when brands ask to access too much personal information that users would hesitate to download an app.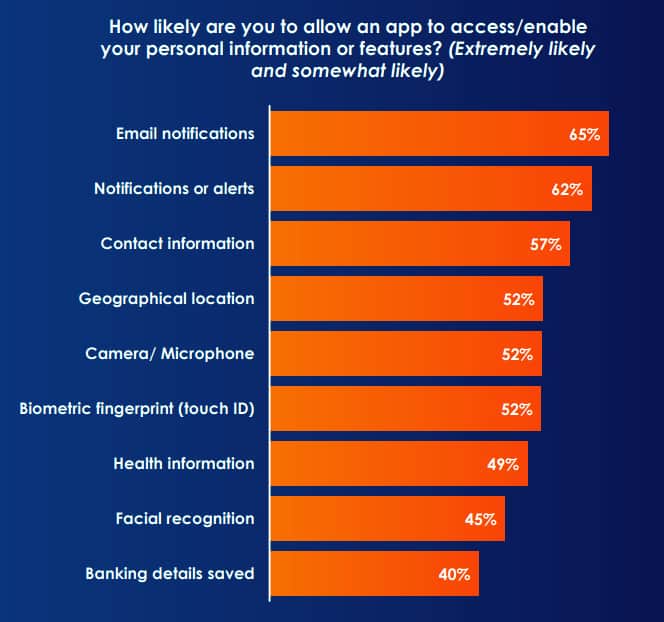 Total transparency is key to this, by ensuring that users understand how their data will be used and by who, so that they would know what they should opt into, and why. In essence, people need to be able to build and manage their online data profile just as they are responsible for the information they share in their day-to-day lives.
To achieve this, we need to re-write the rule book and create a brand new identifier for online advertising that gives total control back to the user based on consent and privacy.
Users must give their consent to have their data collected and the privacy of an encrypted ID that does not store or link data – all with the ability to change or adapt preferences at any given time.
It is also strongly recommended that businesses include a notice within privacy policies about data collection for the purpose of serving interest-based advertising.
When it comes to the safe storage of user data, a centralised management system also needs to be in place that is managed by an independent, non-browser entity.
For Indian e-commerce retailer, Tata CLiQ, having customers at the heart of their strategy meant delivering a genuine, brand-led shopping experience, targeted at shoppers tired of sifting through unknown brands.
Recognizing the importance of data security, the company has committed to protecting the privacy of its customers and prioritises the consent of its site users before sharing their personal details with any third party.
Ensuring customer trust while improving the effectiveness of customer engagement with Dynamic Retargeting, Tata CLiQ has achieved 150% increase return of investment (ROI) (1.5 increase) and higher month-on-month business contribution since implementation.
Customer Driven
For any solution to work and have longevity, it needs to have input from, and meet the needs of all internet parties, including publishers, advertisers and ad-tech players.
Advertisers will still need to be able to measure their campaign journeys effectively, publishers will still require revenue making abilities and ad-tech players will need access to data to fuel the two. Therefore, it is imperative that each have a seat at the table and have our individual voices heard and recognised in the collective result.
Australia's leading online fashion retailer, THE ICONIC, prides itself in being a company that builds customer loyalty by providing shoppers with a personalized and seamless experience. It also leverages data analytics to better understand its customers and adapt offerings to meet their needs.
Since 2012, THE ICONIC has been utilizing retargeting tools, including display retargeting and in-app retargeting technologies, that have translated into a 20% increase in average sales per repeated buyer.
Flexibility
Any solution needs to be built with flexibility in mind so that it can be adjusted to address feedback from the industry or market entities. We are in this together and, with the guiding principles adhered to, we can ensure a voice and solution for all.
We must also move away from the past, where individual players built their own solutions and worked in isolation and adopt an open and collaborative approach.
Looking Ahead
It is abundantly clear that change must be made, and conversations need to begin now. We must strike the right balance between regaining trust the industry has lost by giving transparency and control back to users and keeping up an agreed value exchange between all parties.
As we look to build a better internet, it is our hope that these guiding principles would be upheld and adopted by web users, publishers, and advertisers alike. For true change to occur, it requires openness, honesty, and the participation of the entire ecosystem.
No change has ever occurred in silos, and a collaborative effort will result in a proposal that fits all. This is not a quick fix and will not happen overnight, so the sooner we address the issues of online identification, the sooner we can begin the process of improving the experience. Together, we can exact change needed to protect the online identities of users.