WTW's 2023 Benefits Trends Survey reveals that in Hong Kong, concerns around competition for talent (77%) and rising cost (64%) have remained unchanged since 2021, while the cultural shift towards flexible work rose to third place as companies grapple with reforming policies in the wake of the pandemic.
Misalignment in employee and employer expectations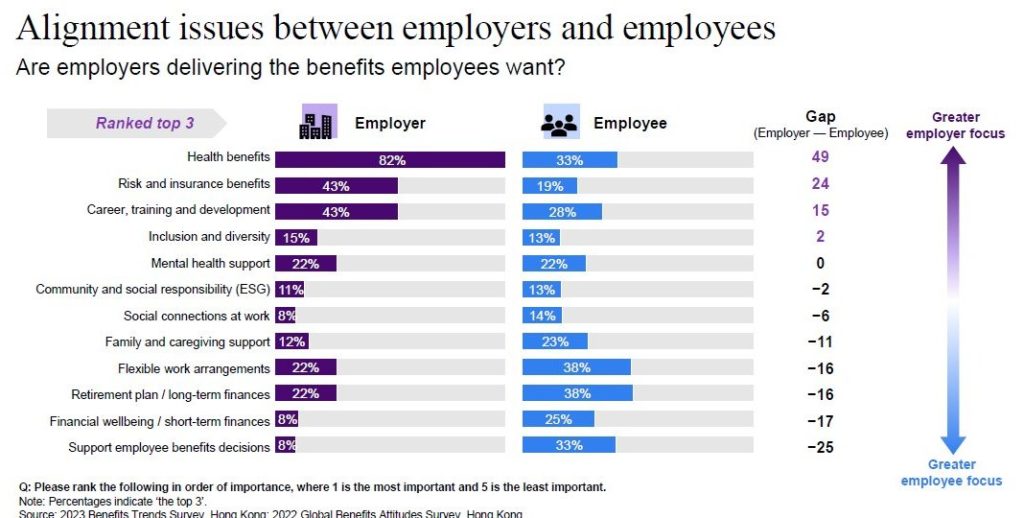 Hong Kong employers are prioritising the provision of health benefits (82%), risk and insurance benefits (43%) and career, training and development (43%). However, a separate survey of employees found that they prioritise retirement plan/long-term financial incentives (38%), and flexible work arrangements (38%), followed by health benefits (33%) and support for their benefits decisions (33%).
When considering benefits strategies, employers cite managing plan cost as the key area of focus (74%), followed by industry benchmarking to understand the competitiveness of their benefits (47%) and improve employee wellbeing (45%).
Eric Lam, head of health & benefits for Hong Kong and Macau at WTW says Hong Kong's trend is in line with the challenges faced by most organisations in Asia Pacific (APAC), where employers are finding it complicated to retain talent while benefit and operational costs continue to rise.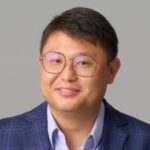 He added that while the Hong Kong economy is recovering, global issues will continue to exert persistent pressure on Hong Kong's employers.
"Additionally, the post-pandemic needs of employees are changing and demands for comprehensive benefit provisions continue to grow. To remain competitive in a talent-driven service economy, employers must keep their benefits packages in line with peers – to the benefit of employees."

Eric Lam
Elevating all aspects of benefits to improve competitiveness
The results of the Hong Kong survey mirror the views of employers from the wider Asia Pacific (APAC) region. Respondents identified a need to improve all areas of their benefits strategies over the next two years to elevate employee health and wellbeing. Some of the key areas include:
Aligning benefits portfolios with business and talent goals: APAC employers have a strong desire to improve their current benefits portfolios to compete with their competitors. About 31% said they are looking to improve the positions of their benefits in financial well-being/short-term finances, followed by mental health support at 28%, and retirement plan/long-term finances at 27%. Employers are also putting greater emphasis on diversity, equity and inclusion (DEI), with 57% planning or considering conducting a review of their inclusion and diversity benefits.
Managing rising cost: Employers are taking more aggressive actions to manage the budgets of their benefits programmes, with 71% of APAC employers planning to improve contract terms with their vendors and 48% looking at bundling services into one package from a single vendor.
About 56% are also looking to secure additional funding for their benefits programmes, 44% plan to expand the use of risk financing arrangements and 37% plan to increase the employee share of cost.
Maximising employee experience and engagement: 52% of APAC employers are planning or considering providing a single digital platform where employees can access all benefits and services. 48% are also planning or considering more tools and services to help employees choose the best options when using their benefits.
"Our survey shows that employers recognise the urgency in delivering more efficient benefits programmes. The opportunities to bridge current gaps are plenty and we expect companies to take more aggressive actions over the next two years in elevating their current benefits strategies.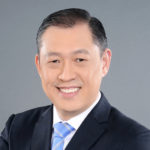 "The challenge now will be to develop a truly equitable approach that not only tailors to the individual needs of the workforce but also ensures that the value of their investments is optimised to become most cost-effective," said Cedric Luah, managing director and head of health & benefits, International at WTW.
He suggested that companies that can achieve this balance will differentiate themselves and gain a strong advantage against their competitors.