New data from Synergy Research Group shows that just 30 metro areas account for 68% of worldwide retail and wholesale colocation revenues.
"While we continue to see strong demand for colocation across the board, the standout regional growth numbers are coming from APAC and the highest growth sector is wholesale data centre leasing for hyperscale operators," said John Dinsdale, a chief analyst at Synergy Research Group.
Asked what is fuelling the growth, Dinsdale postulated a combination of economic growth within the metros themselves and increasing digital workloads that need to be handled. He also observed the growing preference to outsource data centre requirements.
And the winners are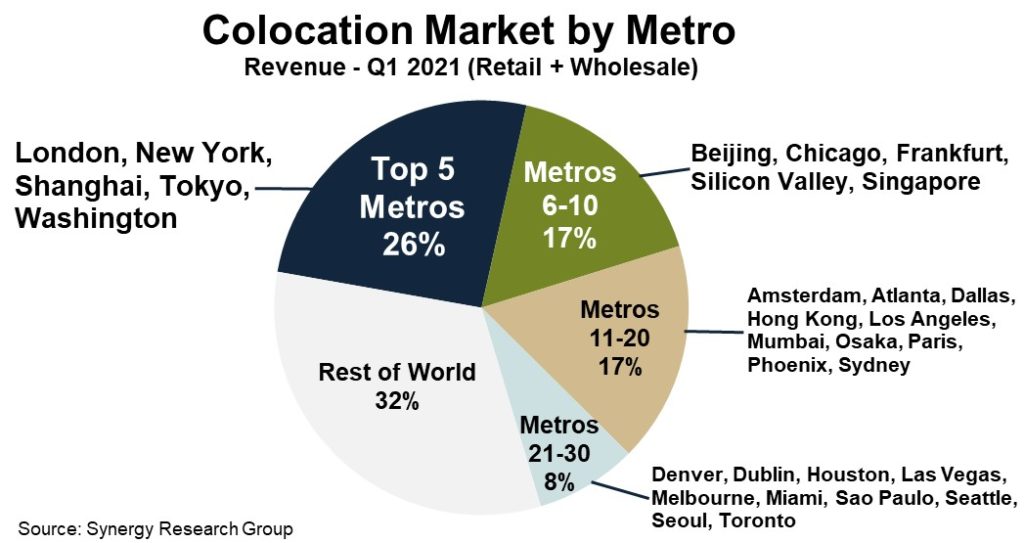 Ranked by revenue generated in Q1 2021, the top five metros are Washington, Tokyo, London, Shanghai and New York, which in aggregate account for 26% of the worldwide market.
In Q1 Shanghai surpassed New York for the first time, due to it being one of the highest growth major metros.
The next 25 largest metro markets account for another 42% of the market. These top 30 metros include 14 in North America, ten in the APAC region, five in EMEA and one in Latin America.
The world's three largest colocation providers are Equinix, Digital Realty and NTT. One of those three is the market leader in 20 of the top 30 metros.
Competitive landscape
The global footprint of Equinix is particularly notable and it is the retail colocation leader in 18 of the top 30 metros. In the wholesale segment Digital Realty is leader in nine of the metros, with NTT, Global Switch and CyrusOne each leading in at least two metros.
Other colocation operators that feature heavily in the top 30 metros include 21Vianet, China Telecom, China Unicom, Chindata, CoreSite, Cyxtera, Flexential, GDS, Iron Mountain, KDDI, QTS and Switch.
Over the last 25 quarters the top 30 metro share of the worldwide colocation market has remained at around the 66-68% mark. While the major metros are a natural magnet for data centre investment due to their status as economic hubs, there has also been a push to build out more edge locations. These two opposing trends have kept the major metro share of the total market relatively constant.
Among the top 30 metros, those with the highest colocation growth rates (measured in local currencies) are Beijing, Sao Paulo, Shanghai, Mumbai, Osaka and Seoul, all of which grew by over 15% in the last year.
Market dynamics
He added that the market dynamics for the retail and wholesale segments are quite different. Spending on retail colocation is more than twice as much as wholesale, but wholesale growth rates are more than double retail growth rates.
"Due to different location criteria for hyperscalers, there are some metros where wholesale market size is bigger than retail," concluded Dinsdale.