The bad news
The latest data from the Kaspersky Security Network (KSN) has detected 8,493,806 web threats in Singapore in 2020, an 82% increase from 4,657,235 in 2019.
Singapore retaining its 10th position as the source of online threats (caused by servers hosted in the country) in 2020 with 17,230,348 incidents detected, a 50% increase as compared to the year before.
"Singapore remains in the top 10 list globally in terms of being a source of online threats, which is a by-product of the country's highly developed digital ecosystem and its role as the regional data hub, where cloud providers locate their infrastructure. Such qualities are shared by the countries which make up the top threat sources list," said Yeo Siang Tiong, general manager for Southeast Asia at Kaspersky.
Maybe good news?
Instances of detected local threats decreased by 39% in 2020 to hit 4,414,623 – again, the lowest in Southeast Asia - suggesting that Singaporeans have improved their cyber hygiene when it comes to mitigating the spread of malware via removable USB drives, CDs, DVDs and other "offline" methods.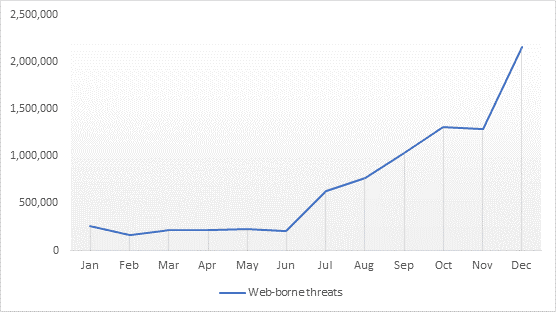 From the table above, it is clear that the incidence of web-based threats was on an upward trajectory from June 2020, with the impact of 'circuit-breaker' measures being fully felt by both businesses and individuals. This could be attributed to threat actors ramping up their activity to take advantage of the continued existence of poorly-implemented IT infrastructures and weak cyber hygiene practices of employees when businesses rushed to adopt work-from-home arrangements.
Web-based threats – or online threats – are malware programs that can target someone while using the Internet. These browser-based threats include a range of malicious software programs that are designed to infect victims' computers.
In Southeast Asia, the top five attack vectors of web threats in 2020 remained the same as from the year before: most cases are malware in web traffic found during browsing scenarios where users visit infected sites or online advertisements performing unfair action.
Other sources include unintentional downloads of programs or files from the Internet; downloading malicious attachments from online email services; browser extensions activity; and downloading malicious components or communications with command and control, run by other malware. While web-mining activity continued to fall in 2020, the number of users faced with web-skimmers using Trojan Password Stealing Ware to steal user account information grew by 20%.
"As the government further tightens regulations and continues to build up its cyber-defences, it remains essential for businesses and individuals to remember that cybercriminals never sleep. Hence our security solutions should be automated, intelligence-based, and proactive," concluded Yeo.
Tips for companies:
Ensure your employees have all they need to securely work from home and know who to contact if they face an IT or security issue.
Schedule basic security awareness training for your employees. This can be done online and cover essential practices, such as account and password management, email security, endpoint security and web browsing.
Take key data protection measures including switching on password protection, encrypting work devices and ensuring data is backed up.
Ensure devices, software, applications and services are kept updated with the latest patches.
Install proven protection software, on all endpoints, including mobile devices, and switch on firewalls. Small and midrange enterprises can also opt to use a Kaspersky Endpoint Detection and Response Optimum to boost their defences against complex threats.
Ensure you have access to the latest threat intelligence to bolster your protection solution. For example, Kaspersky offers a free COVID-19-related threat data feed.
Double-check the protection available on mobile devices. It should enable anti-theft capabilities such as remote device location, locking and wiping of data, screen locking, passwords and biometric security features like Face ID or Touch ID, as well as enable application controls to ensure only approved applications are used by employees.
In addition to physical endpoints, it is important to protect cloud workloads and virtual desktop infrastructure.
Tips for users working from home
Ensure your router supports and works smoothly when transmitting Wi-Fi to several devices simultaneously, even when multiple workers are online and there is heavy traffic (as is the case when using video conferencing).
Regularly update your router to avoid potential security issues.
Set up strong passwords for your router and Wi-Fi network.
If you can, only do work on devices provided by your employer. Putting corporate information on your personal devices could lead to potential security and confidentiality issues.
Do not share your work account details with anybody else, even if it seems a good idea at the time.
Always feel able to speak to your employer's IT or IT security team if you have any concerns or issues while working from home.
Follow the rules of cyber hygiene: use strong passwords for all accounts, do not open suspicious links from emails and IMs, never install software from third-party markets, be alert and use a reliable security solution.