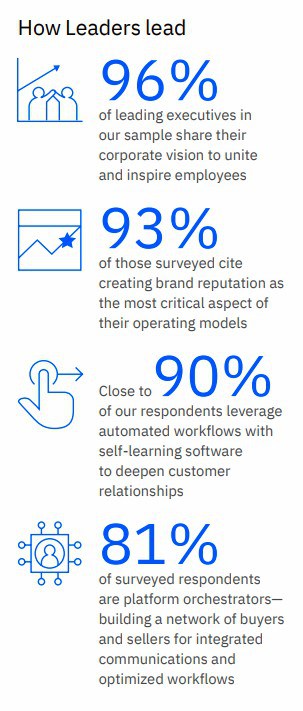 Like all other endeavours, a digital journey is not without risks. But for those that have taken the time to plan and strategize their transformation effort, the results have yielded significant sales and market values.
The IBM Institute for Business Value studied some of the world's most successful digital companies and have identified key differentiators that helped place these companies above all others. These same capabilities bolster the bets they're making on new platform business models and support their singular and distinctive focus on mastering a new era of branding.
In this Research Insight, we explore the top six strategies these companies pursue to perpetuate success in the digital marketplace:
Orchestrate digital ecosystems and platforms.
Build trust to build your brand.
Reimagine customer behaviour.
Curate data that "thinks" and "acts."
Create an exponential learning environment.
Foster a culture of inclusion.
Click here to download this free whitepaper from the IBM Institute of Business Value and discover how you too can succeed in your transformation journey.