It wasn't long ago that enterprises, particularly those in the heavily regulated industries such as financial services, were struggling to answer the question of "when to go into the cloud". These days cloud is often included among the business initiatives being taken into consideration. In fact, it is hard to have a discussion on digital transformation (DX) that does not include the cloud.
It is widely accepted that digital transformation is important in enhancing the customer experience. Other expected benefits include enhanced operational efficiency, as well as enabling the company to reach new markets at a faster pace than previously possible.
The IBM Institute for Business Value whitepaper, Winning Cloud Strategies, noted that leaders use the cloud to merge old, new and emerging technologies into state-of-the-art offerings that transform their businesses and their industries. Some businesses, like Ant Financial, Grab and Alibaba, use the cloud to disrupt markets by creating new business models.
Another report from IBM, "Beyond agility: How cloud is driving enterprise innovation," noted that more than 70% of companies are already leveraging the cloud to generate new revenue streams by redefining customer relationships, developing cloud-enabled products and services and expanding into new industries and geographies (see Figure 1).
Figure 1: Most successful cloud outcomes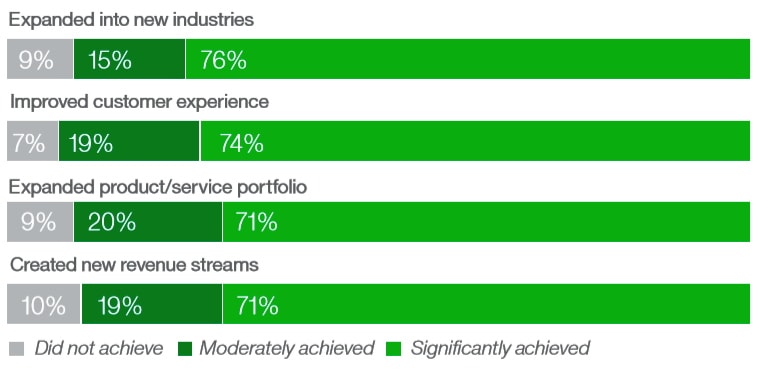 Source: IBM Institute of Business Value
Still, the number of business-critical applications that have moved to the cloud is low. At the FutureCIO forum, Essentials to multi-cloud management success strategy, Bounthara Ing, director, IBM Cloud Innovation Labs Asia Pacific, highlighted a McKinsey study which revealed that as much as 80% of workloads have yet to move to the cloud.
Over 47% of delegates attending the FutureCIO Forum recognise that there is still value in legacy systems. Yea Chee Hong, hybrid cloud technical leader in Asia Pacific at IBM, explained that these companies have the bulk of their existing workloads (e.g., applications) currently on-premise. Any shift to the cloud will require careful planning and consideration of ongoing business operations.
IBM's Ing acknowledged that while businesses recognise the value of going cloud-native as a pathway to re-investing customer engagements, a lift and shift would present higher risks and cost to the organisation.
The middle ground – a refactor and shift strategy – offers more realistic and economical approach is one that doesn't throw away the experience developed over the decades while conceding the urgency to migrate with a pre-determined agenda.
"They prefer to enhance and refactor these applications i.e. into containers to leverage the economies of cloud as opposed to rewriting from scratch," commented Ing.
He observed that enterprises desire to take a cloud-native path to re-invent their system of engagements, to offer a better client (or partner) experience. "But if we looked at the benefits of modernising more holistically the legacy or core applications, the benefits are more significant and can also enhance their competitive positioning in the market vs the new market entrants (e.g. born in the cloud)," added Ing.
In the IBM commissioned Forrester study, "Beneath the Surface of Digital Transformation: Why Leaders Modernise Enterprise Applications," Forrester found that systems of record (SoR) — the core applications that organisations run on — have a profound impact on the success of digital transformation projects.
"Modernising SoR and tapping vast data resources (80% of the world's data is hidden inside organisations) helps established organisations create new platform business models that help them compete with disruptors like Uber and Amazon. Organisations that prioritise their SoR are almost twice as likely to succeed at digital transformation," concluded Lng.
The road ahead
But the cloud journey will neither be smooth nor in one direction. The IDC study, 2018 Cloud and AI Adoption Survey, predicts that up to 50% of workloads running on public clouds will eventually be repatriated back into the private cloud in two years.
IBM's Ing cited unforeseen challenges around integration, security and governance as driving factors. Over 47% of delegates attending the FutureCIO Forum cited security and compliance as concerns most impacting their company's multi-cloud strategy.
Closing
But cloud alone is only part of the story. Cloud, whether it is private, public, hybrid or multi-cloud, is not the end game. For many, it is the start of the journey. Mastering the cloud may be essential to better harnessing technologies like artificial intelligence (AI), the Internet of Things (IoT), etc.
The IBM report suggested that cloud solutions melded with disruptive and emerging technologies – like blockchain, AI, IoT, big data and predictive analytics – can revolutionise businesses and industries.
Successful cloud leaders must employ "cloud crucibles" to forge winning cloud strategies that create competitive advantage and boost financial success.
So what is your cloud strategy?