Technological advances continue to evolve across all sectors and artificial intelligence is among these advancements.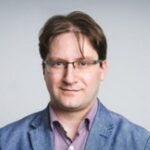 With this, financial leaders, particularly in the financial services industry, look for ways to harness the technology to be able to offer the best possible products and services to their clients.
The quality of an AI solution depends on the data that feeds into it, said Peter Ekler, head of future technology at IT services and consulting firm Zenitech. According to him, the more real-time and historical data available, the more sophisticated a potential AI solution can be.
The banking sector can utilise its vast amount of data to create AI-powered solutions to boost its business for its customers.
Customising offers and services. AI can help banks provide real-time categorisation of both customers and companies that are partnered with the bank - this would help the bank offer more customised offers and services in the categories identified by the AI. By analysing the data, banks can see what their customers may need and want and how their partners can help them provide what they need, giving the bank a competitive edge.
Automated credit and loan approvals. Banks can use AI to automate processes and approvals to make the credit and loan approval process more efficient, saving people and businesses time and money.
Improving customer experience. Banks can use AI in chatbots for simple support requests or use advanced large language models to create a more intelligent system that will help users carry out basic tasks – such as writing a simple prompt to transfer money.
Responsive interest rate changes are another way banks can use AI. Using the technology, they can predict the direction of the market and use these predictions to adjust the interest rates they offer on products like personal loans, mortgages, and savings accounts. As this technology becomes more sophisticated, banks that use AI to be more flexible in their interest rate decisions will find themselves more popular with consumers.
Identify high-value and important customers. The private banking sector can use AI to identify VIP customers, offering highly personalised packages. They can also use AI to analyse customers' portfolios and offer better diversification if required.
Identify and reduce churn. Banks are operating in an increasingly competitive environment, so any way that they can identify and reduce customer churn is a must (as is being able to identify the main reasons that people join the bank).
Tackle fraud. As more services move to digital environments, fraudsters are continuing to develop new ways to attack banks and their customers. Artificial intelligence will offer an effective way to help detect fraud and raise the alarm if it spots anomalous activity.