An accelerated pace of digitalization in the financial sector across the Asia-Pacific (APAC) region due to the COVID-19 pandemic is expected to support the growth of online life bancassurance.
GlobalData's latest report, Global Bancassurance Market to 2025 – Analysing Key Performance Indicators, Key Trends, Drivers and Challenges, and Competitive Landscape, reveals that in APAC, a prolonged period of low-interest rates aggravated by lacklustre credit growth due to the pandemic highlighted the need for banks to diversify their revenue options.
As a result, banks and insurers are leveraging technologies such as artificial intelligence, robotic process automation, open finance and blockchain to understand customers preferences and provide personalized solutions in real-time.
Consequently, the digital accessibility of insurance services gained traction as social distancing norms restricted the functioning of traditional distribution channels like brokers and agents, which was mostly face-to-face.
GlobalData senior insurance analyst, Deblina Mitra says traditionally, agencies and brokers account for the largest distribution share in APAC insurance. In China, agencies' share in life insurance new business DWP was 63.6% in 2020 while in Taiwan, Hong Kong and Singapore, it was above 30.0%.
Regional play-by-play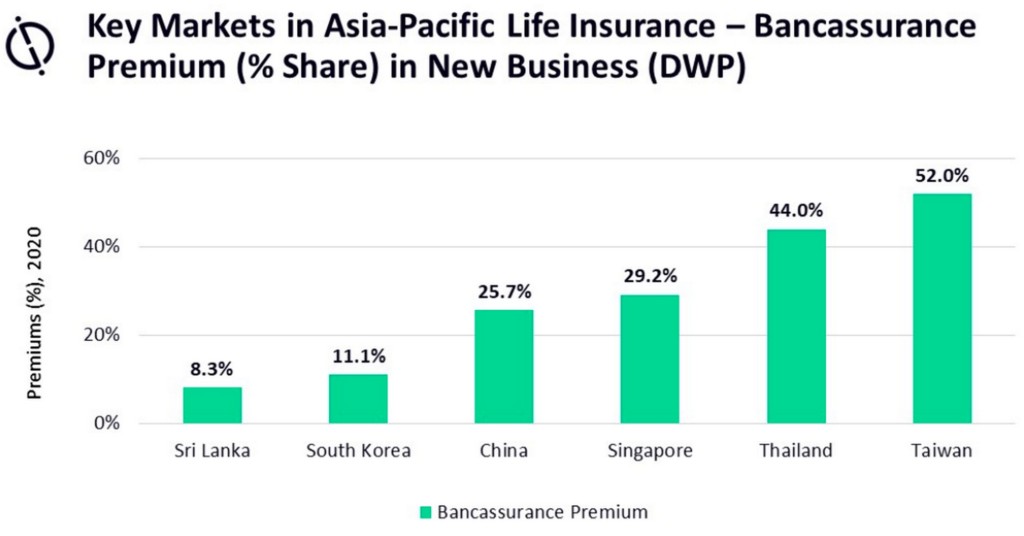 The emergence of aggregators and API-enabled cross-selling platforms has intensified competition causing loss of business to banks.
In China and South Korea life insurance, the new business DWP generated by bancassurance declined at a CAGR of -16.8% and -14.9%, respectively, during 2016-2020.
To overcome this, banks are adopting a digital and omnichannel approach to diversify their reach. K Bank, a South Korean digital-only bank, has been offering both life and general insurance products in collaboration with many insurers via its mobile app since 2017. Kakao Bank plans to launch digital insurance operations in 2022.
Several large banks in China are already using sales automation, where insurance companies collaborate in the underwriting systems of the banks. Automation enables direct processing, and policy documents are issued in real-time. The Bank of China (BoC), for instance, integrated its mobile banking authorization interface and personal customer account information with BoC Insurance.
Mitra opined that the digitalization in the insurance value chain to improve operational efficiencies gained momentum during the last five years has provided an impetus to online bancassurance sales.
"With banks being at the forefront of digital developments such as app-based services and contactless payment, they are in an advantageous position to leverage their digital infrastructure to further capture the growing online insurance business," she concluded.