IDC's recent surveys of CXOs in China revealed a shift in executive strategies as they take into account the impact of COVID-19 on their business
The bad news
Respondents to the survey noted that COVID-19 has restricted the ability of businesses to meet customers, resulting in a significant impact on sales, as well as inability to resume production.
The good news
On a more positive note, COVID-19 has encouraged and refined the ability of organisations to collaborate over even long distances. It has also raised the perceived value of digital transformation and information technology among all employees. Finally, it has sharpened organisation's use of online marketing and business development.
Growth prospects
Despite the already extended business stoppage particularly in the manufacturing sector, 52% of respondents are sticking to original plans. But not everyone is so optimistic with 14% downgrading targets by 5%-10%.
Challenges to remote working
In response to the need to contain the outbreak while also stressing to keep business running, 65% 65% of industrial users have formulated plans for working from home, while 20% are planning to implement telecommuting.
The three major challenges of working at home are: companies have not formed a culture of long-distance collaborative work; there are concerns about the sharp decline in work efficiency; and lack of similar experiences to draw upon as reference.
Bad news for ICT vendors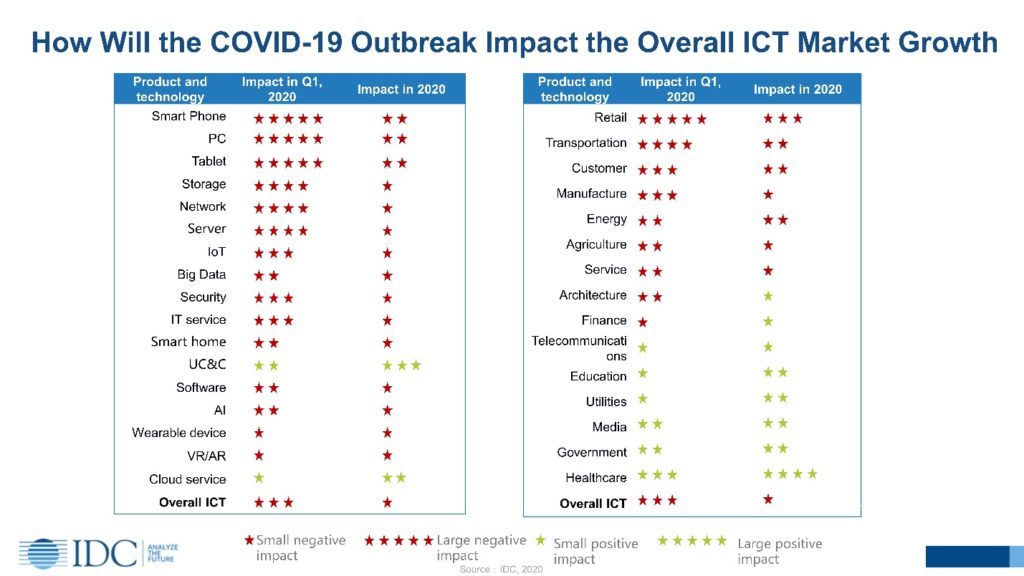 Not surprisingly, 45% of the surveyed industrial users said that their spending would be delayed in the first quarter of 2020 and their annual spending is also expected to be reduced. However, there were still 26% of industrial users believing that their annual ICT spending would be not unaffected much, while 21.5% said that their spending would increase by 0-10%.
Overall, ICT vendors were more pessimistic than industrial users, perhaps recognising the severity of the situation.
Hardest hit will be hardware vendors with product-wise, front-end devices more impacted than back-end infrastructure products.
On a positive note, enterprise collaboration platforms will benefit most from the epidemic, with 76% of the surveyed industrial users choosing to adopt such platforms, followed by cloud computing, robotics, AI, big data and 5G.
Outlook for digital transformation
In light of COVID-19, respondents to the survey updated their top 5 technology strategies for 2020:
creating new telecommuting and enterprise collaboration systems
exploring new business models and business growth points
building up competitive digital cultures and organizations
reducing costs by improving operational efficiency
exploring industrial application scenarios of 5G and IoT
Wu Lianfeng, vice president and chief analyst of IDC China, said that COVID-19 epidemic has fully showcased the value of IT and digital transformation. He suggested that CXOs take full advantage of the opportunity to turn crisis into business opportunity, accelerate the implementation of new digital transformation strategies, support enterprises to look for points of business breakthroughs and innovation and achieve healthy and sustainable corporate development.