The second quarter of 2020 (2Q20) ended well for the Traditional PC market, comprised of desktops, notebooks, and workstations, with global shipments growing 11.2% year over year reaching a total of 72.3 million units, according to preliminary results from IDC's Worldwide Quarterly Personal Computing Device Tracker.
The tightening restrictions imposed by governments has had a positive influence on PC sales at least during the first few weeks of the second quarter with demand for notebooks growing to maintain continuity of business and schooling for many communities.
Despite logistics issues early in the quarter, the cost and frequency of both air and sea freight inched closer to normal (i.e. pre-COVID levels). This, combined with PC production ramping up (and in some cases surpassing previous levels), meant that retailers and other distributors around the world had ample supply and were ready to fulfill the surge in demand.
"The strong demand driven by work-from-home as well as e-learning needs has surpassed previous expectations and has once again put the PC at the center of consumers' tech portfolio," said Jitesh Ubrani research manager for IDC's Mobile Device Trackers.
"What remains to be seen is if this demand and high level of usage continues during a recession and into the post-COVID world since budgets are shrinking while schools and workplaces reopen," he added.
"Early indicators suggest strong PC shipments for education, enterprise, and consumer, muted somewhat by frozen SMBs," said Linn Huang, research vice president, Devices and Displays at IDC. "With inventory still back ordered, this goodwill will continue into July. However, as we head deeper into a global recession, the goodwill sentiment will increasingly sour," he continued.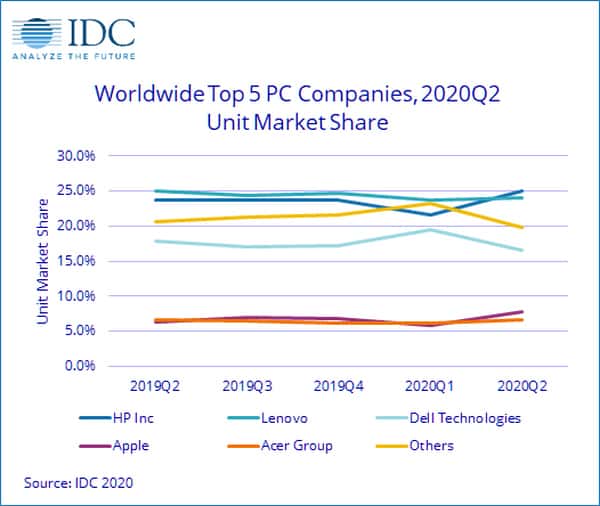 Regional Highlights
Asia/Pacific (excluding Japan) (APeJ) Traditional PC shipments came in above IDC's expectations with the market registering slight growth compared with the same quarter a year ago. Following a weak first quarter of the year, which saw the industry impacted by factories closures in China and supply shortages, Q2 shipments saw a significant improvement, driven by inventory replenishment and strong sales of notebook PCs, fueled by increased demand due to work from home and e-learning.
Japan The Traditional PC market declined in 2Q20 but achieved much better results than forecast in both consumer and commercial segments. The commercial segment was driven by work-from-home demand for notebook PCs and residual opportunities for Windows 10 migration while the consumer segment grew to address working and learning from home.
Top 5 Companies, Worldwide Traditional PC Shipments, Market Share, and Year-Over-Year Growth, Q2 2020 (Preliminary results, shipments are in thousands of units)
Company
2Q20 Shipments
2Q20 Market Share
2Q19 Shipments
2Q19 Market Share
2Q20/1Q19 Growth
1. HP Inc.
18,082
25.0%
15,366
23.6%
17.7%
2. Lenovo
17,411
24.1%
16,214
24.9%
7.4%
3. Dell Technologies
12,010
16.6%
11,606
17.9%
3.5%
4. Apple
5,594
7.7%
4,112
6.3%
36.0%
5. Acer Group
4,828
6.7%
4,285
6.6%
12.7%
Others
14,337
19.8%
13,420
20.6%
6.8%
Total
72,261
100.0%
65,003
100.0%
11.2%
Source: IDC Quarterly Personal Computing Device Tracker, July 9, 2020
Notes:
Some IDC estimates prior to financial earnings reports. Data for all companies are reported for calendar periods.
Shipments include shipments to distribution channels or end users. OEM sales are counted under the company/brand under which they are sold.
Traditional PCs include Desktops, Notebooks, and Workstations and do not include Tablets or x86 Servers. Detachable Tablets and Slate Tablets are part of the Personal Computing Device Tracker but are not addressed in this press release.