A year on, the debate on work-life balance amid the COVID-19-induced remote working movement continues. In Singapore, a DocuSign survey of Professionals, Managers, Executives & Technicians (PMETs) suggests that the other 'benefit' of the remote work movement is the move to paperless workflow.
According to the DocuSign survey, 87% of Singapore PMETs reveal that their companies are operating more sustainably – meaning less paper. The survey also noted that over 85% of businesses saw an increase in efficiency due to the integration of digital solutions.
"The pandemic has put digitization at the forefront of business survival. It has influenced many companies, irrespective of size and industry, to redefine efficiency and productivity in the hybrid world we live in here in Singapore," said Nicholas Van Breda, regional vice president-Asia, DocuSign.
The pandemic has moved sustainability initiatives up the business agenda with three-quarters of PMETs agreeing that 2021 is the year to prioritise environmental efforts. This is corroborated by survey data that shows 74% are going completely paperless or using significantly less paper than before the pandemic.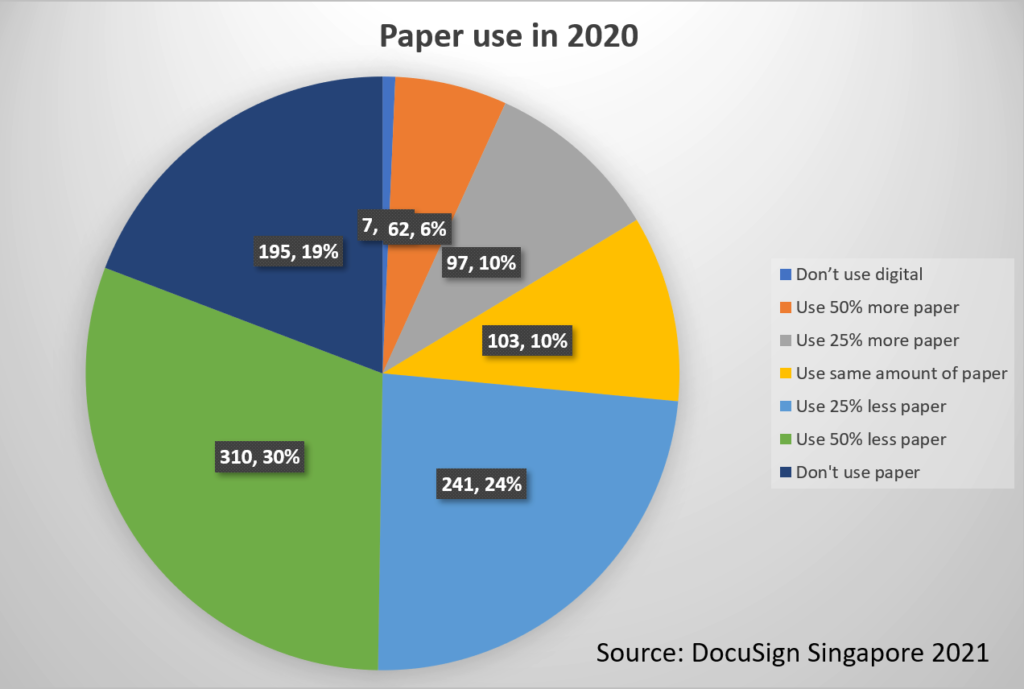 Van Breda says calls the shift to embrace the digital environment and the embracing of paperless as a silver lining in the clouds of the pandemic.
"While this has helped to save time and money, it has also positively impacted the environment and moulded more sustainable mindsets as evident in 90% of Singaporeans who acknowledge their own eco-friendly behaviour," he added.
Can it work? 77% of surveyed PMET employees believe that their company is technologically advanced in facilitating paperless processes.
With remote working here to stay, digital and cloud solutions are the most critical pillars that will elevate any business to the next level.
"Hence it is crucial that organisations operate more efficiently and sustainably by evolving with the times and harnessing technology to remain ahead of the game," concluded Van Breda.
By the numbers
33% of Singapore employees believes that remote working allowed them to each save more than 3,000 pieces of paper in the last 12 months.
87% agree that their company has become more eco-friendly as a result of working from home.
69% of Singapore employees are now working from home more than twice a week.