Del Monte Philippines Inc. (DMPI) has renewed its partnership with IT infrastructure provider Kyndryl with a five-year technology services agreement to manage the food company's infrastructure workloads, as it embarks on a cloud transformation journey.
The partnership between the two companies trace back to 2009 when DMPI started integrating its SAP system and Kyndryl had been tasked to provide managed services for IT operations, as DMPI continued to modernise its aging hardware.
As businesses across the global economy continue to grapple with the ripple effects of pandemic-induced supply chain disruption, enterprises within the food and beverage sector are modernising their technology infrastructure to capture greater market share by accelerating the speed of product to market.
With their renewed collaboration, Kyndryl will deliver to DMPI services critical to its transformation journey, application management for SAP Solutions in any cloud, and technology infrastructure services support to over 2,000 end users across 14 locations in the Philippines. Taken together, these enhancements will help DMPI advance how it leverages the cloud to gain more agility in how it meets the evolving demands of its customers.
"Del Monte's partnership with Kyndryl is one that stands on trust and accountability. Since the beginning of our relationship, Kyndryl has demonstrated its capability in managing our SAP infrastructure as well as migrating our workloads to any cloud, irrespective of the hyperscaler chosen,´ said Tsikee Esguerra, IT operations director at DMPI.
Esguerra added: "As a business, this has offered us high availability support and improved levels of control and governance as we work towards fulfilling our consumers' growing desire to eat healthier foods."
DMPI has been in operation in the Philippines for 95 years and is a market leader in the packaged pineapple and mixed fruit, ready-to-drink juices, tomato sauce and spaghetti sauce categories. It also sells products under the well-known group brands of S&W, Contadina and Today's. Close to two-thirds of DMPI's sales are in the Philippines and the balance in the international market.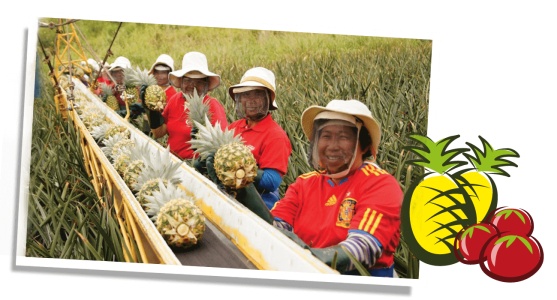 The company runs a fully-integrated pineapple operation with its 26,000-hectare pineapple plantation in Bukidnon, Philippines, and a factory that is about an hour away from the plantation. It also operates a frozen fruit processing facility in Bukidnon and a beverage bottling plant in Cabuyao, Laguna.
DMPI's cloud transformation journey will enable it to achieve greater flexibility and scalability to support its business growth.
Wilson Go, managing director at Kyndryl Philippines, said: "Our customers acknowledge the differentiated value that our cloud technologies offer them in a highly competitive business landscape, especially in streamlining operations and enhancing visibility into mission-critical workloads."
Kyndryl designs, builds, manages and modernises the complex, mission-critical information systems worldwide. It has more than 4,000 customers in over 60 countries around the world, including 75% of the Fortune 100.