If you compare news about how citizens are responding to COVID-19 around the world, you will likely notice the disruptive discord between government and citizens as to how to contain the pandemic.
Protests appear to be in the norm in the US, Europe and Australia against government COVID-19 containment efforts posing even greater risks to the wider population, as a result.
In contrast, most Asian citizens and businesses are complying with measures to contain the epidemic with the private sector, in some cities, not waiting for government guidelines and launching their own safe workplace practice.
However, where APAC companies are contemplating return-to-work (RTW) strategies, there may be a disconnect with employees.
The ServiceNow report, The Work Survey, revealed that employees in the Asia-Pacific region have embraced digital experiences and new ways of working more favourably than the rest of the globe (Asia Pacific 92%, US 85%, Europe 83%).
Executives (91%) and employees (87%) around the world agree: technology has enabled them to pivot to new ways of working faster than they ever thought possible.
Despite this increase in business agility and strong employee appreciation for the change, nearly half of the APAC region's executives (45%) want to return to pre-COVID work models. Employees (60%) for their part want to maintain the new ways of working.
Mitch Young, ServiceNow senior vice president Asia Pacific and Japan said: "The world's dramatic pivot to working digitally has fast tracked the future of work into today's reality. There's no going back, especially when digital solutions enable new and preferred ways of working as the norm."
Conditions for resuming in-person work
68% of employees in the region believe their company will prioritise business continuity over workplace safety, a view held more strongly in Asia Pacific (US 56%, Europe 52%). More surprising is that 50% of the region's executives believe this as well.
Even if a company takes efforts to put safety first, employees do not think they can deliver. 49% of the region's employees do not believe their company will take the necessary steps to ensure their safety and nearly a third of Asia Pacific's executives (32%) agree.
Young said embracing digital solutions and workflows will help organisations retain the benefits employees have come to love while working remotely. They can also be leveraged to help people return to the workplace safely.
Changing company priorities
COVID-19 expects to reduce operational expenses for 87% of businesses surveyed, freeing up resources for innovation, recovery, and growth. Gone is business travel, in-person events and other operating expenses.
Looking ahead, executives and employees in Asia Pacific both agree that these cost savings should be redirected into digital transformation (64% execs, 48% employees) over investing in other areas such as new business, R&D and marketing.
"Digital workflows are the way business gets done in the 21st century," said Mitch. "With 61% of the region's executives saying their companies do not have fully integrated systems to manage digital workflows, it's little wonder they see investing further in digital transformation as a top priority."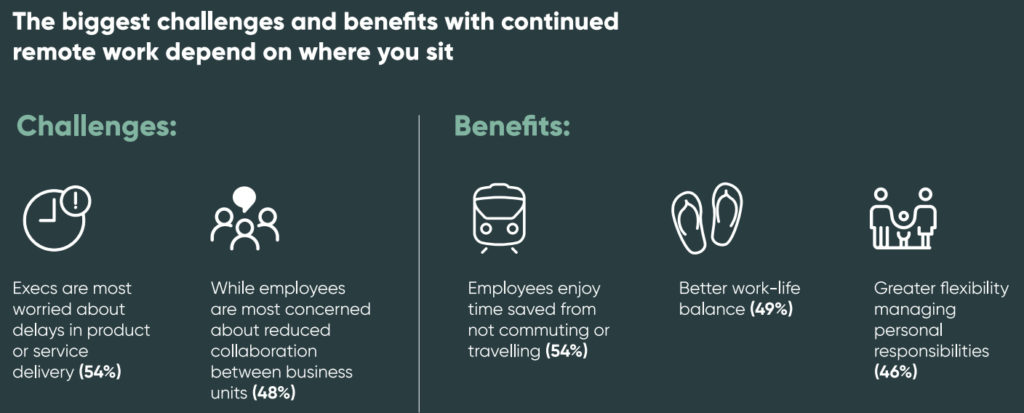 Survey says
While the benefits of remote work are universally touted across the region (99% executives, 95% employees), the challenges are becoming more apparent. Both executives (93%) and employees (89%) express real concerns about how remote work will impact the business moving forward. The biggest executive concerns:

In Australia (63%), India (58%), New Zealand* (60%) is about delays in product or service delivery.

In Japan* its limited direction and feedback from managers (52%), while in Singapore its extended timelines for new releases of innovations (59%).

Employee concerns across the region are also a mixed bag:

In Australia (49%), Japan (46%) and Singapore (53%) reduced collaboration between business units top the list. Equally worrying to Australian employees (49%) was limited direction and feedback from managers.

In India (58%) and New Zealand (57%) its extended timelines for new releases and innovations.

Benefits of remote work most touted by employees:

In Singapore (52%), Australia (49%) and Japan (45%) most value the time saved from not commuting or traveling.

In India (54%) and New Zealand (53%) employees rank better use of technology to improve work efficiency among the highest benefits of remote work.

About half of the region's executives (51%) and employees (52%) think transitioning to the new normal will be even more challenging than the initial shock of COVID-19. This challenge is exacerbated because most businesses are at a digital disadvantage, with 88% of Asia Pacific's executives admitting they still have offline workflows, including document approvals, performance reviews and cash transactions such as salary or expense processing.
Progress has been made, but months into working from home, 61% of executives and 56% of employees in the region say their companies still do not have a fully integrated system to manage digital workflows.